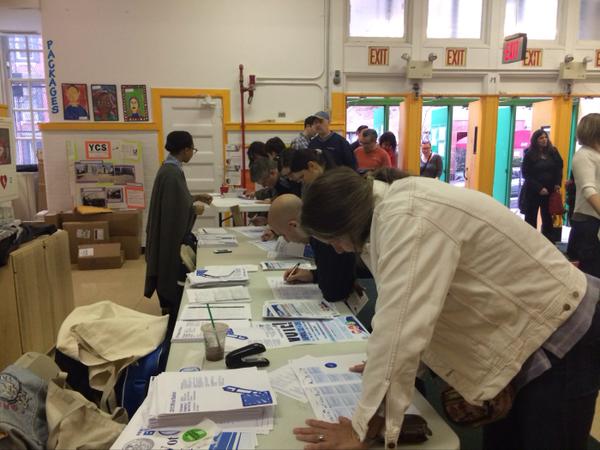 PB voting in CD5 (photo: @BenKallos)
---
51,362. That's how many New Yorkers cast ballots in the recently-finished participatory budgeting cycle to determine which community projects receive funding. Implemented this year in 24 of the City Council's 51 districts, the participatory budgeting program sees council members devote $1 million or more in capital funding toward the community initiative. In a year-long process that engages district residents in local decision-making and community-building, New Yorkers not only have the opportunity to interact with each other and their local representatives, but also to learn about city government and budgeting.
And, perhaps most importantly, they have the chance to directly determine where some of the many billions of dollars the city govenrment spends each year goes. This year, those 24 council members dedicated a total of over $32 million to what is often referred to as "PB."
Rapidly expanding and just finishing its fourth year in New York City, "participatory budgeting breaks down barriers that New Yorkers may face at the polls—including youth, income status, English-language proficiency and citizenship status," said City Council Speaker Melissa Mark-Viverito in a statement Wednesday touting the cycle's results. Before becoming speaker, Mark-Viverito was one of the initial class of four council members who ran PB programs in their districts in the 2011-2012 cycle, when she was joined by Council Members Brad Lander, Jumaane Williams, and Eric Ulrich. All four continue to run the program in their districts. After the first year, the program expanded to eight, then ten districts in the following two cycles.
The four aforementioned council members are now joined by 20 colleagues, in a big jump that may signal even more participation next year - members will decide this summer whether to hold PB in their districts for 2015-2016. Since becoming speaker in early 2014, Mark-Viverito launched a PB-focused unit in the Council that helps facilitate the process in the participating districts. Still, though, some council members have hesitated to run PB because of how demanding it can be on them and their staff - council members typically have to dedicate one staff member to PB almost full-time, especially during the busiest months of the cycle. The PB process includes informational sessions, brainstorming and project proposal meetings, and a voting process. Like many community initiatives, it leads to quite a bit of constituent engagement, which can tie up staff in terms of fielding inquiries and complaints as well as running events.
Brooklyn Council Member Antonio Reynoso, who is new to the Council and ran the program this year, said of those who took part in PB in his district: "In eight months they became extensions of my office in which they went on site visits and attended nightly meetings. They also took on the difficult task of assessing the various needs of our changing district, and participated in outreach to get people to vote." Winning projects in Reynoso's district are "P.S.19/Brooklyn Arbor for their Environmental Upgrade, P.S.196/M.S. 582 for their Community Media and Technology Libary, and Williamsburg Houses for their Playground Renovation."
The voting that was held in April was part of the 2014-2015 process - winning projects will soon be funded directly, with the city's 2015 fiscal year ending June 30 - and the Council and Mayor Bill de Blasio are currently negotiating the fiscal 2016 city budget, which will likely come in just shy of $80 billion and begins July 1. One thing that can be challenging for constituents is that the capital funding, spending, and building processes in New York City are not often as quick as many would like. It can take years for funded projects to be finished.
Relative to the city's eight-million-plus population, 51,362 may not appear a striking number, but, council members and community groups hail participatory budgeting as an effort that is working to expand democracy and engage New Yorkers with their local government and neighborhoods in new and important ways. The fact that the projects funded fall within capital spending allows district residents to shape the physical landscape of their communities - some of the funded projects include additions to parks and schools, the building of a playground or a dog run. One of the central community groups that receives Council funding to help implement PB is Community Voices Heard, and it is largely tasked with helping to ensure that people know about the opportunity to get involved. The organization's executive director, Sondra Youdelman, said that "At Community Voices Heard, we focused our efforts on engaging public housing residents and other people typically less active in traditional political processes. Allowing people's voices and votes to determine how to spend real money on real projects in their community is helping to transform how people see their relationship to government."
Individual council members made big productions in announcing the voting results in their districts, adding to the attention that many are focusing on PB as a progressive program. In its press release publicizing the overall results of the process, Mark-Viverito's office highlighted that about 5,000 of those who voted were under 18 years old. PB allows those 16 and older to participate, with some districts even allowing 14- and 15-year-olds to vote. The Council also highlights that of the 50,000-plus PB votes, "nearly 60% identified as people of color...nearly 30% reported an annual household income of $25,000 or below...more than a quarter were born outside of the U.S... 63% identified as female" and that about 5,000 reported "they were not U.S. citizens."
PB can also provide council members with important insights. Julissa Ferreras, council member from Queens and chair of the finance committee, said that not only did her community respond "with many great ideas to improve public safety, public spaces and education," but that "this process has affirmed what the priorities are in my district, and I will continue to use this information to guide my work moving forward." The newly funded projects in Ferreras' district include school smartboards, NYPD cameras, street lighting, and trees.
***
Ben Max, Gotham Gazette
@tweetbenmax
Note: this article has been updated to better reflect the annual PB process and delink it from specific fiscal year budgets; and corrected to reflect that CM Ulrich was part of the inaugural PB class, not CM Halloran.