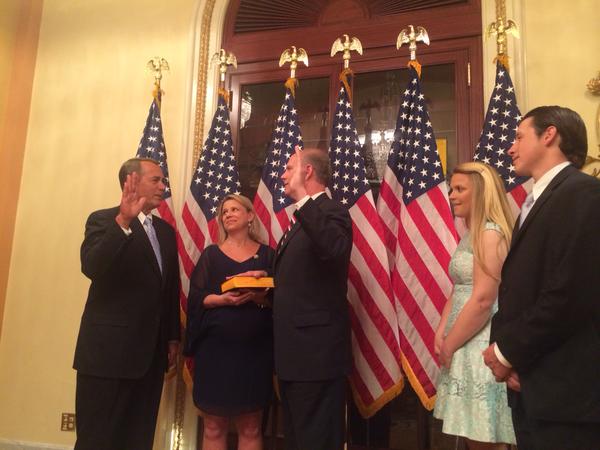 Former SI DA Dan Donovan is sworn in to Congress (@dandonovan_ny)
---
Voters can look forward to soon having a clearer picture of the potential contenders for the district attorney races on November's ballot.
Three of New York's five district attorney positions will be voted on this fall — in Staten Island, Queens, and the Bronx — and signature petitioning to get on the ballot begins the first week in June. Brooklyn's District Attorney, Ken Thompson, and Manhattan's District Attorney, Cyrus Vance, will not face reelection until 2017.
While the incumbents in Queens and the Bronx are expected to run unopposed, former Staten Island district attorney Daniel Donovan's departure in May following his election to Congress leaves that position up for grabs, with Republicans and Democrats grappling to choose official county party nominees. The parties will select their nominees at their respective conventions next week, on Tuesday and Wednesday, in advance of the day on which candidates can begin petitioning, Tuesday June 2.
"I think the key date in many ways is next week, basically," Jerry Skurnik, a political consultant and co-founder of Prime New York, said of the race in Staten Island. "If you want to start petitioning on June 2, you have to have your papers printed by June 1, I mean theoretically, people like to start on time."
According to Skurnik, Democratic voters on Staten Island may find themselves faced with a competitive primary on September 10.
Matthew Smalls, a criminal defense attorney from Staten Island, announced in December that he would run against Donovan, motivated by the lack of indictment from the Eric Garner grand jury. Smalls confirmed to the Observer in February that he would still run following Donovan's departure.
Former Congressmen Michael McMahon, Surrogate Court Judge Robert Gigante, and Criminal Court Judge Mario Mattei are also said to be considering running as Democrats. As sitting judges, Gigante and Mattei have been unable to comment on their possible involvement in the race.
Meanwhile, state Senator Andrew Lanza is considered the front-runner for Republicans, if he chooses to run. The Staten Island Advance reported Wednesday that GOP committee members are considering three contenders to fill the role: Lanza, retired New York Supreme Court Justice Andrew Giacobbe, and Manhattan Assistant District Attorney Joan Illuzzi-Orbon. The committee will choose a candidate at its party convention Tuesday.
"I read quotes from various other elected officials saying that if [Lanza] wanted to run they'd support him, which indicates to me that he wants to run and he'll get the Republican nomination," Skurnik said. "I think he's clearly the strongest Republican candidate."
Both Bronx District Attorney Robert Johnson and Queens District Attorney Richard Brown confirmed to the Wall Street Journal two weeks ago that they plan to run for reelection.
Johnson has found himself at the center of a series of controversies spanning his 26-year career as district attorney, most recently in April when it was reported that the Bronx DA's office failed to take proper legal action as new Assembly Speaker Carl Heastie, who is from the Bronx, made nearly $200,000 from property gained through his mother's embezzling and despite court orders that he relinquish the property.
Still, Johnson is expected to cruise to reelection.
In Queens, DA Brown has served in the role since 1991, earning the title of the longest-serving DA in the borough's history. There have been rumors that the 83-year-old Brown may retire, but he does not seem to be on the verge of stepping aside. And, Brown's support in Queens appears to continue to be strong.
"Judge Brown has done a phenomenal job as District Attorney," said Queens City Council Member Rory Lancman, chair of the Council's courts and legal services committee and a potential successor to Brown who is staunchly backing the incumbent. "He's maintained the highest conviction rate in the five boroughs while supporting new initiatives like Veterans Court and Human Trafficking Intervention Court that provide treatment and keep nonviolent offenders out of jail."
But Skurnik said the records of Johnson and Brown will not matter if they continue to run unopposed. (City Council Member Vincent Gentile attempted to make aspects of Donovan's record as DA an issue in their congressional race, but his attacks had little effect.)
"Write-ins are always allowed in an election, but very rarely in a borough-wide election could a write-in candidate win. So if they run opposed it's not going to matter as far as their election is concerned," Skurnik said of their records. "Unless something happens I think they're both going to be elected without opposition."
Skurnik also predicted low voter turnout in Queens and the Bronx come November, especially given that it is a year without a mayoral, gubernatorial, or presidential election for New York City voters.
"An election like this year in most parts of the city where there's no opposed candidates in November, the turnout is going to be really low," Skurnik said. "People don't come out if their vote is not needed."
***
by Catie Edmondson, Gotham Gazette
@CatieEdmondson