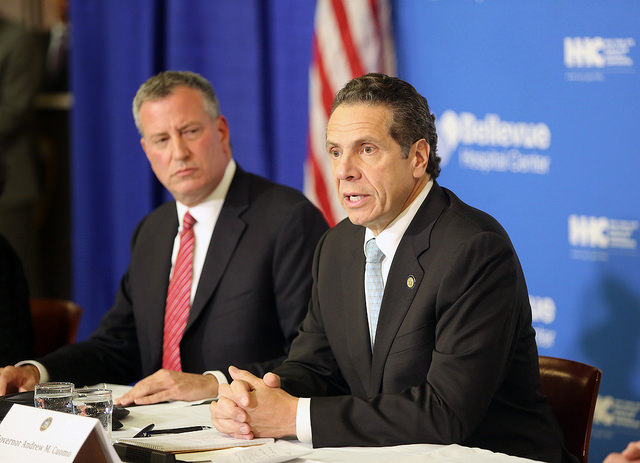 De Blasio & Cuomo (photo: Governor's Office via flickr)
---
"Mayor of the City of New York, frustrated with Albany? Now there's a shocker," Gov. Andrew Cuomo responded on Thursday to reporters who inquired about Mayor Bill de Blasio's concerns over Albany's reluctance to deliver more than simple extenders of policies like mayoral control of schools and rent regulations that impact millions of city residents.
It isn't surprising that de Blasio is frustrated because the state Legislature, specifically Senate Republicans, have a long and storied history of holding mayoral control and the rent laws hostage, playing chicken with the policies in an attempt to win concessions on their priorities.
The rent laws that maintain the affordable housing stock in New York City are set to expire on June 15. Mayoral control of schools is set to expire on June 30. Including Monday, June 1, there are only 10 days left in the scheduled legislative session set to end June 17. As deadlines loom, tension between de Blasio and Cuomo has risen - around mayoral control of schools and rent regulations, but also around the controversial 421-a tax abatement for real estate developers. De Blasio, Cuomo, and other lawmakers, advocates, and key stakeholders have pushed their desired plans and expressed their conerns.
On Monday at City Hall, de Blasio will "host a summit with business leaders on the urgent need to renew mayoral control," according to his public schedule. On Sunday, de Blasio ominously warned of rent regulations expiring, "The pace of displacement will be faster than anything we've ever seen before."
And while it may seem that doomsday is near, advocates and city legislators say they aren't truly concerned by the prospect of the laws sunsetting. This calm is not because they don't think it won't happen, but because it has happened before and the city survived. Those expressing confidence, though, do assume that deals would be reached soon after the deadlines if they aren't reached before.
And some stakeholders are concerned, though, that Cuomo and Senate Republicans seem set on extending the laws for one or two years in an effort they see as designed to maintain leverage and introduce the debates into an even more heated legislative, or mayoral election year.
"It's a battle Albany has every time [the laws] are up for renewal because the Republicans have controlled the Senate forever and they use these issues to get what they want in negotiations," said Doug Muzzio, professor of political science at Baruch College.
Mayoral control and the rent laws have lapsed in previous years thanks to dysfunction and drama in the state capital. It has become such a routine that groups representing both landlords and tenants, both those in favor of mayoral control and against all say city residents should not worry that the programs could expire - even as many of them, Mayor de Blasio, and others push for an agreement before the deadlines.
"People used to think there would be dire consequences if the laws expired," said Michael McKee, treasurer of Tenants PAC, of the rent regulations, which keep rules on price stabilization in hundreds of thousands of units. "We used to call it going over the cliff, but we know better now. They've let them expire and once they get around to renewing them they make them retroactive to June 15."
Only the state laws would expire June 15, while city laws that govern affordable housing would continue offering certain protections.
Frank Ricci, director of governmental affairs for the Real Estate Stabilization Association of New York and someone who usually finds himself at odds with tenant advocates, actually agrees with McKee on this point. "The city's laws would still be in place," said Ricci, "and people who have a lease still wouldn't see an impact until October. Landlords have to send renewal notices months in advance."
Cuomo, however, warned the sunset of rent laws could cause chaos in the city well before de Blasio's similar comments Sunday. "If we don't extend rent," Cuomo said on April 24, "you would have chaos in the real estate market - these are rent regulations, rent stabilization, etcetera - you would have chaos in the real estate market unlike anything we have seen."
"So at a minimum, we have to extend those protections," Cuomo added, going on to say that the details of any negotiations on finer points were going to be "problematic."
The rent laws last expired under Cuomo's watch in 2011, his first year as governor. The Legislature allowed the laws to lapse for five days before members passed a retroactive extension. In 1997, then-Republican Senate Majority Leader Joe Bruno gave then-Assembly Speaker Sheldon Silver an ultimatum to either let the laws expire or accept major concessions to the real estate lobby. The laws lapsed briefly only for Silver to accept Bruno's terms.
"Everyone knows they are going to be renewed," said McKee of the rent laws. "Real estate is perfectly happy to have them renewed. The current system works for them." McKee's sentiment is echoed by de Blasio, who has warned against straight extension of both rent regulations and the current 421-a system, calling for an end to vacancy decontrol and for more guarantees of affordable housing for any tax abatement granted. Cuomo has pushed back against de Blasio, saying - in an odd turn - that the mayor's plan is a giveaway to real estate. De Blasio has remarked of Cuomo's coziness with developers and said it's clear that Cuomo wants to simply extend the current laws.
On Saturday, de Blasio told reporters that tenants need the governor's help. If rent regulations are not protected, he said, "we will continue to lose thousands and thousands of units of affordable housing. We've lost several hundred thousand units over the last few decades. I would think the governor would want to be part of that solution – and the same on 421-a."
De Blasio and Cuomo have sparred in recent days, with de Blasio expressing exasperation over what he's deemed as Cuomo's lack of leadership on several issues on his agenda, including those related to housing and to mayoral control of schools.
Mayoral control of the city education system lapsed in 2009 after Skelos partnered with Sens. Pedro Espada and Hiram Monserrate to stage a coup late in June of that year. The law lapsed as Democrats and Republicans struggled for control of the Senate. According to most accounts it had little actual impact on the city as then-Mayor Michael Bloomberg's appointees controlled the Board of Education, where power returned. However, many Democrats at the time opposed mayoral control and successfully introduced measures to increase parental involvement and slightly limit the mayor's control when the deal was struck.
Michael Mulgrew, president of the United Federation of Teachers and a de Blasio ally, told Gotham Gazette that he was "confused by the double standard" that Senate Republicans were displaying by opposing mayoral control under de Blasio after they had strongly advocated for it under Bloomberg. Bloomberg donated millions to keep Senate Republicans in power while de Blasio tried unsuccessfully to unseat them last year.
In a email to supporters, de Blasio explained his trip to Albany to advocate for the permanence, or at least three-year extension, of mayoral control. "Our state legislature is deciding the future of mayoral control of our city's schools right now -- and our students could feel the effects of that decision as early as July 1st. It's imperative that we let Albany know that mayoral control must be made permanent," de Blasio wrote. "Before mayoral control, the city's school system was fragmented. There was little accountability, and we saw far too many instances of waste, mismanagement, and corruption."
Citing "improved attendance and graduation rates, safer schools, and more kids given the chance to succeed" as well as "increased parental engagement with teachers," de Blasio went on to want that "all that progress could halt if we don't make sure mayoral control is here to stay."
City legislators don't really see expiration as a major concern - Cuomo has stated clearly that he wants to see mayoral control extended - but it is the details of deals that will be eventually reached are what concerns them.
"I don't think anyone should be concerned about the laws expiring," said Sen. Joseph Addabbo, a Queens Democrat, "but ask me on June 15. What I'm really concerned about are the details, what does the final language look like? Our children's education future is at stake."
Sen. Adriano Espaillat, ranking member on the Senate's housing committee, basically agrees when it comes to his area of focus. "The expiration of rent laws would have a devastating impact on millions of New Yorkers. But we simply cannot settle for their extension, these laws must be strengthened," he said in a statement provided to Gotham Gazette.
"I'm just saying it's time for him to stand up for the people of this city and for affordable housing," de Blasio said of Cuomo on Saturday.
What is most concerning to many advocates and legislators is that both Cuomo and Senate Republicans have indicated they want simple, one-year extensions of both rent regulations and mayoral control because of the recent upheaval and scandal in the Legislature.
Cuomo has spent the last month downplaying expectations and insisting simple extensions of the laws are possible. This month that message also coincided with heightened attacks on de Blasio. Cuomo is facing declining poll numbers, growing scandal, and a legislature paralyzed by fear. Muzzio said that attacking de Blasio helps Cuomo. "Its sleight of hand, it's a distraction, 'Don't look at me, look at him!'" said Muzzio.
On Thursday, Cuomo laced into de Blasio; on Friday he told reporters; "Let me make this as a blanket statement: It is late in the day, for anything." Cuomo added that with just a few days left in the session, on "any complicated issue" it would be virtually impossible to work a new compromise through the two houses of the Legislature. He noted that anyone who watches Albany for even a short time should know that.
De Blasio and others often cite Cuomo's ability to get things done when he truly prioritizes them. Meanwhile, the mayor has been criticized for traveling the country promoting his progressive agenda and only going to Albany last week to meet with the governor and other legislators.
McKee said that Cuomo, who is extremely close to the real estate industry and has received more donations from the sector than any other state politician, has actually orchestrated the current on-the-brink situation by actively working to keep Republicans in charge of the Senate.
"He's responsible for the Republicans being in charge and they are in the pocket of the real estate lobby," said McKee. "He found a way to keep them in power through a bad redistricting deal and the IDC. Andrew is the one person responsible for this situation."
***
by David King, Albany editor, Gotham Gazette
@DavidHowardKing