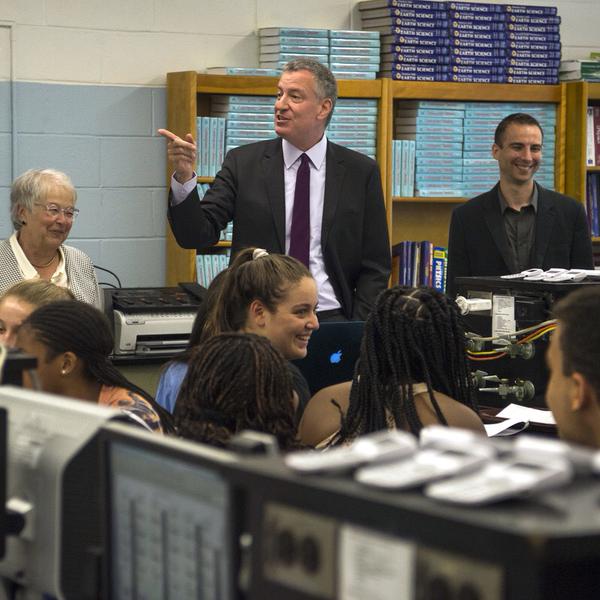 Mayor de Blasio in a classroom (photo: @BilldeBlasio)
---
After meeting privately with a bipartisan group of business leaders at City Hall on Monday, Mayor Bill de Blasio told members of the media that there is widespread agreement mayoral control of city schools must be extended by Albany lawmakers. And, he said, these business leaders, Governor Andrew Cuomo, and others believe it must be extended for at least three years.
"There is unanimity, there is absolute consensus among us on the need to renew mayoral control and ensure that we can keep making progress in our city schools," de Blasio told reporters at City Hall of the meeting he had just hosted.
Repeatedly warning that allowing mayoral control to lapse would hurtle the city's education system back "to the bad old days" of dysfunction, corruption, and nepotism, de Blasio urged Albany lawmakers, especially Senate Republicans, to accept a straight three-year extension of the system granted under his predecessor, Michael Bloomberg, which he called one of Bloomberg's great accomplishments.
De Blasio thanked Governor Cuomo for reiterating his support for a three-year extension of mayoral control on Monday morning and called on the Republican-controlled state Senate to pass the extender of that length as the Democratic-controlled Assembly has done. During a WCNY interview with Susan Arbetter on Monday, Cuomo said, "Mayoral control works. We know that. And we should extend it in New York City for three years." (Cuomo also added that he believes implementing mayoral control of schools in upstate cities deserves further consideration.)
Before his appearance on the Capitol Pressroom Monday morning, Governor Cuomo had been fairly quiet on the mayoral control issue of late, letting de Blasio and others sweat as he and the mayor have had an escalating war of words over the best plan for extension of the 421-a real estate tax abatement and leadership in general.
The coalition of business leaders supporting de Blasio's call for extending mayoral control is made up of individuals generally more aligned with Bloomberg or Cuomo than de Blasio, but led by Parternship for New York City's Kathryn Wylde, it has come out strongly behind the current mayor's push to keep control of the school system.
On Thursday, Partnership for New York City released an open letter to Republican Senate Majority Leader John Flanagan and Democratic Assembly Speaker Carl Heastie signed by 72 CEOs and urging action to extend mayoral control. "Failure to enact this extension before the end of June will throw New York City's public education system into chaos," the letter reads. "There is no justification for exposing more than a million students to the turmoil that would result from the expiration of a system that has served our city well for thirteen years."
The letter was signed by Wylde, as well as the leaders of Viacom, Morgan Stanley, JPMorgan Chase, American Express, and many other high-profile companies.
"The point we're trying to make is this is not a political issue," Wylde told the Daily News after the letter was released. "It's not a de Blasio issue. Irrespective of who the mayor is, the business community feels strongly that the current governance system is essential to continue improvements in the schools."
De Blasio has made the same point, and did so again Monday afternoon, saying that he had favored Bloomberg winning mayoral control - and keeping it during two extensions passed in Albany during his mayoralty - despite disagreeing with his predecessor on many specifics of education policy.
The current extension of mayoral control of city schools is set to expire at the end of June. There is not really a great deal of anxiety over whether a deal will be reached, but heightened tension around the details of the extension. New Majority Leader Flanagan, who had been the chair of the Senate education committee until he replaced indicted Sen. Dean Skelos as leader of the chamber, has introduced legislation extending mayoral control just one year and adding new provisions including requiring the mayor to submit the Department of Education budget to state lawmakers for approval and extending the state cap on charter schools.
De Blasio called Flanagan's budget proposal a non-starter on Monday, saying "it would not be in anyone's interest" to have lawmakers in Albany control the city's schools. The business leaders who signed the Partnership's letter to Flanagan and Heastie called for more charters in their missive, but explicitly said that charter policy should not be tied to an extension of mayoral control.
On Monday, de Blasio cited a "transcendent partisanship," noting that business and labor leaders, members of "the faith community," Democrats and Republicans, all believe in mayoral control of New York City schools. He said it is clear that it is the "only way to move our schools forward...regardless of who is mayor," explaining that it allows for quicker decision-making and action and using his administratin's rollout of a massive new pre-kindergarten system as an example. Those supporting extension of mayoral control tend to agree that it has helped bring an end to the corrupt, inefficient ways of the old community school board system. Wylde said it is essential to the future of the city's kids and economy.
In an Up Close with Diana Williams interview that aired Sunday on WABC, de Blasio said, "If Albany doesn't renew mayoral control of education, I think there will be an outcry all over this city."
***
by Ben Max, Gotham Gazette
@tweetBenMax