photo
---
Gotham Gazette's Week in Review, June 1-5
Photo of the Week
via The Villager: State Senator Brad Hoylman and other state and city officials and advocates protest outside Governor Cuomo's office, demanding stronger rent regulations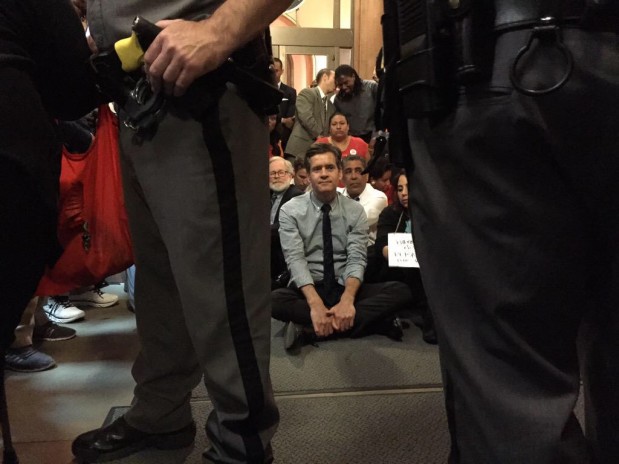 Tweet of the Week
via @Azi
"complicated heart of @harrysiegel's column: "If we really want a fairer NY, that may mean...a bit more crime" http://www.nydailynews.com/opinion/harry-siegel-guns-drawn-de-blasio-stands-ground-article-1.2245739?cid=bitly #NYPD"
Top 5 Stories of the Week, June 1-5
1. De Blasio and Cuomo Settle In: Last week's heightened tensions between Governor Andrew Cuomo and Mayor Bill de Blasio softened this week as each had more complimentary and conciliatory words for the other. Cuomo restated his support for two of de Blasio's top priorities in Albany, mayoral control of city schools and strengthening rent regulations. The two have been most contentious over the 421-a tax abatement program and continue to disagree, though they shared kinder words this week when describing their disagreement and the work ahead. Related: Gotham Gazette, WSJ, Observer, NY Magazine
2. De Blasio Responds to Increase in Shootings and Homicides: The New York Times reported that shootings in New York City have risen for two consecutive years and this is the first time this has happened since the 1990's. There has been a 20% increase in shootings this year but as Mayor de Blasio noted, there has been a 6.6% decrease in overall crime compared to this time last year. This will also be the second summer of the "Summer All Out" program, sending police officers from precincts that are low in crime to other precincts. This effectively increases police coverage without necessarily increasing the total number of NYPD officers. NYT, Observer.
http://www.nytimes.com/2015/06/02/nyregion/gunplay-rises-in-new-york-reviving-issue-for-de-blasio.html?_r=1
http://observer.com/2015/06/de-blasio-cites-low-crime-stats-to-downplay-spike-in-shootings/
Attorney General Eric Schneiderman to be surveyed by New York Agencies: A five-page, 22-question survey was distributed to state agencies by Governor Cuomo's office probing the performance of Attorney General Eric Schneiderman's office. The survey comes a week after Mr. Schneiderman proposed his "End New York Corruption Act" claiming to lower contribution limits and close donation loopholes. While this bill would certainly strengthen the reach of the Attorney General's office, the survey of the AG's office, if negatively reflective, could do just the opposite stripping authority and funding. The New York Times reported that Governor Cuomo's office had added that the Governor himself "had no knowledge of the survey". NYT, Times Union
http://www.nytimes.com/2015/06/04/nyregion/cuomos-team-surveys-new-york-state-agencies-for-opinions-on-attorney-general.html?ref=nyregion&_r=0
http://www.timesunion.com/news/article/Legislature-can-still-pass-ethics-reform-this-6287305.php
Calls for stronger rent regulations: Affordable housing prices have become increasingly closer to market prices with Mayor de Blasio backing stronger rent regulations in early May, Governor Cuomo coming out to support the strengthening of rent control laws this past Wednesday and the June 15 expiration date fast approaching. However, state and city legislators, such as Council Member Jumaane Williams and New York State Assembly Member Rodneyse Bichotte, believe further action is necessary, calling for a repeal of vacancy decontrol and peacefully protested outside of Governor Cuomo's office before being arrested Wednesday night. Current New York City law allows for vacancy decontrol, or allowing landlords to raise a rent-stabilized apartments' price every time the apartment is turned over, giving incentive to landlords to allow their apartments to fall into disrepair in order to encourage tenant turnover. Governor Cuomo's office had organized a rally for Thursday afternoon but this was pushed to an unspecified future date. Mayor de Blasio and Assembly Housing Chair Keith Wright will be holding a housing rally this Saturday in Harlem. Office of the Mayor, Capitol Confidential, WSJ, Observer, Crain's, Capital.
http://www1.nyc.gov/office-of-the-mayor/news/288-15/mayor-de-blasio-calls-stronger-rent-laws
http://blog.timesunion.com/capitol/archives/236405/cuomo-says-hes-fighting-to-improve-and-expand-rent-laws/
http://www.wsj.com/articles/nyc-council-members-arrested-at-albany-rent-protest-1433365026
http://observer.com/2015/06/lawmakers-get-arrested-protesting-at-governors-office-for-rent-regulations/
http://www.crainsnewyork.com/article/20150531/BLOGS01/150529847/albanys-rent-control-conspiracy-explained
http://www.capitalnewyork.com/article/albany/2015/06/8569495/de-blasio-wright-will-join-forces-housing-rally
Cuomo identifies his end of session priorities: As the end of session approaches Governor Cuomo has pushed three of his session priorities, the Parental Choice in Education act, the New York State Property Tax Cap as well as Raise the Age. The Parental Choice Education act is an education tax credit program that looks to offer "$50 million annually in tax credits for donors who contribute to scholarship funds" for students in private or religious schools. Donors can give "up to one million dollars, and in exchange receive a credit of $750,000 on their taxes". The Governor invited different church leaders, including Cardinal Timothy Dolan, to the Governor's mansion this past Monday to persuade legislators who had not yet signed the bill. Governor Cuomo is also looking to "make permanent a 2-percent property cap" by expanding on the New York State Property Tax Cap. Just this past Wednesday, Governor's office released a report that states that the cap leads to "real, significant savings for taxpayers". Even though the cap does not expire until June 2016, it's tied to the rent-control law expiring on the upcoming June 15 and the Governor has taken this opportunity for legislators to take up the tax cap. Governor Cuomo's Raise the Age legislation received ample support this past week, including Mayor de Blasio and NYPD Commissioner William Bratton. Mr. de Blasio, Commissioner Bratton and other law enforcement officials wrote an open letter stating that "treating 16 and 17 year olds as adults in the criminal justice system" is one area where New York is "behind all but one other state in the country". The legislation would effectively raise the age of criminal responsibility to 18, changing the juvenile justice system. While Governor Cuomo has pushed for these specific pieces of legislation before the end of session he also backed a continuation of mayoral control of New York City schools as well as strengthening rent regulations. Capital, WBFO, Capital, Property Tax Cap Report, IBT.
http://news.wbfo.org/post/cuomos-education-tax-credit-plan-falling-short-assembly
http://www.capitalnewyork.com/article/albany/2015/06/8569409/cuomo-calls-making-property-tax-cap-permanent
https://www.governor.ny.gov/sites/governor.ny.gov/files/atoms/files/PropertyTaxCap.pdf
http://www.ibtimes.com/after-rikers-island-scandal-nyc-officials-push-juvenile-justice-reform-raise-age-bill-1950698
This Week's Numbers:
Shootings in NYC have spiked by 20%. (439 shootings) NYT.
http://www.nytimes.com/2015/06/02/nyregion/gunplay-rises-in-new-york-reviving-issue-for-de-blasio.html?_r=1
MTA is pushing for $14 billion more to fully fund their five-year capital plan. CBS New York.
http://newyork.cbslocal.com/2015/04/28/mta-fare-hikes/
Mayor de Blasio's "mansion tax" claims that it will "raise about $200 million annually to finance about 37,000 affordable apartments". Crain's.
http://www.crainsnewyork.com/article/20150601/REAL_ESTATE/150609989/de-blasio-mansion-tax-hike-may-keep-home-prices-below-1-75m-ibo-says
The Glory and The Goat:
It was a good week for Council Member Karen Koslowitz who was elected chair of the Queens City Council delegation. She is the longest tenured member of the City Council and will be replacing Council Member Mark Weprin.
http://observer.com/2015/06/karen-koslowitz-elected-chair-of-the-queens-council-delgation/
It was a bad week for Governor Cuomo with his lowest approval rating ever at 44-42.
http://www.quinnipiac.edu/news-and-events/quinnipiac-university-poll/new-york-state/release-detail?ReleaseID=2231
The Flash:
This week last year Mayor de Blasio and Governor Cuomo both expressed a push towards a $10.10 an hour minimum wage. Observer, The Business Journals.
http://observer.com/2014/06/bill-de-blasio-wants-citys-minimum-wage-beyond-10-10/
http://www.bizjournals.com/newyork/news/2014/06/02/ny-gov-cuomo-pushes-plan-to-raise-minimum-wage.html
In June of 1846, the New York State's Constitutional Convention of 1846 was held and the Third Constitution of New York was written. As a result the term of a senator is shortened to two years from four and it is decided that senators and assembly members will be elected from one of thirty-two districts.
http://www.nysenate.gov/timeline
https://www.nycourts.gov/history/legal-history-new-york/documents/Publications_1846-NY-Constitution.pdf
Watch out for... (sneak peeks into Week Ahead)
***
by Ben Max and Erika Wang, Gotham Gazette
@GothamGazette