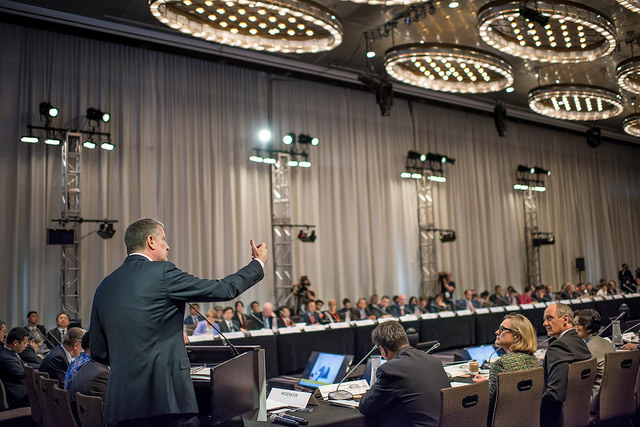 De Blasio addresses the mayors forum (photo: Rob Bennett/Mayoral Photography Office)
---
Addressing about 80 of his fellow mayors at the 2015 World Cities Summit Mayors Forum in midtown, New York's Bill de Blasio stressed that it is mayors who are on the front lines of crisis response and innovation. Praising his colleagues, de Blasio said that it is mayors who have no choice but to act, to govern everyday, and that their "urgency represents the highest form of public service."
"We are the actors and the doers," de Blasio said, continuing on to highlight work his administration is doing relative to this year's summit theme, "Livable and Sustainable Cities: Innovative Cities of Opportunity." In doing so, de Blasio repeatedly took swipes at national governments that fail to act and stressed that those who run cities have no choice but to do so. He did not single out his own federal government as he often does.
In terms of New York City policy, the central focus of de Blasio's remarks was his recently-unveiled OneNYC plan, which, as he described on Tuesday, is his administration's version of his predecessor's PlaNYC sustainability program. As he does consistently when discussing environmental issues, de Blasio praised former Mayor Michael Bloomberg. As he also usually does, though, de Blasio added that his administration is building upon the Bloomberg legacy by prioritizing economic equity in all that it does, including climate- and environment-related endeavors.
OneNYC, de Blasio explained to the mayors, marries environmental and economic goals, because to have either strong economic opportunity for all or a healthy environment alone would not be acceptable, he said. All must share in a prosperous, safe, sustainable city, de Blasio argued, highlighting that part of OneNYC is the city's "pledge over the next ten years to bring 800,00 New Yorkers out of poverty." For some of the mayors in the room, that figure is larger than their cities' entire populations.
By publicly setting that goal of lifting so many out of poverty, de Blasio added, and "holding ourselves accountable, we believe we'll move things on a grand scale." He went on to strike an inspirational tone yet again, saying to his colleagues, "All of us have to do things on a bolder scale than ever before because we are more central than ever before, because the demands are greater than ever before."
As evidence of "bold goals" in New York, the mayor went on to detail three major environmental policy targets set by his administration: an 80 percent reduction in greenhouse gas emissions by 2050; zero waste to landfills by 2030; and "a pledge that we will have the finest air quality of any major American city by 2030."
De Blasio said that "high and noble goals energize action" and "inspire new ideas." He said that they "create unity" and "public faith," as the public looks to mayors "to be the decisive agents of change."
The mayor was received warmly by his fellow mayors, who sat around a large rectangular table at the Grand Hyatt at Grand Central Station, where the summit is being hosted. In the lobby, there were large displays outlining key aspects of OneNYC.
The forum, in its sixth year, is being held in New York City for the first time. It was started by Singapore officials in 2010 "in response to the urgent need for cities to come together to address pressing urban challenges," according to a handout given to members of the media.
The theme, Livable and Sustainable Cities: Innovative Cities of Opportunity, includes a focus on "sustainable urban development" and there are sessions on housing and economic development; transportation and mobility; sustainability and resiliency; and education and competitiveness.
De Blasio made a strong impression on Belgian journalist Sacha Van Wiele, who is making his first trip to New York City, where he has come to cover the United States visit of Antwerp Mayor Bart De Wever. "I was impressed," Van Wiele told Gotham Gazette after de Blasio's speech. New York's mayor "seems reachable," according to Van Wiele, who added that de Blasio "seems very concerned" with the people of his city and the problems they face.
One issue that all mayors of New York City must face is the threat of terrorism, though de Blasio did not mention it in his remarks Tuesday. Van Wiele said that Mayor De Wever and his police chief are not only in the US for the mayors forum, but to meet with representatives of the NYPD, FBI, and Homeland Security. According to Van Wiele, Antwerp is a central hub of "radicalization in the Muslim community" and onetime home to a number of Europeans who have gone to fight with the self-proclaimed "Islamic State," otherwise known as ISIS or ISIL. The New Yorker recently wrote about the phenomenon and estimated that "more than four hundred" "European jihadis" have left Belgium to fight in Syria since the outbreak of war in 2011.
A writer on city politics and policy for the Gazet Van Antwerpen, Van Wiele noted that he had seen de Blasio speak online and on TV prior to Tuesday's speech. Seeing him in person, he thought the mayor's remarks came off well. "It was a motivational speech like you hear from company leaders toward their employees," Van Wiele said of de Blasio's to his mayoral colleagues.
Van Wiele said he had contacted the mayor's office for a chance to speak with de Blasio. "I asked for an interview with him," he said. "I didn't get it, but OK."
***
by Ben Max, Gotham Gazette
@tweetBenMax