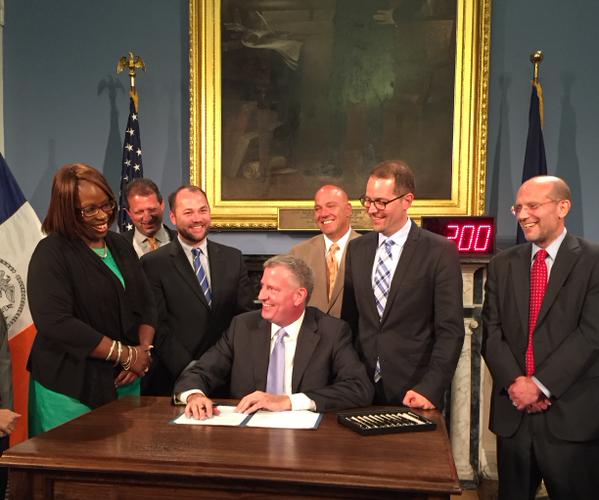 At Tuesday's bill signing (photo: @NYCHRA)
---
"The Gideon versus Wainwright case paved the way for the right to legal counsel in criminal cases but, sadly, the right to counsel was not available in civil cases when the stakes were also very, very high for those involved. Civil cases affect some of the most important parts of a person's life, the ability to have and keep a home, to keep a family together, to escape from domestic violence, in fact, to be able to stay in this country. So on these areas there is a deep need and my administration is focused in an unprecedented manner on civil legal services including legal assistance to protect tenants and prevent homelessness. This bill is a step towards fixing the imbalance between those who can afford adequate civil counsel and those forced to face life altering legal issues without help of attorney." -Mayor Bill de Blasio, June 16, 2015
On Tuesday, June 16 Mayor de Blasio signed Intro. 0736 into law, establishing an Office of Civil Justice and creating a new Civil Justice Coordinator position. This office is modeled after the Office of Criminal Justice, with the Office of Civil Justice set to provide coordination around city resources related to civil court proceedings, especially with regard to legal representation for low-income defendants in places like immigration and housing courts.
While defendants in criminal court do have a right to counsel, defendants in civil court do not. In cases of eviction, deportation, and child custody - among others - not having access to legal aid can be detrimental to a person's case. The bill creating the civil justice office was sponsored by Council Member Mark Levine and Council Speaker Melissa Mark-Viverito, and comes as the city has been increasing funding and efforts to ensure that more low-income New Yorkers have access to attorneys in civil matters. The Office of Civil Justice will coordinate efforts, assess needs, and make recommendations.
The following is an abridged history leading up to the signing of the bill:
December 2005: Study of Self-Represented Litigants in New York City Family Court and New York City Housing Court: The Office of the Deputy Chief Administrative Judge for Justice Initiatives released survey results covering 3,303 litigants appearing without a lawyer in the city's family and housing courts in 2003. It was found that 83 percent of self-represented defendants reported a household income of under $30,000. Sixty percent of the people surveyed in housing and family court also reported that they felt they could not afford an attorney.
December 7, 2012: The New York Immigrant Representation (NYIR) Study Report Part II: The NYIR Study was launched by Judge Robert A. Katzmann of the U.S. Court of Appeals and found that "people facing deportation in New York Immigration courts with a lawyer are 500 percent as likely to win their cases as those without representation." It was also found that "nondetained immigrants with lawyers have successful outcomes 74 percent of the time, those on the other end, without counsel and who were detained, prevailed a mere 3 percent of the time."
July 19, 2013: City Council Speaker Christine Quinn and Immigrants Rights Groups announce The New York Immigrant Family Unity Project (NYIFUP): The Council announced a one-year pilot program, NYIFUP, "the nation's first government-funded system of universal representation for immigrants facing deportation." Immigrants facing deportation have low rates of success when doing so without legal representation, especially given language barriers which often exist. NYIFUP creates a "network of legal counsel for New Yorkers who are detained and at risk of permanent exile." No universal right to counsel exists, but more coverage is provided by the program, started with $500,000 in funding.
March 26, 2014: Council Member Mark Levine sponsors Intro. 0214: The legislation would require that legal counsel be provided to tenants and homeowners who are facing "eviction, ejectment or foreclosure proceedings" and create a Civil Justice Coordinator position. Civil courts do not guarantee a "right to counsel" as criminal courts do and this bill is an attempt to provide that counsel, to level the playing field for tenants who are unable to seek it on their own. The bill had 39 sponsors as of mid-June 2015, but has not been given a committee hearing.
June 2014: Right to Counsel NYC Coalition is formed: Created to build a citywide movement that works to establish New York City as first in the nation to establish a right to counsel for tenants in housing court. Coalition members include The Community Development Project at The Urban Justice Center, Bronx Defenders, Legal Services-NYC, and others.
June 11, 2014: Council Members and housing activists rally on City Council steps: "By no definition are tenants getting equal justice in housing court, where only 10 percent of tenants have legal representation and 90 percent of landlords have attorneys," said Council Member Mark Levine at the rally with Public Advocate Letitia James, Council Member Vanessa Gibson, and others.
June 26, 2014: New York City Council includes $4.9 million funding for NYIFUP: "New York City will become the first jurisdiction in the nation to have a functioning public defender system for immigrants facing deportation. In New York City, no family will have a loved one locked up and deported simply because they cannot afford a lawyer," said Council Member Carlos Menchaca, chair of the Council's Committee on Immigration. NYIFUP is able to provide legal coverage to all eligible immigrants in New York immigration court, with over 1,300 immigrants served.
September 23, 2014: Council Speaker Melissa Mark-Viverito, the Robin Hood Foundation and New York Community Trust announce the Unaccompanied Minor Children Initiative: A $1.9 million public-private partnership that provides funding for legal organizations who are supporting "free legal representation and access to social, mental health, and medical services for more than a thousand unaccompanied minor children appearing on the Juvenile and Surge Dockets at the New York Immigration Court." Funding is mostly focused on "increasing access to counsel" for children in the most urgent need.
December 16, 2014: The Times features former Justice Critical of Housing Court: "Emily Jane Goodman, a retired justice of the New York State Supreme Court, said Housing Court was her 'worst' experience on the bench. "Housing Court is the most unbalanced, unfair and unjust court in our system, and the biggest problem is lack of legal representation," Ms. Goodman said. "Tenants do not know their rights, are frightened, intimidated, enter agreements they do not understand and cannot possibly fulfill," she said. "Typically, they may consent to a judgment of eviction and agree to pay a sum of money they have no ability to raise."" Goodman said in the Times' "Push to Provide Lawyers in New York City Housing Court Gains Momentum."
February 11, 2015: Council Speaker Melissa Mark-Viverito introduces "The people's law firm" in 2015 State of the City: With more than 1.25 million low-income New York City residents without access to legal services, Mark-Viverito proposes "the people's law firm" or "El Bufete del Pueblo" in the form of an Office of Civil Justice. The OCJ would prepare an "annual survey" to assess the "unmet civil legal services needs among low-income NYC residents", develop a five-year plan based off of these surveys, make budget recommendations on the funding of civil legal service programs, explore free and low-cost civil legal service programs, and provide outreach and education about the programs.
April 15, 2015: Council Member Levine and Council Speaker Mark-Viverito submit Intro. 0736: The legislation outlines an office in charge "with assessing the need for civil legal services throughout New York City." The bill will create an Office of Civil Justice and a Coordinator position which will review the budget of agencies with civil justice programs and make recommendations to the Mayor; prepare an annual report for the Mayor and Council of the civil legal service needs of low-income residents and the availability of that service, what those civil legal matters concern and concentrations of these matters by area or populations; ascertain the effectiveness of civil legal service programs; "serve as liaison between providers of low-cost or free legal services" and those residents in need of civil legal services; and also create a five-year plan.
The bill is aimed at helping prevent unnecessary and unjust evictions and deportations, and at ensuring that low-income New Yorkers have the legal representation they need in crucial life-changing situations. The coordinator will be tasked with making sure that already existing low-cost or free legal representation is available to the low-income residents who need it. The office will have an initial budget of $2 million and will be slotted under Steven Banks, commissioner of the Human Resources Administration (HRA), which runs public benefit programs for low-income New Yorkers.
May 26 & 27, 2015: City Council Committee on Courts and Legal Services, then full City Council pass Intro. 0736: The bill was unanimously passed in committee and then through the full City Council the next day. It is sent to the mayor's desk for signature on June 16, 2015.
At the bill-signing on Tuesday, June 16, Council Member Levine said, "The truth is what's happening in housing court, immigration court, any civil arena today doesn't meet a reasonable standard of justice. It's a place where if you don't have money, you're on your own, you don't have an attorney," but "today we're taking a step forward by putting in place the infrastructure that we need now that we're growing the funding and hope to continue to grow it. The kind of infrastructure that we've had on the criminal side, which for years has had a criminal justice coordinator, we're now catching up on the civil side."
***
by Erika Wang, Gotham Gazette
@GothamGazette