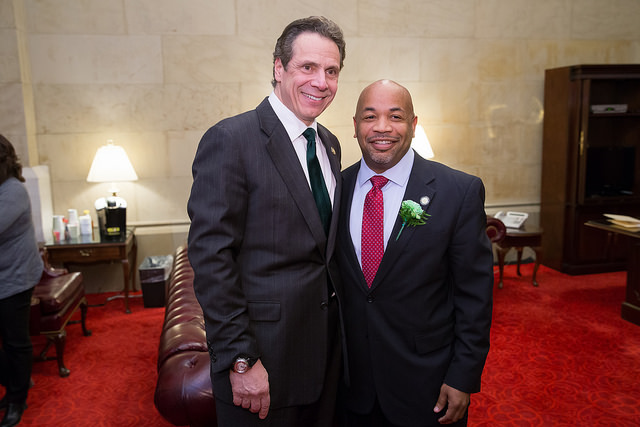 Two of the 'three men' (photo: The Governor's Office via flickr)
---
Albany has a reputation for procrastination. Gov. Andrew Cuomo and the Legislature seem to meet no sunsetting regulation that impacts millions of people, mandated federal action with millions of dollars at stake, or other serious deadline that is too important for them to skirt. State government loves to push issues right to the edge, pause, and then shove them over the cliff just when everyone is looking.
It is a habit so ingrained in capital culture that long-time observers simply expect it. "When they announced the last day of session was a Wednesday I just assumed the actual end would be Friday," said Blair Horner, of the New York Public Interest Research Group, who has witnessed decades of Albany dysfunction.
With both houses and the governor having failed to prevent the city's rent laws that govern affordable housing for millions of New Yorkers from expiring, they remain in Albany locked in a more-than familiar routine. Leaders meetings are punctuated by declarations to the press of "No deal yet!" or "See you tomorrow!" The governor's office issues press release after press release about funding grants to various projects and there is an occasional deal announced on an important issue while a host of legislative debates over bills bordering on the absurd take place in chambers - as happened Wednesday in the Senate on a bill that would make the wood frog the state amphibian or with a bill naming an official state dog that was on the Senate's active list on Thursday.
Lawmakers expect to continue this routine on Friday and Monday after that, if no deal materializes on rent regulations and a couple of other high profile issues like mayoral control of city schools. Legislators have special incentive to stay and negotiate, not only because of public opinion, but because if they fail to negotiate major policy now, Gov. Cuomo will be able to hammer his preferred policy positions through more easily in the next budget.
In Albany, where passing a state budget on time is seen as a work of wonders - and a late budget is labeled on-time because the clocks in the chamber are stopped during voting - many see the current situation as par for the course and think it may the best the state can hope for, especially given current realities. "In many ways this is a really typical end of session," said Horner. "Everyone is waiting while deals are rolled out slowly, negotiations are covered in a shroud of secrecy, and this is an odd numbered year so they are focused on delivering for the political elite rather than the voters."
Things could be worse given that the legislative hierarchy was upended by US Attorney Preet Bharara and Cuomo's negotiating team consists of second-term rookies. New conference leaders Assembly Speaker Carl Heastie, a Democrat, and Senate Majority Leader John Flanagan, a Republican, have yet to storm away from the negotiating table and taken their conferences home. Cuomo hasn't begun making public threats, beyond saying he would keep the Legislature in town for as long as it takes to reach a deal on the rent laws. But history shows that there isn't much anyone can do to force the sides into a deal and as long as discussions are ongoing, there is still hope issues can be resolved.
The Legislature wrapped session fairly neatly over the last 3 years without a big ticket deal - often known as a "big ugly." But in 2011 Cuomo and legislators found themselves in a somewhat similar situation. Rent laws expired while negotiations over hot-button issues like marriage equality were actually resolved. The Legislature stayed in session a few days past the scheduled conclusion, passing simple extenders of the rent laws until they allowed the law to expire for 48 hours. Eventually a deal was struck.
Horner and others say it is when both sides stop talking that people really need to worry, because there is no effective recourse. "At the moment, cooler heads are prevailing and they continue to talk," said Horner. Cuomo could call a special session which allows him to force the Legislature to return to Albany to consider a legislative agenda of his choosing, but there is nothing he can do to make them pass bills. "The governor can call them back but it is largely an ineffective executive tool that is mainly used as a torture device rather than a deal-maker. It is used as a weapon to force them to schlep to Albany," said Horner.
Former Assembly Member and Senior Demos Fellow Richard Brodsky says that special sessions are "just silly," because "the Legislature can just gavel out of special session and into regular session," without even considering the governor's agenda.
Brodsky said it is actually in Cuomo's best interest if end-of-session negotiations fail. He said the governor's considerable budget powers have actually led to this end-of-session stalemate. "Last minute negotiation is a basic tenet of any democracy, from London to Jerusalem," said Brodsky. "What is really going on here is the governor has no incentive to negotiate because he can get whatever he wants in the budget thanks to Silver v. Pataki."
The decision in that case prevents the Legislature from altering Cuomo's budget proposals, allowing the branch to only agree or disagree with each entry. This year the result was the adoption of Cuomo's hyper-controversial education plan, free of legislative tinkering. There was, of course, much that the governor attempted to include in the budget that legislators would not agree to and was thus bumped out completely.
Brodsky says he expects Cuomo and the Legislature to agree to basic extenders so that Cuomo can put more long-term deals on mayoral control and rent regulations in his budget.
Meanwhile, for further head-scratching consider that both houses of the Legislature maintain a technical defense against any gubernatorial special session by staying in regular session even when members aren't actually in Albany to vote on anything. When leadership announces the end of a session week they will unfailingly announce their return date along with the phrase "intervening days being legislative days." The move is designed so that they never technically go out of session and leave themselves open to an official special session called by the governor. Horner says he isn't exactly clear whether the mechanism actually works. If Cuomo were to call the Legislature back it would carry with it the weight of public opinion, regardless of the technicalities.
The Legislature has returned outside of normal session voluntarily in the past to address pressing issues. They've reached deals on tax reform under Gov. Cuomo and on anti-terrorism measures after 9/11 under Gov. George Pataki.
One reason the current situation may not seem so bad to veterans like Horner is that there was a time when having the Legislature in Albany through the summer was basically the norm. Under Pataki and Gov. David Paterson budgets, due by March 1, were routinely months late.
Paterson put his executive power to the test during the 2009 Senate coup where Republicans attempted to seize control of the chamber by aligning with Sens. Pedro Espada and Hiram Monserrate. Both Democrats and Republicans insisted they controlled the chamber, the stalemate continued for weeks as legal challenges mounted. Paterson issued a special session to address outstanding issues like mayoral control of schools.
Legislators returned to Albany facing the threat of having the State Police force them there but Democrats and Republicans refused to enter the Senate chamber at the same time. Nothing got done.
Paterson later pressed Comptroller Thomas DiNapoli to withhold senators' pay until they got to work. DiNapoli initially resisted but in early July 2009 he began withholding payments despite the lack of any clear legality. The situation was eventually resolved when Paterson filled the vacant lieutenant governor position, which stripped the Senate of some of its power.
Horner stresses that the current situation isn't anywhere near the dysfunction of 2009 but that with all the pressure the Legislature faces and tension in the chamber due to Bharara's indictments, things could change for the worse. The situation is already at a point where many policy issues have been swept off the table as almost only the most basic items that have or will soon sunset are being dealt with.
"I really couldn't give odds on whether things get settled," said Horner. "This is a unique session. normally muscle memory is that there is radio silence from the governor and leaders as agreements roll out and I think that is what the expectation is now. But there is a giant question mark over whether Albany has the capacity to deal with all the changes it has been through this year."
Brodsky, however, said he knows how this movie ends. "I've been saying for months we will get extenders and the governor will put what he wants on these issues in his budget in March. I don't fault the governor, why would he negotiate when he doesn't have to?"
***
by David King, Albany editor, Gotham Gazette
@DavidHowardKing