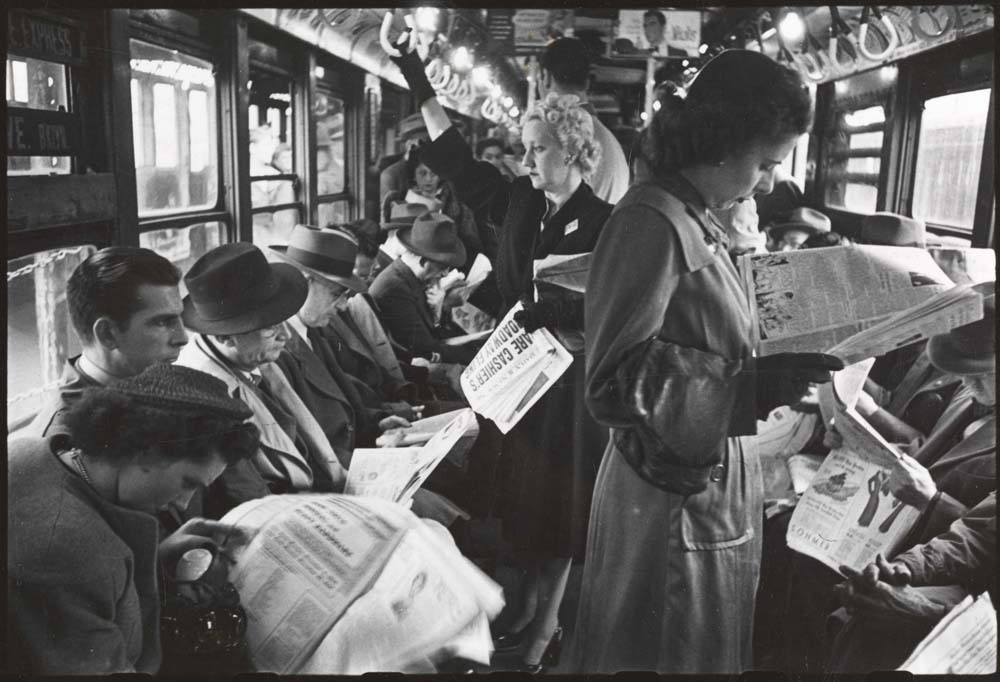 photo: Stanley Kubrick via Museum of the City of New York
---
Gotham Gazette's Week in Review, Friday June 19
PHOTO OF THE WEEK: Mayor Bill de Blasio speaks at the groundbreaking for the Cornel Technion campus on Roosevelt Island, praising former Mayor Michael Bloomberg, who announced a $100 million donation to the school; via John M. Mantel for the New York Post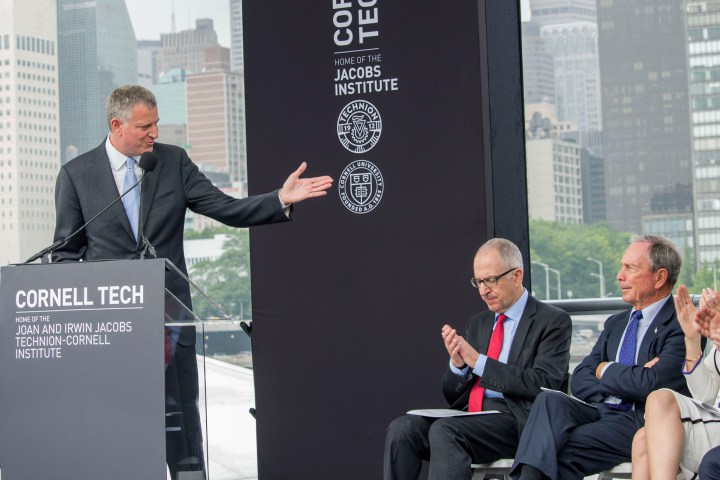 TOP FIVE STORIES OF THE WEEK:
1. Rent Regulations Expire...Then Extended: State lawmakers allowed rent regulations to expire this past Monday to the frustration of about two million New York City tenants who live in rent-regulated apartments, and many Democratic state legislators and City Council members. In a statement released on Monday, June 15, Governor Cuomo warned that "landlords should under no circumstances believe that their responsibility under the current rent stabilization program has expired." With negotiations at an impasse, Cuomo and legislative leaders agreed on Thursday to sign a short extension of the regulations, applying retroactively and through Tuesday, June 23. Negotiations continue.
2. Some Important Albany Business Done: 'Affirmative Consent' on College Campuses, Nail Salon Regulations, and Port Authority Reform: No deals yet on rent regulations, 421-a, mayoral control of schools, the charter school cap, 'raise the age,' or a whole host of other high-profile issues, but, a few key items were dealth with this week. Legislators approved the campus sexual assault bill redefining consent on Tuesday, one of Gov. Cuomo's top priorities. A bill allowing pregnant women to enroll in the New York State Health Exchange at any time was passed. A nail salon bill, which allows regulation of the industry that recently came under heightened scrutiny thanks to a New York Times series, was passed. And, Thursday evening a Port Authority reform bill passed, with Assembly Speaker Carl Heastie saying the bill is important reform "by increasing transparency, improving regulation and instituting more independent oversight." The bill will still need approval from New Jersey's state legislators.
3. NYC Office of Civil Justice Created: The bill creating an Office of Civil Justice and a Coordinator of Civil Justice was unanimously passed in committee in the last week of May before being voted on by full City Council, and then signed into law by Mayor de Blasio this past Tuesday. Civil court, unlike criminal court, does not have "the right to counsel" even though cases about eviction, child custody, and deportation are often life-changing. The new office will be geared toward consolidating many of the different efforts to bring legal aid and representation to low-income New Yorkers.
4. First Arrest By New Tenant Harassment Prevention Task Force: On Wednesday, Attorney General Schneiderman, Mayor de Blasio and the New York State Homes and Community Renewal Commissioner James Rubin announced that the city/state Tenant Harassment Prevention Task Force had arrested and indicted landlord Daniel Melamed. It was alleged that Melamed jeopardized the health and safety of his tenants, including a six-year-old child, and forced at least one rent regulation tenant to move out. In the press release on Wednesday Attorney General Schneiderman warned that the "charges send a strong message to landlords across New York City: if you harass, intimidate, or jeopardize the health and safety of your tenants, we will come after you with the full force of the law."
5. Groundbreaking At Cornell Tech: Cornell and Technion-Israel Institute of Technology won the 2011 competition to build an applied sciences graduate school to "foster high-tech entrepreneurship in the city" and its groundbreaking ceremony just took place this past Tuesday at the Roosevelt Island site. The first stage of construction won't be finished until 2017 but Mayor de Blasio noted at the ceremony that over the next 30 years this project is projected to create more than 48,000 jobs and bring $33 billion in economic impact. This past Monday, former Mayor Bloomberg also announced a donation of $100 million to the project. The groundbreaking as a rare joint appearance by the current mayor and his predeccessor.
THIS WEEK'S NUMBERS:
13 days since Richard Matt and David Sweat escaped from Clinton Correctional Facility in Dannemora, New York on June 6 (as of Friday, June 19, that is).
42 percent of more than 1,400 criminal cases with defendants at Rikers for more than a year have been decided by New York City Courts over the past two months. This is part of "Justice Reboot," an attempt to reduce the backlog of pending cases.
$100 million being donated by former Mayor Michael Bloomberg is to Cornell Technion to build a school building on Roosevelt Island. The campus will include "The Bloomberg Center," and city officials are hopeful that it will position New York City as a major tech center. The school is part of an initiative Bloomberg launched for a new graduate school of applied sciences in the city.
THE GLORY AND THE GOAT:
It was a good week for Dante de Blasio, as Mayor Bill de Blasio's son graduates Friday from Brooklyn Technical High School with plans to attend Yale University in the fall. Mayor de Blasio and First Lady Chirlane McCray both set to attend and deliver remarks at the ceremony at Barclays Center.
It was bad week for Governor Andrew Cuomo and Assembly Speaker Carl Heastie, both Democrats, neither of whom appears able to convince Republican Senate Majority Leader John Flanagan to extend and stregthen rent regulations meant to keep about a million apartment units affordable for New York City residents. Many Democrats are questioning Cuomo's leadership and Heastie has not proven his mettle in his first post-budget legislative negotiations, with rent laws expiring on Monday night. Some are applauding Heastie for holding his ground, though, both on rent laws and in not giving in to the education investment tax credit favored by Cuomo and Senate Republicans.
THE FLASH:
One year ago, June 19, 2014, Governor Cuomo and state legislative leaders announced an agreement to establish a medical marijuana program, known as the Compassionate Care Act, for New York State. The program rollout continues while there is much criticism of the rules as being too tight.
Exactly 150 years ago, June 19,1865, Major General Gordon Granger landed in Texas with the news that the Civil War had ended and that the enslaved were to be set free. The day would become known as Juneteenth and the pronouncement came two-and-a-half years after the Emancipation Proclamation, which had made very little impact in Texas.
GOTHAM GAZETTE HIGHLIGHTS OF THE WEEK:
MORE FOR THE WEEKEND:
***
NOTE TO READERS: we hope you enjoy this new Gotham Gazette weekly feature - please share it if you do; on Twitter, use our handle @GothamGazette.
If you have feedback on this feature for us, you can email editor Ben Max: This email address is being protected from spambots. You need JavaScript enabled to view it.
Watch Sunday evening for our latest Week Ahead in New York Politics, which gives you a preview of key issues and events to be aware of for the week about to start. In the meantime, catch up on the latest original reporting from Gotham Gazette here. And have a great weekend!
***
by Erika Wang and Ben Max