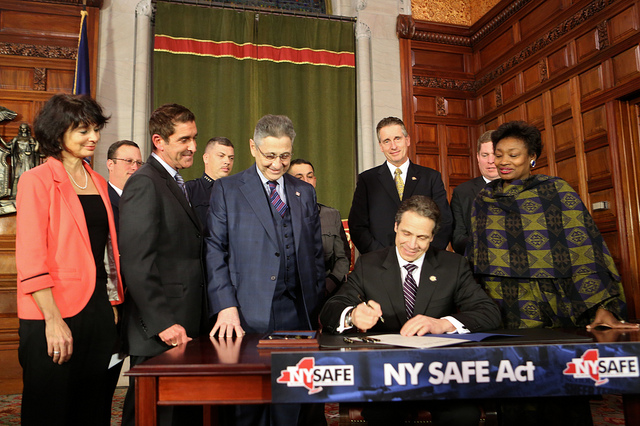 Gov. Cuomo signs the SAFE Act, Jan. 2013 (photo: Governor's Office via flickr)
---
Riders on a Brooklyn-bound 4 train fled in terror when a man responded to taunts from two younger men by pulling a gun and loading a clip. As the confrontation escalated and the train stopped, the melee spilled into the Borough Hall station, with threats and shoving until Gilbert Drogheo, one of the younger men, was lying dead of a gunshot wound on the station floor. Like a number of recent shootings, most of the incident was captured on video.
What stands out about the shooting death is that the firearm that killed Drogheo wasn't obtained illegally. According to law enforcement officials, Willie Grooms, the 69-year-old retired corrections officer who shot Drogheo, had a pistol permit. Brooklyn District Attorney Ken Thompson announced that Grooms will not be charged with a crime despite pleas from Drogheo's family. Grooms has maintained that Drogheo was harassing and assaulting him and that he attempted a citizen's arrest.
The incident and several others, such as the seemingly accidental gun shot that injured five people at a Waldorf Astoria wedding, raise serious questions for many New Yorkers - as the recent shooting at a Charleston, South Carolina church that killed nine has also done for many across the country. These are questions being seized upon by gun control activists in especially vehement efforts during June, which is Gun Violence Awareness Month in New York. Among the questions being asked are 'who is allowed to carry a gun' and 'how do people get gun permits.'
Advocates on both sides of the gun control debate agree that New York has some of the toughest gun-permitting laws of any state in the nation. However, regulations differ greatly between New York City and the rest of the state, with the city having a much more stringent system. This is evident as the New York Times recently reported on armed upstate New Yorkers on the lookout for two escaped prisoners.
"New York has some of the strongest laws in the country," said Leah Barrett of New Yorkers Against Gun Violence. "New York is a 'may issue' state, whereas Florida is a 'shall issue.' Meaning [Florida] will basically issue [a gun permit] to anyone with a pulse."
New York is known as a 'may-issue state' because its regulations allow for background checks before issuing a license. However, the licensing process upstate is less restrictive than that of some other states, like Maryland, that rarely issue permits. Other states, such as Florida, are known as 'shall-issue' states because they have an application process that is mostly a formality. States like Texas are known as states 'unrestricted' because its residents are free to carry concealed firearms without going through any application process.
The screening and permitting process in New York differs based on type of firearm. Applicants for pistol permits undergo criminal and mental health background checks at the state and federal level - even when purchasing at a gun show. Permits are issued by local judges or clerks. Applicants must be at least 21 years old, free of a felony conviction or "serious" offense, of good moral character, and not have had a previous license revoked. Applicants must also state whether they have suffered severe mental illness or been institutionalized or hospitalized for such an illness. Permit issuers may deny a license based on that history.
In most of the state outside of New York City, permits are not required for the vast majority of rifles and shotguns used to hunt. Whereas the city does require a permit for guns used for hunting. The SAFE Act banned most assault style shotguns and rifles across the state but grandfathered in those purchased before January 15, 2013. Those grandfathered firearms were required to be registered before January 14, 2014.
"In New York City it is nearly impossible to get a pistol permit without some kind of hardcore need," said Tom King of the New York State Rifle and Pistol Association. "Getting a concealed carry permit is almost impossible in the city unless you are a politician, a celebrity or very, very wealthy." The New York Police Department is tasked with reviewing applications for concealed carry permits in the city. A New York Times report from 2011 revealed that a number of celebrities and media members like John Catsimatidis, Sean Hannity, Alexis Stewart, and John Mack all have city pistol permits.
Outside of the city, King says, the permitting is less prohibitive but may take some time due to background checks that have recently been enhanced by the SAFE Act - legislation that is much maligned by gun rights advocates. The difficulty of getting a concealed permit varies depending on the county in which someone applies, in most cases the process is overseen by a judge or a clerk.
The NYPD offers a number of different permits that allow for pistols to be carried for business purposes, or restrict the carrier to a specific business or residence. Store owners and security guards appear to be the most-often licensed. Applicants must pay about $400 for a license, wait 12 weeks, and undergo a background check. They then must apply to the NYPD for permission to buy whichever firearm they select. One license can cover up to 25 different weapons. There were over 40,000 permit holders in New York City as of 2011.
Applications for permits in the rest of the state generally cost a lot less - often around $15 - and are completed in about two months. The SAFE Act established that state pistol permits must be renewed every five years. Pistol owners who fail to do so can be charged with a Class A misdemeanor. Renewal involves submitting an applicant's current address, contact information, social security number, and a list of owned firearms.
King said that New York's current permitting rules seem fairly stable and that his group is mostly involved in fighting off the attempts of local municipalities to tweak gun laws. He notes that most smaller cities have to apply to the state for home rule to make their gun laws tougher and most of the time they are denied, or the law is defeated in court. His group is also actively looking to make repealing the SAFE Act a major issue in the 2016 elections for state Senate and Assembly. It was often used against Governor Andrew Cuomo and others during the 2014 cycle, while when he was campaigning in New York City, Cuomo boasted about passing the law, enacted quickly after the December 2012 Sandy Hook Elementary School massacre in Newtown, CT.
Barrett, of New Yorkers Against Gun Violence, is concerned that a federal bill that would force states to recognize out-of-state conceal-carry permits is picking up steam. The Concealed Carry Reciprocity Act is backed by the National Rifle Association (NRA) and a host of Republican legislators from states with no permitting laws. "This operates more or less like a driver's license," Sen. John Cornyn of Texas told The Hill in February. "So, for example, if you have a driver's license in Texas, you can drive in New York, in Utah and other places, subject to the laws of those states."
Advocates of the bill say it would prevent 'gotcha' moments where travelers with out-of-state concealed-carry permits are arrested for toting guns illegally in another state. Barrett and gun-control advocates say the bill would wreak havoc in New York. They say the bill could severely damage efforts to fight gun trafficking from out of state, which the NYPD and others often point to as a major issue in terms of guns used to commit crimes in New York City. "New York would be forced to honor permits from these other states that have weaker laws," said Barrett. "We would likely see an influx of guns from out of state and an increase in trafficking. And how will New York be able to confirm these permits?"
While, New York may very well have some of the strongest gun laws in the country, some in Albany, including legislators who back stricter gun laws, say that in order to get Senate Republicans to negotiate on other bills they may have to concede to their efforts to roll back parts of the SAFE Act. On June 9 the Senate passed a bill that would do away with a SAFE Act provision that requires background checks on those who purchase ammo. A state database to monitor ammo sales has yet to be brought online. The bill would also prevent gun registrations from being made public and allow family members to gift semiautomatic guns to their relatives.
King said he thinks the bill has a real chance to make it through the Legislature. Barrett, however, points to a recent poll her group conducted on the individual elements of the SAFE Act. The poll shows that New Yorkers support the SAFE Act by a 2-1 margin, and their support increases overwhelmingly when asked about the individual gun-safety measures contained in the act.
Background checks for all firearm sales was backed by 89 percent of all voters and 80 percent of gun owners surveyed. Renewal of pistol permits every five years was supported by 79 percent of voters and 53 percent of gun owners. Background checks for ammunition sales was supported by 72 percent of all voters and 37 percent of gun owners.
"New Yorkers overwhelmingly support gun safety, in fact they support the measures contained in the SAFE Act when they learn how common sense they are," said Barrett.
***
by David King, Albany editor, Gotham Gazette
@DavidHowardKing