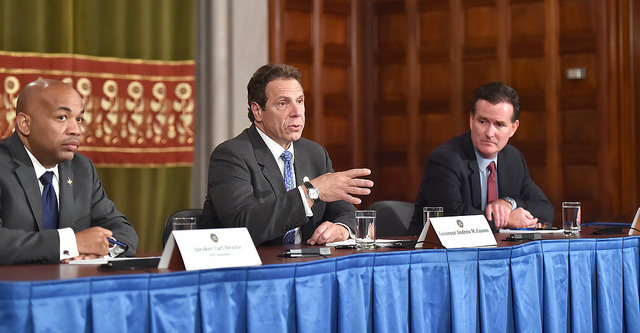 Three men at a table (photo: Office of the Governor - Kevin P. Coughlin)
---
The deal must still be approved by Democrats in the Assembly and Republicans in the Senate, but there is a framework in place for an end-of-session policy package resolving debate on several key issues that have been on the Albany negotiating table for months.
On Tuesday afternoon at the Capitol, Governor Andrew Cuomo and the majority leader of each house, Democratic Assembly Speaker Carl Heastie and Republican Senate President John Flanagan, announced that they had compromised on a slate of policies, many of which are of great importance to New York City. Noting the preliminary nature of the deal and that it still needed to be conferenced in each legislative house, Cuomo explained that the 'three men in a room' had agreed on a four-year extension of rent regulations with a few tweaks, a one-year extension of mayoral control of city schools with no tweaks, and more.
He also explained several issues on which no agreement had been reached, with executive action imminent on two: the governor promised to use his power to remove 16- and 17-year-olds from state prisons after no deal was struck on a comprehensive bill to raise the age of criminal responsibility and he said that he would name, for one year, Attorney General Eric Schneiderman as a special prosecutor in cases where a police officer kills an unarmed civilian.
The two houses of the legislature are expected to pass on Wednesday the bills drafted based on the framework deal. While there's still a chance that something could go awry, it is unlikely - legislators were supposed to wrap up the spring session last Wednesday, coming back to Albany Tuesday after resolutions on key issues were elusive last week. Some details are still being worked out, though, and Cuomo, Heastie, and Flanagan did not provide much by way of specifics. Rent regulations, which had expired and then were retroactively extended through Tuesday, and mayor control, set to expire at the end of the month, had been at the top of the agenda because they were sunsetting. Many issues have dropped off the negotiating table in the preceding weeks and months.
Taking the lead in outlining the agreed upon, Cuomo provided context, repeatedly noting that it had been an extraordinary year, but not naming either former Assembly Speaker Sheldon Silver or former Senate President Dean Skelos, both of whom were arrested on corruption charges in 2015. Cuomo praised Heastie and Flanagan, and touted that Albany was continuing to function despite all of the challenges. Cuomo introduced the press conference by saying, in part, "I'm excited. This is a very robust agreement, it is a comprehensive agreement, it includes continued education reforms, it cuts taxes and it is an unprecedented package that protects tenants."
The governor not only explained the rent regulation and mayoral control agreements, both of which came as crushing disappointments to many New York City Democrats, but also that there is a deal in place that extends the 421-a real estate tax break for six more months while a broader deal is reached between labor and developers around wages paid for constructing new residences. Cuomo also explained there were deals in place for a $1.3 billion "property tax rebate program...targeted to Upstate New York and to the suburban communities" and "$250 million to nonpublic schools for what is called mandated services reimbursement." This nonpublic school investment comes after Assembly Democrats refused to back Cuomo's push for an education investment tax credit that would have helped those same schools. There is also a deal in place to change how charter schools are authorized and allowing for about 50 more charter schools in New York City.
Most of what was announced was received warmly by those who typically support the governor, there's little evidence that he agreed to anything he did not approve of in order to get something else that he wanted. These include education reform groups especially pleased with reform of the charter school cap and not unhappy to see the deal give Mayor Bill de Blasio just a one year extension of mayoral control. At the same time, it appears that Cuomo's relationship with the more liberal wing of his Democratic Party is fraying further.
De Blasio did not release a statement on the deal, but cannot be happy about the one-year extension of mayoral control - he had asked for it to be made permanent, then said he would be on board with a three-year extension offered in the Assembly and backed publicly by Cuomo. De Blasio has also been particularly concerned with a strengthening of rent regulations - he wants an end to vacancy decontrol altogether - and of the 421-a program to benefit his affordable housing plans.
Meanwhile, tenant groups are displeased and will rally Wednesday in response to the deal, focusing their vitriol at the governor. The Rent Justice Coalition said Tuesday that "tenants were enraged to hear Governor Cuomo's rent law proposal, which will result in the deregulation of 100,000 apartments and lead to substantial landlord harassment." Another tenant group, Alliance for Tenant Power, released a statement from one of its leaders, Katie Goldstein, who said, "Our worst fears about Governor Cuomo have been confirmed. He took no action at all to strengthen the rent laws." Goldstein calls the deal "a massive giveaway to landlords" that "will harm and endanger countless low-income and working-class households." There will be a 10 a.m. press conference on Wednesday outside the governor's Manhattan office at which tenants will "accuse Governor Cuomo of betraying them by failing to strengthen rent laws and instead allowing massive giveaways to landlords."
In announcing the four-year extension of regulations that govern about a million New York City apartments home to about two million New Yorkers, Cuomo highlighted that there would be an increase in the vacancy decontrol threshold and that it would be indexed to what the city rent guidelines board does in terms of rent-controlled apartments in subsequent years.
On criminal justice, Raise the Age NY, a broad coalition of groups, also expressed disappointment with the governor, releasing a statement saying, "Governor Cuomo's failure to fulfill his public commitment to pass comprehensive raise the age legislation jeopardizes public safety and lets down children like Kalief Browder who spend years in the adult system for simple mistakes. Getting fewer than 1,000 children out of adult jails and prisons barely scratches the surface of this problem that affects over 30,000 youth and our communities. Unfortunately, New York continues to be one of two states that does not treat youth in an age-appropriate manner, which leads to youth who are more likely to re-offend and less likely to turn their lives around and become productive citizens. The Governor and Legislature need to fix this problem."
In a statement responding to Cuomo's announcement, Attorney General Schneiderman lamented what he sees as a lack of action in Albany, saying he was disappointed that lawmakers had not come to a legislative solution on a special prosecutor, calling it "part of a broader failure to achieve meaningful reform on a range of issues in this legislative session." He went on to say that Cuomo "was unable to enact statutory reform" on a special prosecutor and that with the impending executive order, "My office will handle these cases with the highest level of care and independence, while we continue to work with lawmakers, District Attorneys, advocates and other experts in criminal justice reform on a long-term legislative solution to this critical matter of law and policy."
In finishing his remarks, Cuomo said of corruption scandal and resulting upheaval in state government, "this was a very difficult year. There were extraordinary developments. I don't think you can find another year in the state's history where you saw the number of changes and the major changes that were made during the legislative year, the change in leadership, etcetera."
***
by Ben Max, Gotham Gazette
@tweetBenMax