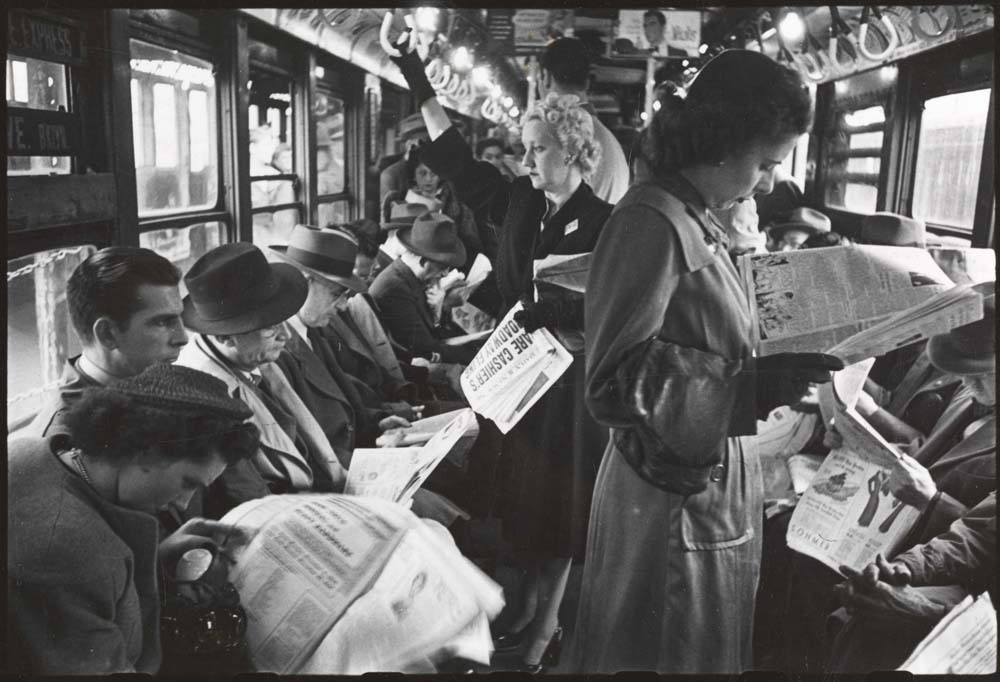 photo: Stanley Kubrick via Museum of the City of New York
---
Gotham Gazette's Week in Review, Friday June 26
PHOTOS OF THE WEEK: Gov. Cuomo shakes hands with Sen. Flanagan at their Thursday 'big ugly' announcement (top; via The Governor's Office on flickr); Mayor de Blasio hugs CM Ferreras-Copeland at their Monday budget announcement (middle, via William Alatriste); de Blasio officiates three marriages at City Hall on Friday (bottom, via William Alatriste)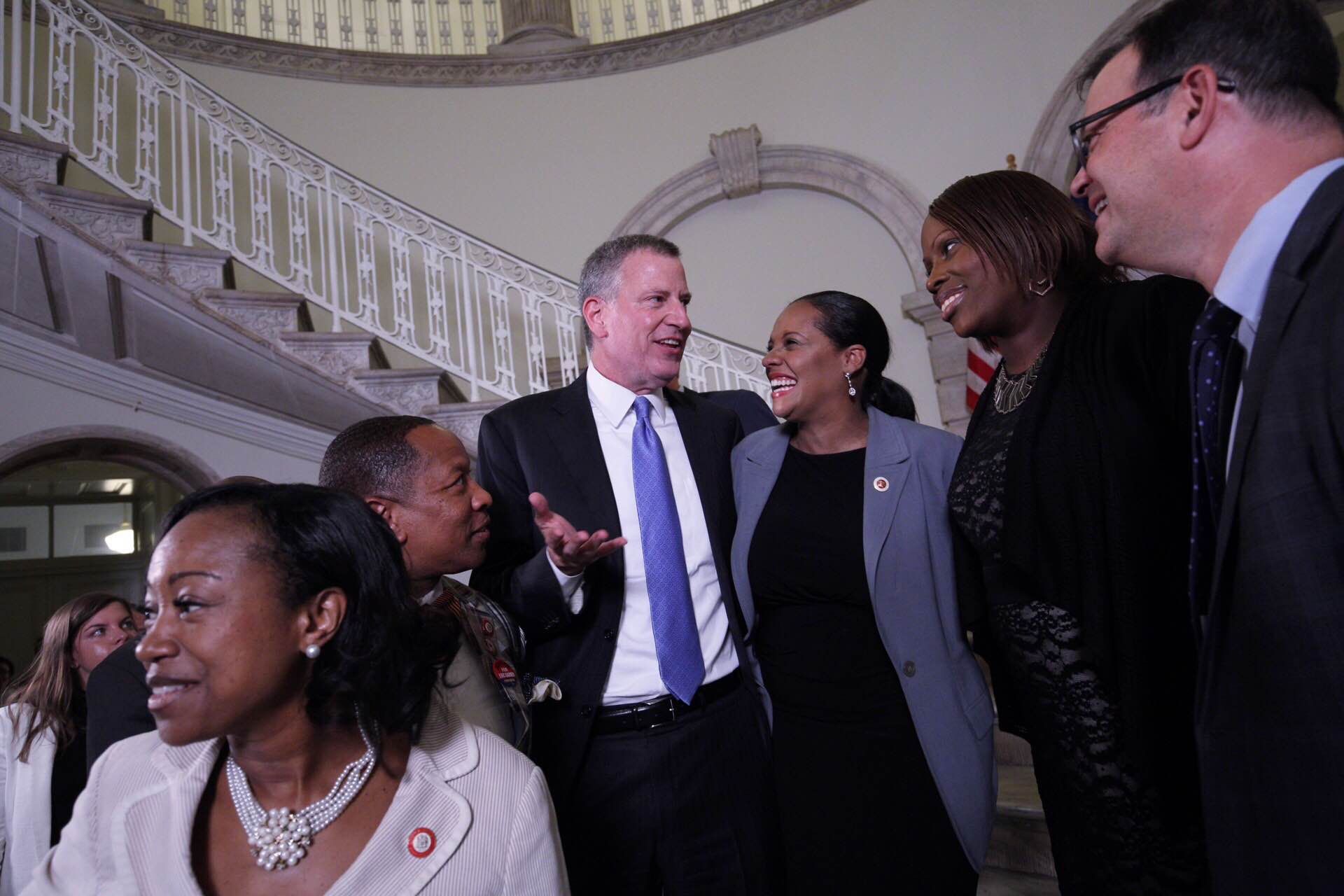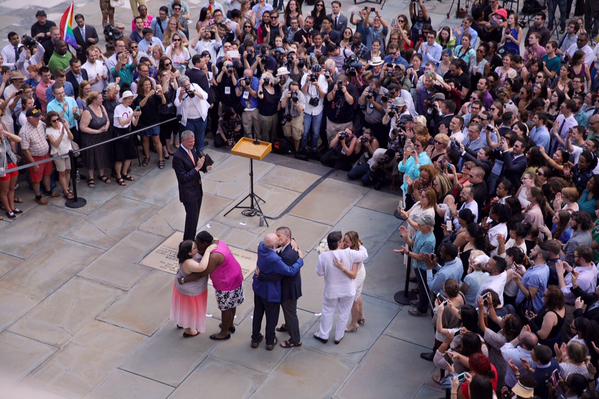 TOP FIVE STORIES OF THE WEEK:
1. Albany End-of-Session Policy: The framework for the end of 2015-2016 legislative session deal was announced by Governor Andrew Cuomo, Senate Majority Leader John Flanagan and Assembly Speaker Carl Heastie on Tuesday afternoon; details were negotiated, and the two legislative houses voted the deal through on Thursday evening.
2. New York City Fiscal Year 2016 Budget Agreement: The City's $78.5 billion budget agreement for Fiscal Year 2016 was announced by Mayor de Blasio, City Speaker Mark-Viverito, Finance Committee Chair Ferreras-Copeland and Council Members on Monday evening. Highlights include funding for 1,297 additional NYPD officers, six-day library service, seniors centers, and much more, including a new bail fund.
3. New NYPD Plan, "One City: Safe and Fair Everywhere": On Thursday Mayor de Blasio and NYPD Commissioner Bill Bratton announced a new community policing plan, possible due to the upcoming addition of about 1,000 police officers to the NYPD force, aimed to unite "neighbors and residents in the fight against crime." Police officers will go through the "training necessary to deepen relationships within the communities they serve."
4. De Blasio's Other Announcements:
On Tuesday, de Blasio added the Lunar New Year as an official school holiday.
On Wednesday, with Executive Order No.10, de Blasio established the Commission on Gender Equality.
Also on Wednesday, de Blasio announced a partnership with eyeglass company Warby Parker, which will allow community school students who need eyeglasses to receive them free of charge.
5. City Council Schedules Hearing on Police Reform Proposals: On Monday June 29 there will be a hearing of the public safety committee on nine police reform proposals, Capital New York reported. One of the bills included would outlaw the use of chokeholds by police officers. There is speculation that the hearing was added to the calendar as part of the budget deal during which de Blasio and the Council decided to include funding for 1,297 new police officers for the NYPD force.
THIS WEEK'S NUMBERS:
1,297 NYPD officers will be added to the force per the City's newly released budget.
$78.5 billion for the city's 2016 fiscal year budget. The budget is only a $200 million increase from the mayor's executive budget released in early May. The new budget includes $52.6 million in City Council discretionary funds to be allocated by the 51 members, and Speaker Marissa Mark-Viverito has $16 million to allocate from her speaker's pot.
80 different pre-packaged Whole Foods products were tested by the Department of Consumer Affairs and "all the products had packages with mislabeled weights." DCA Commissioner Julie Menin announced an investigation on Wednesday.
1 year extension for mayoral control of city schools, per the new end-of-session deal in Albany, a major blow to Mayor de Blasio, who had wanted it made permanent.
THE GLORY AND THE GOAT:
It was a good week for the LGBTQ community with the Stonewall Inn voted as a historic landmark on Monday and the U.S. Supreme Court ruling that same-sex marriage is a right on Friday.
It was bad week for Mayor Bill de Blasio with mayoral control of schools only extended for a year, the charter cap essentially increased, and the rent regulation extension not matching his desired outcome.
THE FLASH:
This week in 2011, the same-sex marriage bill was approved by the State Senate 33-29 and was signed into law by Governor Cuomo at 11:55 p.m. June 24, 2011. Tweet from Andrew Cuomo, in part: @NYGovCuomo "On this day in 2011, New York State proudly passed #MarriageEquality."

This week in 1915, the current New York City flag was raised for the first time during a flag-raising ceremony.
GOTHAM GAZETTE HIGHLIGHTS OF THE WEEK:
MORE FOR THE WEEKEND:
***
NOTE TO READERS: we hope you enjoy this new Gotham Gazette weekly feature - please share it if you do; on Twitter, use our handle @GothamGazette.
If you have feedback on this feature for us, you can email editor Ben Max: This email address is being protected from spambots. You need JavaScript enabled to view it.
Watch Sunday evening for our latest Week Ahead in New York Politics, which gives you a preview of key issues and events to be aware of for the week about to start. In the meantime, catch up on the latest original reporting from Gotham Gazette here. And have a great weekend!
***
by Erika Wang and Ben Max