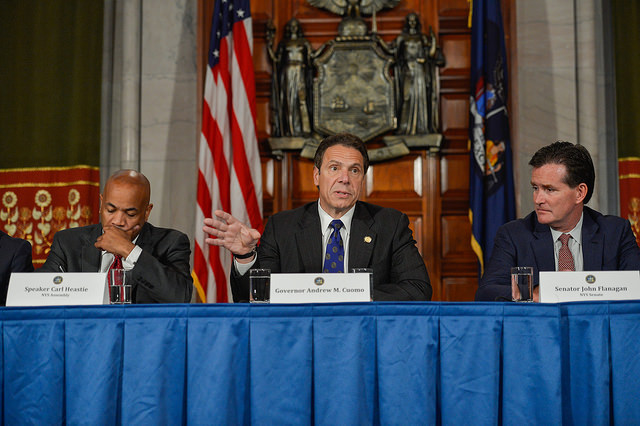 Heastie, Cuomo, Flanagan (L-R) (photo: Governor's Office via flickr)
---
In the Democrat-controlled Assembly, it was 122-13; in the Republican-controlled Senate, 47-12. With those votes and a Governor Andrew Cuomo signature, a final policy package brought an underwhelming end to a tumultuous 2015 legislative session in New York's capital.
Look at the bill, which combines laws on a variety of disparate issues, and see it's headlined "relates to rent-control provisions," referencing what was to many the most important aspect of the deal reached by Governor Cuomo, Republican Senate Majority Leader John Flanagan, and Democratic Assembly Speaker Carl Heastie. This year's 'three men in a room' took a little extra time to get to "yes," with the 2015 'big ugly' passed through the Legislature a little over a week after the originally scheduled end of session.
You can forgive Albany lawmakers for being a little tardy, though - as Governor Cuomo has said, it was no ordinary year in Albany. "This was a very difficult year," Cuomo said last Tuesday when announcing the framework of a deal. "There were extraordinary developments...It was almost unimaginable to have this kind of change in this period of time. You wound up with two new leaders." He was, of course, alluding to the fact that both Flanagan's and Heastie's predeccesors were arrested on corruption charges earlier this year.
Along with an extension of rent regulations that mostly concern New York City tenants and their allies, the deal includes action briefly extending mayoral control of city schools and the 421-a real estate tax abatement program; providing property tax rebates; setting aside funding for nonpublic schools; and altering the cap on charter schools so more can open in New York City. Cuomo and the Legislature also struck deals on campus sexual conduct and nail salon regulation.
While extensions were passed on major sunsetting items, the 2015 deal may be more notable for how much it did not include than for what it did.
Cases in point: noting the absence of items he had promised action on, Cuomo announced two executive orders he would be issuing on criminal justice issues. Facing an uncooperative Senate, the governor had also already set things in motion to up the minimum wage on his own, with his Department of Labor convening a fast food worker wage board set to deliver recommendations soon.
But on those issues some action is being taken - there is also a wide variety of policy seeing no movement through the end of session deal or Cuomo on his own, angering advocates behind pushes to enact paid family leave, the Gender Non-Discrimination Act, the DREAM Act, government ethics and campaign finance reform, and mixed martial arts (MMA), to name a few of the most-sought. New York will continue to be the only state that does not sanction MMA and one of only two that continues to try 16- and 17-year-olds as adults in the criminal justice system.
Yet according to Cuomo, the end-of-session deal is a robust package, plenty good for New Yorkers, and further evidence that New York government is functional. Speaking at a press conference announcing a final agreement, Cuomo said, "I am personally very happy and very proud of this legislative package. I think that it is responsive to the problems that are pressing the state right now. I think that it is actually a very robust and extensive legislative package of reforms that goes a long way towards making this state a better state."
The governor also praised Flanagan and Heastie. "These gentlemen were in a very difficult situation to step in as a new leader," Cuomo said, adding that it was "extraordinary" that the two could step into the legislative process in the middle of negotiations and ensure government keeps working.
Flanagan seemed mostly pleased with the session's policy outcomes. Heastie less so. But, Heastie and many of his supporters have been quick to note that the deal appears to be the best the new speaker could do. He was fighting an uphill battle, many Democrats argue, against an obstinate Senate Republican conference and, in some cases, an unsympathetic Democratic governor. New York City Democrats - elected and otherwise - were largely disappointed, and many point a finger at Cuomo, who they say did not fight hard enough on key issues or for tenants.
State Senator Adriano Espaillat, a Manhattan Democrat who voted against the end-of-session deal, said, "We are far from where we need to be to protect tenants...we need strong rent laws, not a slight improvement."
City Comptroller Scott Stringer said similarly, "When it came to protecting tenants, Albany failed miserably," Stringer said Sunday on John Catsimatidis' radio show, according to the Daily News. "We have an affordable housing crisis," Stringer added, "But the rent stabilization deal didn't address those issues."
The rent laws took center stage as Albany lawmakers let them briefly expire and the session puttered into overtime. But, the regulations were among many issues at play, some of which saw action. In looking at the outcomes of the 2015 legislative session - which some have called anemic or "the absolutely bare minimum" - we see the initial framework for next year's policy agenda.
WHAT WAS DONE
Rent Regulations: extended for four years, and strengthened slightly with an increase and indexing of the threshold by which units can be removed from the regulated rolls; an increase in civil harassment penalties where owners harass a tenant to obtain a vacancy; and an adjustment to the limits landlords can charge tenants to receive reimbursement for building improvements. Senate Republicans attempted to insert income verification measures, but they did not make the final deal.
Of Assembly Speaker Heastie's push on rent regulations, Governor Cuomo said, "I believe the rent package that he has obtained is a major step forward. You have certain voices that would say rent regulations should just go away - I understand that, but that's not going to happen any time soon. But he has done an extraordinary job in crafting a program that addresses the entire spectrum of the problem."
Reaction: the extension came as a relief to tenants and their allies, but is seen as largely inadequate, as the comments from Espaillat and Stringer indicate. City Council Member Jumaane Williams has said that "Governor Cuomo completely and thoroughly let New York City tenants down."
A spokesperson for a coalition of pro-tenant groups, Real Affordability for All, said "This deal is very bad for tenants, good for corruption and a step further to eliminating the largest source of affordable housing in the state. The changes included to the laws are as insignificant as the reforms made in 2011, which led to the displacement of thousands of working class New Yorkers and to the high record number of families who ended up in city shelters. It completely ignores the affordable housing crisis." Activists say thousands of rent regulated apartments will be lost each year and they plan to continue to protest the deal.
Taxes: the state property tax cap, limiting growth at two percent per year, is extended for an additional four years, and a new property tax credit, "$3.1 billion over four years in direct relief to struggling New York taxpayers," is included. In a statement, Senate Majority Leader Flanagan said, "We are taking action on long-held Republican priorities that reduce the property tax burden here in New York so that we can create jobs, grow businesses, and help taxpayers keep more of their hard-earned money."
Reaction: the governor is largely praised for fiscal discipline when it comes to property tax increases, while the property tax cap and the new tax credit are seen as wins for middle class and wealthy homeowners. The Citizens Budget Commission, however, expresses concern about the tax credit, writing, "The legislative package passed in Albany last week rejected some misguided and expensive proposals, including a tax credit for benefactors of private schools. Unfortunately, other expensive proposals were included, adding to current and future state expenses without providing offsetting savings or revenues...By far the largest part is a new property tax relief rebate program, which will cost $1.3 billion annually when fully implemented."
421-a: "The legislation extends the 421-a program for six months, with a provision that allows representatives of labor and industry groups to reach a memorandum of understanding regarding wage protections for construction workers. If such an agreement is reached, the program will automatically be extended for four years," according to a release from the governor's office. A key piece of the deal is that affordable housing will be mandated as part of any development approved to receive the tax break, a significant change from the previous version, which included major exceptions. The deal also bans the so-called "poor door" setup that some developers enacted with separate entrances for market-rate tenants and affordable unit tenants.
Reaction: 421-a was a source of conflict between Governor Cuomo and Mayor Bill de Blasio. The final plan - assuming that the two sides can come to a wage agreement - is very close to what de Blasio proposed, which he and his aides have pointed out, including through a convincing infographic.
"Some real progress was made on 421-a. We were very proud of that fact," de Blasio said on Monday, according to The Observer. "We're going to have a lot more affordable housing than we would have otherwise, and taxpayers are going to get a much better deal, because any time we subsidize a building, there will be affordable housing as part of that." The deal does not include the so-called "mansion tax" de Blasio called for on sales of apartments over $1.75 million and used to fund affordable housing, which the mayor called "a mistake" and a "lost opportunity."
The deal appears to work for just about all the key stakeholders, though the labor agreement that must be reached could halt the celebration, and even if it is worked out by the parties, the proof of this deal's success will be in the pudding that is real estate development and accompanying affordable housing built over the coming years.
Education: there is $250 million to private schools "for the costs of performing State-mandated services," money which many say the schools are already owed; requirements for the "disclosure of state exam questions and answers" and other measures to improve standardized testing; a "one-year extension of mayoral control of the New York City school system"; and an "increase in the number of charter schools available to be issued in New York City to 50 and enhanced flexibility in teacher certification rules" for charter schools.
Reaction: de Blasio and his allies had sought at least three years extension of mayoral control (de Blasio had originally pushed for it to be made permanent and the Assmebly had passed a seven-year extension); the one-year deal is seen as an insult to the mayor and, to some, revenge by Senate Republicans for de Blasio's 2014 efforts to swing the Senate to Democrats. It is unclear how much Governor Cuomo fought for a longer extension, though he had himself originally proposed three years early in 2015. "The outcome of the negotiations was the best that we could do," Cuomo said. Mayoral control will now be a focal point again in 2016 as de Blasio seeks another extension.
Meanwhile, much of the rest of the deal appears to extend the governor's education reform agenda. Cuomo allies in the charter school sector praised the deal. "Today Albany leaders stepped up and delivered for parents and students who demanded more choice," said StudentsFirstNY Executive Director Jenny Sedlis. "Too many children are stuck in failing schools without options...Thankfully, Albany leaders understand that charter schools play a critical role in the delivery of free, public education in New York."
Albany lawmakers also announced a deal enacting Cuomo's "Enough is Enough" campus sexual assault conduct policy across the state. "We have a bill on sexual assault on campuses that is the smartest and toughest bill in the United States," Cuomo said announcing the deal. "I think it's going to set a new national model for other states to follow."
EXECUTIVE ACTION:
The governor is taking executive action on three issues, each of which will still be revisited in terms of legislation, likely in 2016.
Governor Cuomo wanted legislation passed to raise the age of criminal responsibility, but Senate Republicans balked. "To me the single most important piece of 'raise the age' is getting the 16- and 17-year-olds out of state prisons and that's what I can do by executive order," Cuomo said last week. "We'll be creating facilities designed for those 16- and 17-year-olds that will be much more appropriate than a state prison," he said.
Cuomo also announced that since he could not come to a deal with legislative leaders on a special prosecutor in cases where police officers kill unarmed civilians, he was appointing the attorney general as such for one year, and will hope to come to a legislative solution in 2016.
The governor has pushed a further increase in the minimum wage, which is now $8.75 per hour and set to go to $9 at the end of the year. Unable to get Senate Republicans to bite, Cuomo announced he had instructed his Department of Labor to convene a wage board examining wages in the fast food industry. The wage board has held several public hearings and is set to announce its recommendations any day. Hopes are high that the board will "do the right thing and recommend a $15 wage for fast-food workers that will take effect as soon as possible," as a statement from Working Families Party State Director Bill Lipton read. Even if the board announces something less than $15 per hour, it is likely to push a significantly higher wage than $9.
ON TO NEXT YEAR:
While Cuomo acts on his own regarding the minimum wage in the fast food industry, where 16- and 17-year olds are imprisoned, and how investigations into police killings of unarmed civilians are run, it is almost certain that the governor and others will want to see legislative action on the three issues come 2016.
Advocates will have to continue to push for the DREAM Act; paid family leave; the Gender Non-Discrimination Act; raising the age of criminal responsibility and other criminal justice reforms; an increase in the minimum wage; legalizing mixed martial arts; ethics and campaign finance reform; and much more. Cuomo did not get Assembly Democrats to agree to his education tax credit proposal that would have incentivized contributions to nonpublic schools, and it is unclear if there will be another push for it in the future. It is clear, however, that the other issues on this list will remain the focus of much lobbying and activism:
Ethics and Campaign Finance Reform: "I'm disappointed and, frankly, find it incomprehensible, that there were not further measures taken to reform the procedures in our state government and in our campaigns," Attorney General Eric Schneiderman said on Friday, according to The Observer.
Schneiderman, who has put forth his own sweeping ethics reform package, said he wants to see a special legislative session before the scheduled January return of business to Albany. Good government groups, including Citizens Union, the Brennan Center, and NYPIRG, released a statement saying, "New York's leading civic organizations today decried Albany's continuing failure to fully address the ceaseless ethics problems head-on during the 2015 legislative session. The groups called on Governor Cuomo and the state's legislative leaders to convene a special session to tackle ethics reforms before the end of the calendar year."
Among the reforms the good government groups and Schneiderman want to see are limits on legislators' outside income and the closing of the infamous LLC loophole, which allows virtually unlimited campaign donations.
The Gender Non-Discrimination Act: The State Assembly has passed GENDA eight times, but the legislation, which, according to the Empire State Pride Agenda, "would update the state's anti-discrimination protections to cover transgender New Yorkers," has stalled in the Senate. The Pride Agenda released a statement saying that with the end of "a deplorably unproductive legislative session," the Senate has left transgender New Yorkers at continued risk "to the vicious discrimination that haunts countless trans lives." The Pride Agenda and allies also want to see action banning "conversion therapy" on minors in New York, which has also passed the Assembly.
Paid Family Leave: It's an issue gaining more and more traction nationally, but New Yorkers are looking to push paid family leave at the state level in the absene of federal policy. Reacting to a lack of movement before the end of the 2015 session, the New York Paid Family Leave Insurance campaign issued a statement, saying, "It now appears that New York families will have to wait yet another year for paid family leave. Meanwhile, thousands of workers upstate and down are still forced to choose between caring for their loved ones and their families' economic security...While employers and employees in California, Rhode Island, and even next door in New Jersey continue to reap the benefits of this overdue policy, New York is still woefully behind." Advocates cite The Paid Family Leave Insurance Act, which passed the Assembly in March and "would provide up to 12 weeks of paid leave to bond with a new child, care for a seriously ill family member, and deal with issues that arise when a family member is called to active military service."
Business owners and their allies continue to express reservations about any additional mandates placed on owners, both in terms of monetary cost and productivity. Many insist that New York should not take any further action to make the state more unfriendly toward business.
Well before the end-of-session deal was reached, it was clear that little beyond the basics would be done. Those behind the issues above, plus the DREAM Act, a farm workers bill of rights, the abortion plank of the Women's Equality Agenda, MMA, and other pieces of legislation watched the final negotiations in disappointment, and beginning to think about influencing the start of business next year.
In most instances, it is Democrats left wanting more. When the final deal was announced on Thursday, Assembly Speaker Heastie spoke of coming to terms with reality. "You could always want better," he said. "This is a bicameral Legislature and the Republicans in the Senate have their own vision on what they'd like to see and you do the best you can and try to compromise...We would have loved to have done more."
***
by Ben Max, Gotham Gazette
@tweetBenMax