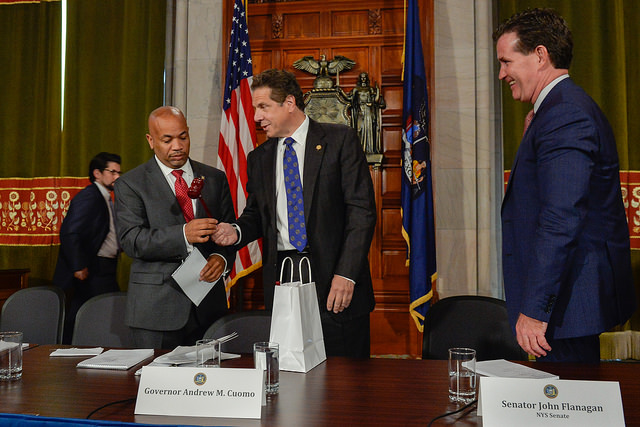 Cuomo and Heastie in cahoots? (photo: Governor's Office via flickr)
---
Tenant advocates disappointed by the rent laws deal reached by Gov. Andrew Cuomo and the Legislature at the end of session suddenly have a spark of hope, weeks after the backroom negotiations came to an end. Some are interpreting the wording of the new law to actually make it more difficult for landlords to deregulate apartments when rent reaches the established threshold, much to the chagrin of those property owners.
Tenant advocates say the new language of the bill - which regulates about a million affordable apartments in New York City - mandates that landlords have rented an apartment under the $2,700 per month threshold before they can remove it from the rent control rolls. This is as opposed to being able to deregulate the unit once an allowable hike hits $2,700 per month even if the unit is between tenants. Advocates believe this will significantly extend the time under which apartments are rent controlled even if it does not stop their eventual expiration.
Judith Goldiner, an attorney at the Legal Aid Society, said that since 1997, the language in the statute has been, "for any housing accommodation which is or becomes vacant on or after the effective date of the [1997 law] and before the effective date of the [2011 law] with a legal regulated rent of $2,000 or more a month."
The threshold was raised to $2,500 when the rent laws were renewed in 2011.
Goldiner said the language in the 2015 act can be captured as: "any housing accommodation that becomes vacant on or after the effective date of the rent act of 2015 where such legal regulated rent was $2,700 or more." They key being that the monthly rent was already $2,700 before an apartment is vacated, meaning that the rent threshold cannot be reached between tenants due to allowable vacancy and renovation bumps.
The Rent Stabilization Association (RSA), a landlord group, is aware of the language and believes it to be a drafting mistake that the Legislature could address along with a host of other drafting errors in the "Big Ugly" that was rushed to a vote on June 25 after session went into week-long overtime. But, it is unclear if the Legislature has any interest in returning to deal with the language. Sources in the Assembly say the language in question was inserted intentionally and they would not consider altering it.
Cuomo administration officials indicate they did not think the language was an issue. Tenant advocates wonder if Cuomo would dare alter the bill even if it was unintentional given that his allegiance to Democratic ideals has been under so much scrutiny of late. The governor recently felt backlash from the left after Senate Republicans touted a memorandum of understanding signed by his aide that appeared to agree to roll back a part of his signature gun-regulation SAFE Act. Not to mention attacks on Cuomo over elements seen as lacking (mayoral control of schools) or missing (minimum wage hike) from the final deal.
"Our interpretation is a tenant has to be in place under that threshold before they could move to deregulate," said Goldiner of the Legal-Aid Society. Goldiner said this specific measure was something she and her colleagues advocated for at great lengths. "I don't think this was unintended," Goldiner told Gotham Gazette. "We were in many, many meetings with the Assembly telling them how this would stem the tide of deregulation. And in a bill where tenants got very little, I think this is fairly appropriate."
Advocates still say that while the apartments would remain regulated, $2,700 per month is still a high rent and this tweak is not a game changer of any kind. Landlord groups are dismissing the language as a drafting mistake.
"I think the fact of the matter is when you read the section of the law on legal regulated rent it has not changed at all," said Frank Ricci of the RSA. "The bill in its entirety did so much on so many things that there are drafting inconsistencies throughout the bill. It is not pristine and clean as it has been in past years."
Lawyers for both sides are currently being consulted on the language and interested parties admit the debate could end up being settled in court.
The dispute over the language adds a twist to an especially heated year for the real estate industry and tenant advocates, including many New York City-based legislators.
Many lawmakers who represent parts of the city and advocates regard the changes made to the rent laws this year as minor tweaks that will only make it slightly more difficult for landlords to take apartments off the regulated rolls. The Legislature renewed the rent laws for four years and the law increases the threshold for vacancy deregulation and high-income deregulation from $2,500 to $2,700. Those thresholds will then be updated on January 1 of each year according to decisions by the city and suburban Rent Guidelines Boards. The amount landlords can increase monthly rent based on the improvements they make to apartments has also been reduced slightly and fines for tenant harassment have been increased.
Sen. Adriano Espaillat, a Manhattan Democrat, called the changes "one inch forward," and added: "We saw some tougher penalties but there were no major victories, we are still going to lose thousands of affordable apartments over the next four years."
Michael McKee of Tenants PAC agrees. He points to a study by Tom Waters of the Community Service Society that predicts the city alone stands to lose 87,500 rent regulated apartments given the $2,700 per month threshold.
Frank Ricci, of the Rent Stabilization Association, said that the new laws will make it much harder for landlords to afford maintenance and repairs. "These changes are going to make it much more difficult to maintain buildings. The Major Capital Improvements changes are going to disincentivize owners from making major improvements or doing major work like fixing the boiler."
Advocates point to reports from Waters and analysis from blogger John Krauss that show the city has consistently seen thousands of apartments leave the affordable housing rolls despite increases in the deregulation threshold made in 2011. http://blog.johnkrauss.com/where-is-decontrol/
"We've said for 22 years that raising the threshold is meaningless," said McKee. "It simply makes financial sense for landlords to spend the money [on repairs] to deregulate their apartments. The new laws do nothing to disincentivize them."
However, Espaillat and McKee say that tenants were particularly organized this year and effective in putting pressure on Cuomo and the Legislature. Advocates barraged the governor at his offices and continued their protests after the deal was passed - at one point targeting Cuomo's home in Westchester.
There may be no lull in the action as calls to strengthen the laws continue and the 2016 election year is just around the corner. On Wednesday, Brooklyn Borough President Eric Adams, a former state senator, will brief the media "about a new push to achieve some of the urgently needed protections not provided by the recently approved rent laws negotiated by Governor Andrew Cuomo and State Senate Republicans." Adams is also going to convene a meeting of state and local electeds and tenant advocates "to discuss plans moving forward."
Legislators and tenant advocates say they think the recent campaign could continue and be used as a tool to help Democrats win control of the state Senate at which point they could revisit the rent laws even before they expire. "We we were on point on organizing, on messaging, on building a coalition," Espaillat told Gotham Gazette. "If we win the majority next year we could very well address affordability." Democrats, who traditionally do better in presidential years, hope in part to ride a Hillary Clinton wave.
Ricci told Gotham Gazette that such action would create an unstable environment for landlords. "If you want a well-preserved housing stock in the city, you need consistency and predictability," said Ricci. "There is a lot of thought and planning that goes into improvements. If there is talk every year about tinkering it would create an unstable environment. In fact it would be shortsighted on the part of the Legislature to even talk about changes because it will stop people from making these large investments."
***
by David King, Albany editor, Gotham Gazette
@DavidHowardKing