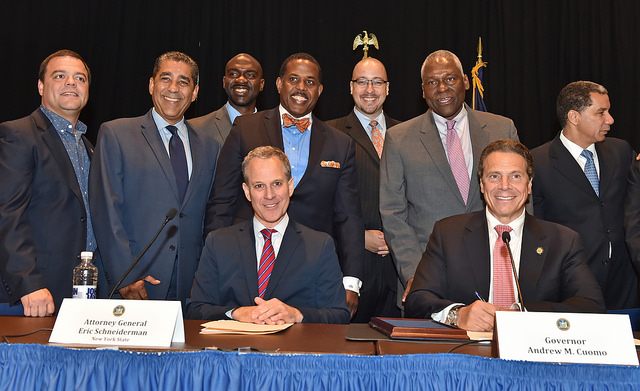 At the special prosecutor announcement (photo: Governor's Office via flickr)
---
Gov. Andrew Cuomo was beaming. Touting the historical significance of the executive order he had just signed to give Attorney General Eric Schneiderman the authority to act as a special prosecutor in cases where police kill unarmed civilians, Cuomo smiled for photos. Often rivals, Cuomo and Schneiderman, who are both white, sat smiling at the July 7 press conference. They were surrounded first by a group of mothers who had lost their black and Hispanic sons to police violence, then by a group of legislators, all people of color. The cameras snapped and then the smiles faded.
It was indeed momentous, real movement after years of work by advocates and legislators pushing for a special prosecutor to investigate such police shootings. But, the order by the governor, aimed at what he called a "crisis of confidence in the criminal justice system," does not wipe away another trust divide. Despite support for and appreciation of the special prosecutor mandate, Cuomo himself faces a crisis of trust from many members of the state legislature's Black, Puerto Rican, Hispanic and Asian Caucus.
Many advocates and legislators say it was a gargantuan effort to keep up enough pressure to make it politically impossible for Cuomo not to sign the order after there was no legislative deal before lawmakers ended their spring session in Albany. Just the day before the order-signing, victims' families had met with Cuomo to express concerns that the order would not go far enough.
While many give intense gratitude to Cuomo for taking the action, they also resent that it took so much time and energy to get him there when the issue has been such a prominent one for years.
Members of the Black, Puerto Rican, Hispanic and Asian Caucus - 33 in the 150-member Assembly and 14 in the 63-member Senate - have experienced a roller coaster ride for the past five years since Cuomo came into office.
It goes something like this: the governor announces that he shares some of their major priorities in his State of the State speech, they move to back him, and then they watch as their top agenda items are thrown out of the budget when a deal is reached. They build up hope again after the budget is passed, seeking inclusion of the same issues in the typical end-of-session "Big Ugly" deal. They rally, publicly express certainty that Cuomo will deliver for them, that he is in fact on their side and the side of their constituents, all while privately wondering if he is only paying them lip service when he says he continues to be committed to their issues.
And then the session ends.
No DREAM Act, no college for inmates, no reduced punishment for possession of small amounts of marijuana. And this year no legislative action on either criminal justice reform efforts sparked by the rash of police killings of unarmed civilians or the governor's own 'Raise the Age' proposal. While Cuomo has promised executive action removing them from adult prisons, New York remains one of just two states that tries 16- and 17-year-olds as adults.
There was heightened internal tension in the caucus this year as the new and old guards struggled to direct the group. Younger members are pushing for more forceful action on issues important to their communities while veteran members urge caution and warn that major bills in Albany can take a lot of time.
"We need continued pressure on these issues from the caucus and the governor because communities of color cannot feel their issues are second because they are harder to achieve," said Bronx Assembly Member Michael Blake, a freshman legislator and veteran of the Obama Administration.
Brooklyn Assembly Member Nick Perry became caucus chair this year and has served for over 20 years as a state legislator. He acknowledges he is in a particularly tough position after the results of this year's legislative session. Perry's rival for the position, vacated when Karim Camara resigned to take a job in Cuomo's administration, Walter Mosley, was thought to be the choice of the younger members of the caucus but his candidacy collapsed after he took a controversial position on a bill dealing with the East Ramapo School District.
"We had a number of enthusiastic, young freshmen who wanted to bring home their bills but they met with the frustration that is Albany," Perry told Gotham Gazette. "They had a rude awakening," he added, saying that frustration is something he has gotten used to after spending so much time in the state legislature. Perry said that he hopes to marshall the caucus to focus on what is achievable. "We have so many votes that we can achieve so much if we work together. You have to realize you aren't going to win every time and we must pool our efforts into what is possible."
Bronx Sen. Gustavo Rivera agrees with Perry. "I think as a caucus we are not as effective as we should be considering our numbers but I am committed to working with them to enact a progressive agenda," Rivera said.
Despite having been in the Senate for five years, this was the first year Rivera really felt like he was in the minority, he says, as he was unable to impact some of the most important issues facing his community. "This is the first time I really felt it," said Rivera, who added that the caucus will be in control of its destiny if Democrats take control of the Senate in the 2016 elections.
It's a sentiment shared by Perry, who said he expects most of the caucus' agenda will have to wait until 2017, indicating he hopes the presidential election will attract a surge of Democratic voters. "I would bet that the presidential year will bring a wave of working class voters much larger than last year and that the seats Republicans hold narrowly will become Democratic," said Perry.
Perry sees 2016 as intensely difficult for the caucus' issues because of the pressure Republicans will feel to keep their seats.
"We have to realize on issues like the DREAM Act that if some of these Republicans go against the grain they will eventually get blown away," said Perry. "We have to be realistic about the political realities Republicans face in their districts and it is our duty to convince them that there is enough support across the state."
Blake, however, is not content to wait until 2017 on issues of criminal justice reform, or a minimum wage increase. "For me this is not about waiting for 2017," Blake told Gotham Gazette. "Communities of color are not interested in waiting for the next presidential election to move on these issues. Kalief Browder was my constituent. Kalief Browder's parents don't want to hear that we couldn't do 'raise the age' because we don't have the Senate Majority. They are thinking he is dead because we didn't have 'raise the age.'"
Caucus members want to see Cuomo go to bat for their issues with the conviction he's shown in previous legislative victories, but they are conflicted about how much public pressure to put on him. Most members agree that it was their constituencies that delivered for Cuomo during last year's election and that Cuomo needs to be mindful to actually deliver for those voters and not get completely distracted by the upstate economy.
"The problem we have is that at the the end of session what is on the table for black and Latino voters simply hasn't been enough," said Perry. "We were there for the governor during his elections. Something like 77 percent of black voters supported the governor so it is fair for us to expect him to be with us on our issues."
This year discontent with Cuomo among Democrats has exploded into the open as many city legislators feel he failed to go to bat on city issues and in some cases decided to ally with Senate Republicans and wealthy campaign donors over Democratic interests. Cuomo ran on delivering The DREAM Act, an increased minimum wage, campaign finance reform, and the Gender Non-Discrimination Act (or GENDA), but none of those issues ever appeared to be seriously in play in the post-budget session.
Instead Cuomo put his real political muscle into controversial school reforms, the equally controversial education tax credit, and to a lesser extent, 'Raise the Age.' Cuomo also took executive action toward increasing the minimum wage for fast food workers by convening the state wage board and resolved to manage compromises over rent regulations and mayoral control of city schools.
A number of caucus members told Gotham Gazette on the condition of anonymity that they simply no longer believe any of Cuomo's promises and they expect the only way they can hope for him to deliver on their issues is to make it politically impossible for him not to. "Yeah, he got off his ass on the special prosecutor but it's because we dragged him there kicking and screaming," said one caucus member. They are well aware that Cuomo is being attacked by district attorneys and police organizations for signing the order and many of them are concerned he may do away with it if it begins to impact him politically.
Perry said he is certain that Cuomo acted on the special prosecutor order because it is something he fully believes in but he was miffed that Cuomo didn't act sooner. "The special prosecutor was an extremely important move and I believe there is no turning back now - we will have legislation on it next year. The only thing that I don't understand is why the governor didn't do it much earlier. He supported it when we talked about these issues even before he was governor. So, I think when he took this action, it was something he truly believed in."
Adding to the frustration was the departure of Camara as caucus chair. The former Assembly member joined the Cuomo administration to head the newly-created Office of Faith-Based Community Development.
As was made clear by that appointment, Camara has had an extremely close relationship with the administration, was known to stay in contact with the governor and to often be polled by administration representatives before the executive branch took action. Now many members say they've never actually heard from the governor except perhaps in passing at an event.
"This was clearly a transition year for the caucus," said Rivera. "We had a lot of new members who need to adjust to the reality of Albany and we had Karim step off and a new Assembly Speaker added to the reality of us not being in majority [in the Senate]."
It is important to note that the new Assembly Speaker, Carl Heastie, is a member of the Black, Puerto Rican, Hispanic, and Asian Caucus and the first person of color to lead the chamber.
Although the dance between the Cuomo administration and the caucus has become a familiar one the situation is particularly nettlesome after Mayor Bill de Blasio openly lambasted Cuomo's transactional style of politics and what he actually delivered for the city this year. "I don't believe the Assembly had a real working partner in the governor or the Senate in terms of getting things done for the people of this city and in many cases the people of this state," de Blasio told reporters on June 30.
"The governor has developed a relationship with Senate Republicans that could be beneficial to the Democratic agenda," said new caucus head Perry, who represents part of Brooklyn. "So I plan on working with him rather than attacking him for the relationship, as some have."
Sen. Rivera said he is thankful that the governor issued his executive order regarding police killings but he plans to keep up the pressure. "I congratulate the governor on taking such a bold step but we need it in statute and to extend it to all police misconduct. I've been carrying a bill that would do that for the past five years but it hasn't seen the light of day in the Senate."
Assembly Member Blake said he is committed to working to educate Senate Republicans on major caucus issues - especially criminal justice reform - but he said more pressure to act has to be applied on Cuomo.
"We've seen in the history of the civil rights movement that sometimes it takes someone willing to risk their political career to enact important change," said Blake.
When asked if he was discouraged or caught off guard by the political gridlock in Albany, he laughed. "No," he said. "The reality is we made changes, we didn't get everything but this was not a rude awakening. I was at the White House when we were fighting for health care, when we were dealing with the 'death panel' nonsense. One thing I remember was the president talking to David Axelrod and Rahm [Emanuel] and telling them 'if it means me being a one-term president to do the right thing, then so be it, I'm committed to that.'"
***
by David King, Albany editor, Gotham Gazette
@DavidHowardKing