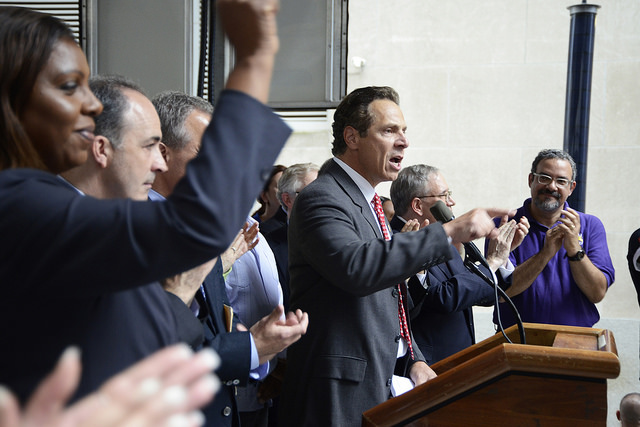 Cuomo at Wednesday's rally (photo: Governor's Office via flickr)
---
On Wednesday, the office of Gov. Andrew Cuomo streamed live video of the wage board he convened as its members recommended a multi-year plan to phase in a $15 per hour minimum wage for fast food workers across the state. As the meeting ended the same stream cut to a jubilant rally in New York City. In stark contrast to previous Cuomo administration efforts there was no pretense that the wage board was somehow separate from the governor.
The Cuomo administration attempted to propagate the appearance of independence for previous executive entities such as the Moreland Commission to Investigate Public Corruption, two tax commissions, and even the Department of Environmental Conservation when it made its decision to ban hydraulic fracturing, or fracking, in the state. But this time such a separation wasn't useful to the governor.
With his poll numbers at an all-time-low, members of his own party in open revolt and facing an ongoing feud with Mayor Bill de Blasio, Cuomo appears to be looking to bolster his standing among Democrats across the state by taking executive action on issues he failed to deliver on during the legislative session. Many prominent Democratic electeds and activists have questioned whether Cuomo actually expended any political capital during the legislative session to move progressive issues such as criminal justice reform, the DREAM Act, or a minimum wage increase.
"I don't believe the Assembly had a real working partner in the governor or the Senate in terms of getting things done for the people of this city and, in many cases, the people of this state," Mayor Bill de Blasio told NY1 late last month.
Trust among Democrats was further eroded when Senate Republicans released a memorandum of understanding with Cuomo's office that appeared to state that the governor agreed not to phase in a part of the SAFE Act until Republicans agree to it. Other than that MOU, Cuomo's post-session agenda has been dedicated to taking executive action on issues favored by the left and on which he did not deliver through legislation.
Cuomo has promised to use executive action to remove 16- and 17-year-olds from the state's prison system after failing to enact a sweeping policy to prevent those teens from being tried as adults, much less locked up with them. Failing to reach a deal with the legislature on other criminal justice reforms in the wake of death of Eric Garner, Cuomo signed an executive order earlier this month giving Attorney General Eric Schneiderman the authority to investigate police killings of unarmed individuals, an attempt to reduce the perception that local district attorneys are biased toward the police.
Cuomo was celebrated by Democrats when signing the special prosecutor executive order, and he was applauded at Wednesday's minimum wage rally. City Comptroller Scott Stringer heaped praise on the governor as a man of action when he spoke to those gathered. But, many of Cuomo's fellow Democratic electeds and progressive advocates were not so committed to attaching the governor's name to the wage board decision. Three of the state's most powerful Democratic electeds - Attorney General Eric Schneiderman, Mayor Bill de Blasio, and Assembly Speaker Carl Heastie - all released statements praising the decision, but without any mention of the governor.
Celebratory statements from New York Communities for Change and the Working Families Party also failed to mention the governor by name.
"I think that's appropriate," said former Cuomo opponent Zephyr Teachout of the lack of support from other Democratic electeds. Teachout is the Fordham Law professor who embarrassed Cuomo with a stronger-than-expected showing during last year's Democratic primary. Teachout tapped into displeasure with the governor from his left.
Cuomo defended his use of executive actions during a Wednesday appearance on The Capitol Pressroom radio program, and chose to eliminate any perception that he was separate from the wage board.
"I am the executive, I have many powers beyond those which the Legislature passes, right?" Cuomo told host Susan Arbetter rhetorically. "The executive, whether it's the president, the mayor, or the governor, you run the government, and you have a whole host of powers that are apart and aside from the Legislature. I often say to people [that] dealing with the Legislature and getting a budget passed, and then new laws, that's a part of my job. But that's only a part. And by the way, I don't even think that's the majority of my job. I run the government."
Teachout doesn't think Cuomo's problem lies exclusively with Democrats. "The governor has broad temperamental issues," Teachout told Gotham Gazette. "It's not like Cuomo has a problem with [only] the left. You are going to have a problem finding any group of voters who believe the governor is actually committed to fighting for them."
Cuomo has branded himself as a doer, as an executive who is about making sure the government is running efficiently and effectively, and who can get deals made by working with members of both parties.
Blair Horner of the New York Public Interest Research Group said that Cuomo's use of executive action is fairly typical for governors who have served more than one term. "In terms of putting it into context, governors have historically faced challenges in their second terms. Second terms tend to be harder. [Republican Governor George] Pataki had serious trouble in his second term. It wasn't just with Democrats, but with his own party challenging him."
Horner said that Cuomo is also dealing with "eroded approval ratings and unprecedented indictments" of state legislative leaders that have made getting what he wants from the Legislature that more difficult. And Horner said Cuomo is particularly notorious for "liking to put points on the board."
Many Democrats are happy Cuomo has used his executive powers on the issues he has but feel he acted out of political expediency so that he didn't have to place his Senate Republican allies in a difficult position during the legislative session. These Democrats are therefore reluctant to give him credit.
On the other hand, many business groups and Republican electeds are more than happy to connect Cuomo to his left-leaning executive actions, because they are opposed to them. "From day one Governor Cuomo's wage board has sought to silence the business community and force through an unfair and discriminatory increase on a single sector of one industry," said Melissa Fleischut, President and CEO of the NYS Restaurant Association, in a statement. Fleischut went on to accuse Cuomo of "stacking the board" with supporters of a wage increase, and allowing business owners "to get booed and heckled at public hearings."
Other business groups have attacked Cuomo for bypassing the Legislature on the wage issue, saying he has too much executive power. It may be surprising, but Teachout agrees to some extent. "The governor of New York has too much executive power and the 'three men in a room' have too much power," Teachout told Gotham Gazette. "Having said that, I'm happy he's using it for positive ends. But you know with this governor that if he has to move, he is always going to act in a way that maximizes his own power."
Cuomo is likely to face a lawsuit from the restaurant industry over the wage board's recommendations and subsequent adoption by the Department of Labor.
Regardless of his executive actions, pundits say Cuomo has to do something about his sinking poll numbers in New York City, which has been a reliable base for Cuomo in past elections. A June 15 Siena College poll found Cuomo's favorability rating drop to 39 percent, with his numbers dipping among city-based voters.
Horner said that executive actions are simply part of Cuomo's efforts to enact his agenda and that part of his agenda has to be "keeping the coalition together."
Teachout thinks Cuomo's executive actions indicate that he knows he faces an increasingly hostile electorate. "He is losing that default New York City vote that he could count on last time, and that's a big, big deal. When all you have left is the Buffalo base, that's a real problem. I don't think the wage board does much to help that."
Teachout - who has not ruled out challenging Cuomo again in 2018 (assuming he seeks a third term) - said that she believes voters have developed a view of Cuomo similar to the one that de Blasio expressed: a transactional politician, cynical, power-obsessed, and untrustworthy; and not much is going to change that.
A key question is how much workers, activists, and elected officials associate Cuomo with the action he is taking. Will the special prosecutor move endear Cuomo in communities distrustful of the police and district attorney offices? Will his move on the minimum wage earn him the loyalty of those low-wage and union workers? Are the progressive activists who have been burned by Cuomo willing to live with a governor who they don't feel they can trust but sometimes delivers for their causes?
"I compare this moment to the fracking moment," said Teachout. "I think the administration thought the fracking ban would have an equal impact to the marriage equality moment--that it would be this inspirational moment for people to rally around the governor. But I think most people saw it the same way I did: 'Great! He banned fracking.' But with no change in how they see him."
***
by David King, Albany editor, Gotham Gazette
@DavidHowardKing