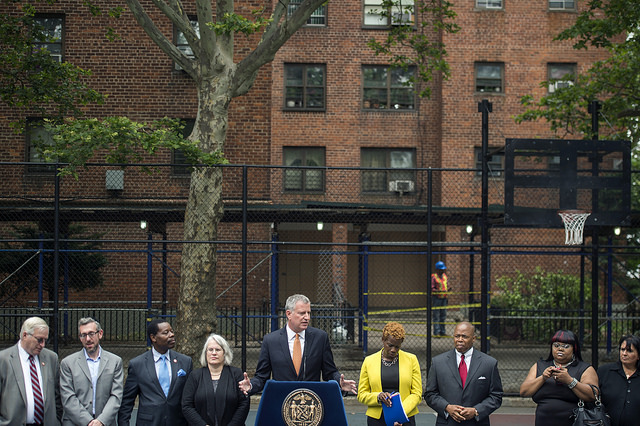 Mayor de Blasio at a NYCHA announcement (photo: Demetrius Freeman/Mayor's Office)
---
"If we were to lose public housing," warns City Council Member Ritchie Torres, "we might have a shelter system overflowing with hundreds of thousands of people."
With more than 400,000 residents, the New York City Housing Authority, or NYCHA, is the largest public housing system in the country. Never far from the headlines due to ongoing problems, NYCHA is under even more scrutiny courtesy of a series of audits by City Comptroller Scott Stringer, who has made the authority a central focus of his early tenure.
Torres, who grew up in public housing in the Bronx and now chairs the so-named committee in the City Council, points to the stakes as debates over NYCHA management and oversight rage. Mayor Bill de Blasio has made NYCHA a far greater priority than prior administrations, but the push to ensure a sound public housing stock remains urgent for many.
NYCHA houses many of the city's poorest residents. Under NYCHA rules, those residents pay rent that does not exceed 30 percent of their family's income. The housing may be low cost but is often also low quality with recurring and widespread complaints of leaky roofs, mold, slow repairs, unhygienic living conditions, and lack of security. The comptroller's audits - six in 18 months - have aimed a spotlight at these and other long-running problems at the authority.
Representatives of NYCHA, headed by Chair Shola Olatoye, and of de Blasio's office, which is ultimately responsible for NYCHA, have on several occasions pushed back against Stringer's audits. They cite many changes implemented over the past year and a half since de Blasio's inauguration. There has been back-and-forth as the administration and the comptroller's office continue to argue over the data used in the audits and whether Stringer's reports give enough credit for work already underway. But what all stakeholders, including de Blasio, Stringer, Olatoye, Torres, and others do agree on is the need for reform.
"The status quo has forced NYCHA residents to shoulder the burden of billions in disinvestment from the federal and state governments, and live with mold, broken heating, vermin and too many other symptoms of a crumbling Housing Authority," de Blasio stated in May when announcing the "NextGeneration NYCHA" plan. "We will take every action to help NYCHA emerge from the financial crisis that has crippled its ability to provide safe housing in good repair to hundreds of thousands of our city's hardworking families."
According to the announcement of NextGeneration NYCHA, it is "a comprehensive ten-year plan to stabilize the financial crisis facing New York City's public housing and deliver long-needed improvements to residents' quality of life by changing the way NYCHA is funded, managed, and how it serves its residents." And one formulated "with the input of hundreds of stakeholders and residents."
Created in 1934 by Mayor Fiorello La Guardia, NYCHA is the country's oldest public housing authority. But since 2001, a steep drop in funding from federal, state, and city governments has led to severe deterioration of living conditions in NYCHA housing. Many buildings are crumbling, not having undergone any major repairs or renovations for decades.
"Most municipalities have demolished their public housing," says Torres. "So far, our approach has been demolition by neglect."
As conditions worsened, calls to deal with long-neglected NYCHA housing increased. By 2012, the administration of former Mayor Michael Bloomberg had to respond due to "the extent and duration of resident outcry," according to Victor Bach, senior housing policy analyst at Community Service Society. In its last year, the Bloomberg administration redirected part of NYCHA's administrative budget toward a concentrated effort to target repairs and tackle over 420,000 outstanding work orders.
In 2013, conditions in NYCHA housing were highlighted in the mayoral election, with candidates agreeing that reform was needed. In July, the top five Democratic candidates spent a night in a NYCHA building in Harlem. The 'sleepover' arranged by Rev. Al Sharpton was to raise awareness of the decrepit living conditions and backlog of unresolved repair requests in NYCHA buildings across the city. "People in the city in a million years would never accept this," then-candidate de Blasio said after his night in public housing. "Yet NYCHA tenants are forced to accept this every single day."
With that in mind, since de Blasio became mayor, the administration has taken significant steps to improve life in NYCHA housing. "This administration, this mayor, from day one has made the Housing Authority a key component of his agenda," Olatoye recently told NY1.
To help the financially struggling agency, the mayor has both directed additional funding toward NYCHA as well as relieving it of financial obligations. The most significant changes under de Blasio include waiving NYCHA's $30 million annual payment in lieu of taxes and waiving the $72 million payments the housing authority was being forced to make to the city each year to cover the cost of its policing. "NYCHA effectively every year has over $100 million more to go into its operations for management and repairs than it did before the new mayor," explains Bach. Some of those funds are being used for roof repairs, the removal of unneeded scaffolding and shedding, projects to improve security and energy efficiency, and "fix-it-forward," an initiative to overhaul maintenance by increasing the speed and efficiency of repairs.
In May, NYCHA announced the 10-year NextGeneration plan to cut costs, get new sources of revenue, and improve and modernize its management. "Our plan reflects the tough decisions necessary to deliver a stronger, more effective housing authority that can take care of its buildings and its people," said de Blasio when announcing NextGen.
"What is cause for hope is that NYCHA has a master plan for preserving public housing over the long haul with political capital behind it, the backing of the mayor himself behind it," Council Member Torres told Gotham Gazette. While supportive of Olatoye and of de Blasio's approach, Torres is also wary, and told Gotham Gazette that he will hold oversight hearings this fall.
The NextGen plan includes initiatives such as OPMOM, a pilot program currently operating in 18 NYCHA developments to localize decision-making and give on-site housing management more autonomy. The agency describes such initiatives as a learning experience for its own administration. "We're learning what works and what doesn't on our end as an authority," says Aja Worthy-Davis, NYCHA's deputy press secretary. "It's an ongoing process."
Meanwhile, Comptroller Stringer has carried out six audits of the housing authority, revealing the scale of the problems with NYCHA management and maintenance, including questions about its inventory, apartments kept vacant for years due to renovations, and long wait periods for repairs.
No other city agency has been audited this many times by Stringer. Some, like Council Member Torres, believe this emphasis is justified. "There's no other institution that is confronted with an existential crisis to the extent that NYCHA is," he says.
Stringer frames his focus on NYCHA as a matter of equal treatment for those who live in public housing. "They don't make a lot of money, but they're the heart and soul of the city and they've been discriminated against for too long," he told Brian Lehrer of NYCHA residents, on WNYC radio.
To examine NYCHA's progress so far under its NextGen plan, Torres' Committee on Public Housing will hold a series of hearings, starting in September. "One of the problems with Council oversight is that the Council is largely dependent on the information from the very agencies it oversees," says Torres. "That is why the comptroller's audits are so critical, because it provides the Council with a source of independent information on which to conduct oversight hearings."
Torres has expressed support for de Blasio and Olatoye thus far, even co-authoring a Daily News op-ed with a NYCHA resident association president in June. In the column, the authors highlight major problems at NYCHA and that they "do not agree with everything NYCHA does or plans to do." But, they say that they know they can work with Olatoye and that "it's clear to us, and should be clear to all New Yorkers, that Mayor de Blasio has made the city's Housing Authority a priority."
The Council hearings will give NYCHA a new, very public chance to respond to the comptroller's data and highlight progress under the new administration. So far, NYCHA's response to the succession of Stringer audits has been mixed, at times accepting and at other times defensive.
In a joint press conference with the comptroller on May 15, after an audit of NYCHA's supply inventory, Olatoye took a conciliatory tone. "I thank the Comptroller for uncovering some troubling deficiencies in our supply chain and inventory management practices that hamper our ability to provide timely and quality service to our residents," she said. "These deficiencies are simply unacceptable. We are working in partnership with the comptroller to overhaul our supply and inventory practices to become a more effective and efficient landlord."
"The inventory audit – that was helpful," acknowledges Worthy-Davis. "That was something we stood with him on because that was a clear area that was not handled the way it should have been handled."
While conceding some problems, NYCHA has also defended itself on occasion and responded to some of the criticism in the comptroller's audits, contending the use of outdated information and pointing to reforms made under de Blasio and Olatoye.
The series began with Stringer's first audit of NYHCA, released July 24, 2014. The audit criticized the housing authority for depriving residents of wages by not ensuring that contractors comply with federal laws mandating that 30 percent of new hires are NYCHA residents and low-income New Yorkers. The audit looked at capital project contracts that NYCHA awarded between 2010 and 2012.
NYCHA pushed back, questioning the numbers used - its response read, "Under the new leadership of New York Housing Authority Chair and CEO Shola Olatoye, NYCHA is proud of its job growth and retention initiatives that continue to support our residents and the NYC economy too, so we're disappointed to see these efforts so publically [sic] misrepresented with old and incomplete data."
A financial audit of NYCHA was released on December 16, 2014; it found that cash-strapped NYCHA missed out on at least $692 million in revenue and cost-saving opportunities, and failed to meet revenue and savings projections. In its audit response, NYCHA agreed with "a number of the recommendations" but called the report "seriously flawed" in key aspects, citing the comptroller's use of information from several years prior to the scope of the report and questioning its use of "decisions and activities" that "virtually all" occurred before de Blasio took office. And, NYCHA wrote that the report "exaggerates and/or mischaracterizes" key information around cost-savings opportunities.
Another financial audit, released in May of this year, examined whether NYCHA procedures for verifying Section 8 Housing voucher program participant-reported information met the requirements of the federal Department of Housing and Urban Development. The audit looked at Section 8 participants who were active up to November 2013 and found that NYCHA generally met the HUD requirements though there were discrepancies in the records of some participants. According to Stringer's office, "NYCHA officials were pleased with the report's conclusion" about its general procedures, but pushed back on other conclusions. The audit says that "NYCHA officials do not appear to have closely reviewed the results of our data analysis" and "did not provide any documentation or analysis" to support their claims.
"NYCHA agreed with four of the report's five recommendations," the audit says.
More recently, there was pushback from NYCHA and the de Blasio administration after the release of the June 24, 2015 audit, which stated that NYCHA keeps apartments vacant for an average of seven years while doing major repairs. De Blasio representative Peter Kadushin and Stringer spokesman Eric Sumberg got into an argument on Twitter over the validity of the data used in the audit. While Sumberg pointed out that NYCHA told auditors there were 2,342 vacant apartments as of September 2014, Kadushin responded that the number had gone down to 1,024 by May 2015. However, in a Daily News report at the time of the audit, NYCHA shared that it had 2,196 vacant apartments in May - good, though, for "a 39% decrease from the beginning of 2013." According to Stringer's audit, as of December NYCHA had a waiting list of 273,391 people, the News reported.
Earlier this summer, on July 13, Jean Weinberg, NYCHA's chief communications officer, issued a statement in response to the latest audit: "The Comptroller is recycling old news on NYCHA's maintenance and repairs." She called the data used in the audit "outdated," referring to the fact that it had reviewed work orders from January 1, 2013 to July 31, 2014.
The difference in figures is at least in part a matter of timing. Audits take several months to a year to complete and are based on figures available to the comptroller's office at the time they are started. But during the months that an audit is carried out, the situation on the ground can change.
This appears to have been the case with the vacancy audit released in June 2015, which used September 2014 vacancy figures. "We had already started work on a good chunk of those units," NYCHA's Worthy-Davis explains. She says that by the time the report was released, many of the apartments were ready to be rented to tenants. "We didn't get this information and decide to rent those units and start breaking down walls," she added. "This is work that's already been ongoing. It's our goal, even though we already have a low - very, very, very low - vacancy. Our goal is always to obviously turnover apartments and get folks who are on these waiting lists, in them."
"We respect the work that the Comptroller is doing," Worthy-Davis continued. "It's important work, but we as an agency, we make decisions based on the best interests of our residents and what we need to do to sustain our buildings and our infrastructure and keep NYCHA running."
In most cases, NYCHA representatives have agreed with Stringer's assessments in terms of general problems, but don't appreciate the comptroller painting a picture of ongoing dysfunction when they have reforms well under way.
Stringer has pulled no punches, and given NYCHA little credit for implementing reform. He has promised to follow up on his audits and has told Gotham Gazette that NYCHA would remain a central focus. In releasing the latest audit, he said, "For the 400,000 New Yorkers who live in NYCHA housing, the Authority's handling of repairs is a case study in mismanagement." He did add, though, "I know that NYCHA Chair Shola Olatoye is committed to turning the Authority around." But, the latter statement was a way of introducing Stringer's own "four-part reform agenda to expand transparency and accountability at the Authority."
While NYCHA and the Comptroller's office debate numbers, for others, those numbers are fairly irrelevant. "I think the findings of the audits point to things that NYCHA needs to pay attention to," says Bach of Community Service Society. For Bach, the difference in the figures presented by both sides is marginal considering the scale of the problem. "I'm less concerned with the nitty gritty of the numbers that the comptroller includes in his audit than with the direction of change and whether things are better than they were two years ago, or worse, or the same."
And he believes things are headed in the right direction. "The problems are still enormous, NYCHA still faces a major challenge," says Bach. "But I think there's no question that the situation today is better than it was two years ago."
"Improvement is happening as broadly across the board as possible, as quickly as possible," says Worthy-Davis. She says the agency understands the frustration of residents who have been dealing with NYCHA over the years under various administrations. But, she adds, "It's going to take a little bit of time."
"This is 40 years of neglect that is not going to change in 15 months," Olatoye said on NY1.
After years of neglect, some NYCHA residents, like Sumner House resident association president Raymond Ballard, are also cautiously optimistic. While he has not yet seen much improvement, he says, he is hopeful that the new NYCHA initiatives will make a difference. "We have to go up now," says Ballard. "I know there are programs put in place to correct some of the things that they have been neglecting over the years." He has already seen efforts to fix brickwork at risk of collapse and the start of roof repairs. Yet, a lot more remains to be done. "I believe now that there will be some changes," he adds.
"I have to be hopeful because otherwise I think we'd be close to being homeless," says Ballard. "That's the shape that most developments are in now."
***
by Zehra Rehman, Gotham Gazette
@GothamGazette