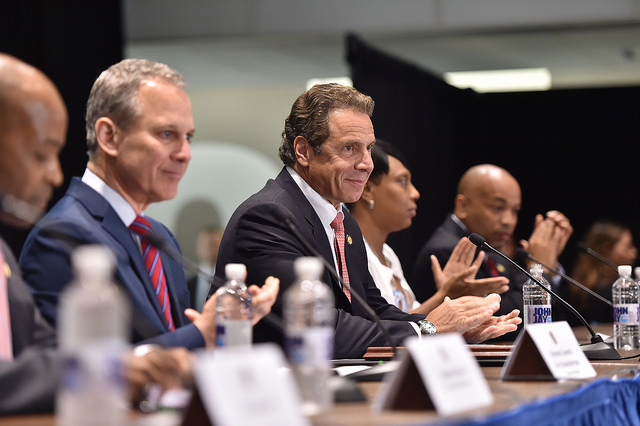 Cuomo and Schneiderman (photo: Office of the Governor - Kevin P. Coughlin)
---
When Governor Andrew Cuomo signed an executive order on July 8 giving Attorney General Eric Schneiderman the authority to investigate police killings of unarmed civilians, he did something he rarely does: he empowered a rival. In doing so, Cuomo made clear that the results of the order would be up to the AG's office, thus alleviating some of the pressure on himself to address what he has called a "crisis of confidence" in the criminal justice system, especially in communities of color.
But instead of shifting responsibility to Schneiderman and moving as far as possible from the matter, the governor has trumpeted the move as a national model and had an event with Schneiderman where the pair briefed clergy on the order. Cuomo and Schneiderman - bitter rivals who have thrown personal jabs at each other and feuded over power, money, and policy - are now by most accounts attached at the hip in one very important sense.
District attorneys across that state, angry that their power has been undermined and fairness questioned, have united to attack the move. But Schneiderman and Cuomo, to the surprise of many Democrats, have stood together to swat away criticism. And now, as Schneiderman has announced his office's first investigation under the order into a death in police custody, the two top Democrats will be judged together on the results.
It was only a few months ago that Schneiderman was being touted by many Democratic state legislators as their progressive savior--the progressive who may primary Cuomo in 2018, the politician with enough strength to publicly challenge Cuomo to deliver for the party. Schneiderman repeatedly challenged Cuomo on ethics reform throughout a spring legislative session marred by corruption. He's called on Cuomo to call a special session to deal with ethics, to push sweeping reform yet seen and including details of the AG's own legislative package.
"I have read Genesis. There is no Biblical injunction that the legislature has to shut down shop on the 17th of June," Schneiderman said at a press conference in Manhattan earlier this year. "And I think the people of the State of New York would welcome a few extra days of session."
While still in session Cuomo shot back that it was "late in the day" for ethics negotiations, but sources close to Schneiderman continued to insist that Cuomo should act. Post-session, Cuomo has dismissed calls for bringing lawmakers back to the capital, saying there's no political will and it would be a waste of taxpayer money.
Now, things have changed drastically in the Cuomo-Schneiderman dynamic. Schneiderman has quieted his rhetoric on reform and a number of insiders tell Gotham Gazette the AG has insisted to them that he will not run for governor if Cuomo seeks a third term in 2018.
"The relationship has changed; they are in this together," said Doug Muzzio, professor of political science at Baruch College. "This is actually good politically and policy-wise. The governor should share his powers with the attorney general where it is appropriate and the governor and the attorney general should be working together. They are members of the same party."
Cuomo took great pains during the executive order signing to indicate that he was not coming down on one side or the other of the debate about how to better deliver justice in instances of police killings of unarmed civilians. He said the order was meant to deal with a "perceived conflict," perception being that DAs are too close to local police departments to investigate them.
"I kept waiting to see how the governor was going to screw him," one legislator with ties to Schneiderman told Gotham Gazette when talking on the condition of anonymity. "It's hard not to think the worst of everything Andrew does."
Schneiderman has since been tasked with dealing with the fallout, working out just how his office will interact with district attorneys and local police and any public backlash. But Cuomo did participate in the clergy briefing on the executive order with Schneiderman and the two appear committed to ensuring that the new arrangement begins smoothly. After all, they each have a lot on the line, now tied in what can only be highly fraught circumstances.
It is still surprising for some to see the two working together. In June of this year Schneiderman's team called foul after Cuomo's office circulated a 22-question survey asking other agencies to rate Schneiderman's performance.
The last time both men worked so closely was during the activities of the short-lived Moreland Commission on Public Corruption. Cuomo had supported giving the AG the powers to investigate public corruption during his time in that office, but resisted doing so as governor, despite requests from Schneiderman.
However, when the governor empaneled the Moreland Commission he did work with Schneiderman and allowed him to name a number of appointees to the commission. Schneiderman remained quiet as reports broke that the Cuomo administration was meddling with the commission and steadfastly declined comment after Cuomo cut a deal to shutter it. However, sources from Schneiderman's office indicated at the time that their boss was frustrated and embarrassed.
After U.S. Attorney Preet Bharara seized the Moreland records and indicated the law might have been violated in closing the commission, Schneiderman faced questions about what his involvement was. He soon had a conspicuous lunch meeting with Bharara as if the US Attorney was giving him a public "all clear."
Cuomo teamed with the legislature in his first term to strip control of millions of dollars in settlement funds away from Schneiderman, and it was thought that Cuomo had worked fervently behind the scenes trying to prevent Schneiderman from becoming AG in the first place.
The political tides have shifted dramatically since then. Cuomo has been on a fence-mending tour targeting his liberal base since a fairly disastrous legislative session. Shortly after session ended Mayor Bill de Blasio openly questioned Cuomo's motivations and loyalty to progressive issues. More recently, Schneiderman and several other progressive leaders stood with Cuomo to celebrate the fast food wage board called by the governor having recommended an eventual $15 per hour minimum wage.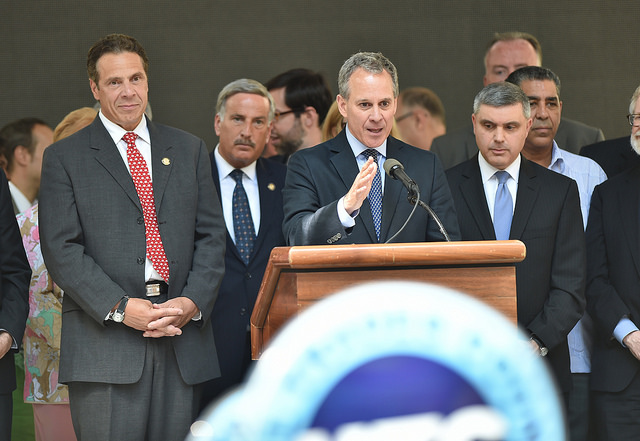 With the executive order Cuomo may have effectively silenced Schneiderman as a critic and made sure their fates are tied together for the length of the order as they both fend off slings and arrows from Republicans, district attorneys, and other law enforcement.
On Monday, Schneiderman announced that his office's "Special Investigations and Prosecutions Unit will investigate the death of Raynette Turner, consistent with Executive Order No. 147 and a conforming order to be issued by the Governor at my request."
Turner, a black mother of eight, died in police custody in Mount Vernon after being arrested on a shoplifting charge.
Soon after word came from Schneiderman's office, the governor released a corresponding statement. "Today, the Attorney General informed my office that he intends to investigate and, if necessary, prosecute any unlawful acts arising from the death of Raynette Turner, who died last week while in the custody of the Mount Vernon Police Department," Cuomo said.
His statement continued: "Ms. Turner's death is a tragedy for her loved ones, and it raises questions not just from her family, but from her neighbors, elected officials, community members and the media – questions that deserve answers. This kind of situation is the reason that I signed Executive Order 147 last month, because the justice system must have the trust of our communities. With the Attorney General as special prosecutor leading an independent investigation, I believe that we can begin to restore trust, eliminate any perceived conflicts of interest, and let the community know, once and for all, that justice truly is blind."
***
by David King, Albany editor, Gotham Gazette
@DavidHowardKing