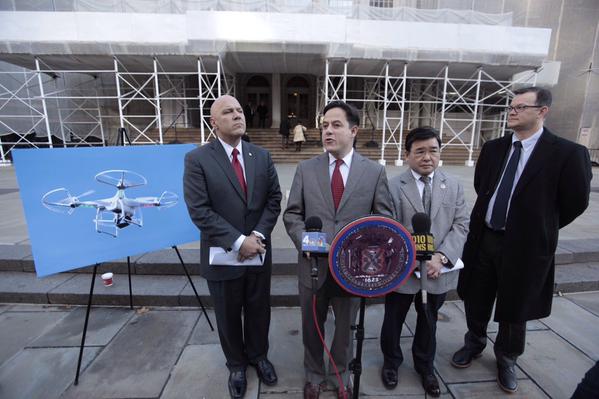 Council members introduce drone legislation (photo: William Alatriste)
---
Pointing to insufficient efforts on the part of the Federal Aviation Administration, New York City Council members are taking regulation of the city's skies into their own hands.
In asserting their authority with respect to helicopters and drones on a turf traditionally maintained by the federal government, council members may find themselves in ambiguous legal territory. But they tell Gotham Gazette that they are acting in the interest of public safety and in part to push other levels of government to act.
Council Members Carlos Menchaca, Helen Rosenthal, and Margaret Chin introduced a legislative package of two bills last month that would prohibit the operation of sightseeing helicopters, citing concerns about noise pollution. The council members are supported by "Stop the Chop NYNJ," a group of community members who complain the noise from sightseeing helicopters are diminishing quality of life.
"What we've tried to do is approach this issue from the perspective of the FAA, from the federal body that's required to regulate this industry. And we've tried so hard to regulate this industry to some avail, but not totally dealing with the problems," Rosenthal said a press conference in July. "What we've done at the City Council is identify a different way to deal with the problem, and that is through the issue of noise. And in fact what the city can do is to ban tourist helicopters...they are responsible for this incessant noise."
The City Council does not have the authority to regulate airspace over the city in terms of flight patterns— that's under the purview of the FAA. But the council does have some regulatory power, as Rosenthal referenced.
"If the federal government is regulating a field, then federal law generally will trump state law or local law and the question is, did the federal government intend to preempt the field— that is, is the federal government doing all regulations of of all helicopters, or did it allow some discretion to the City of New York?" Steven Mirmina, a professor at Georgetown Law and expert in aviation law, told Gotham Gazette. "It looks like [City Council members] did a balancing where they said the federal government regulates a lot of aspects for helicopters, but there is some discretion for the city to regulate also."
Part of the regulatory power stems from the city's capacity as a proprietor, according to aviation attorney Brian Alexander.
"The heliports themselves are owned by the city or the Economic Development Corporation, so…their control of the heliports is the principal way in which the city can control or even ban these types of flights," Alexander said.
This power was affirmed in 1998 after Mayor Giuliani and the City Council approved regulations to reduce helicopter traffic at the 34th Street heliport by nearly 50 percent and to ban weekend flights. The Second Circuit Court largely upheld City Hall's regulations in an appeal after the operator of the heliport, National Helicopter Corporation, successfully sued the city.
As proprietors of the heliports, the City Council has the power to impose "reasonable, nonarbitrary, and non-discriminatory" regulations on noise levels. In the 1998 case National Helicopter Corporation v. City of New York, the Court held that the city was acting lawfully in its role as a proprietor— and not as a "police power"- when imposing regulations. Had the city been acting as a police power, the legal grounds for regulating the heliports would have been much more tenuous.
"The regulation [banning weekend flights] is based on the City's desire to protect area residents from significant noise intrusion during the weekend when most people are trying to rest and relax at home," and thus was permissible, Chief Judge Winter wrote in the decision.
Importantly, the bill introduced last month prohibits the operation of helicopters based on their "stages," or noise levels designated by the FAA (There are three stages— the bill bans all of them). When the Council tried to regulate noise from helicopters in 1996 by putting restrictions on the size of helicopters that could fly in and out of the 34th street heliport (the rationale being that larger helicopters are noisier), the Second Circuit Court found that such regulation was discriminatory.
But Mirmina, the law professor, pointed out that the helicopter bill's scope— targeting only sightseeing helicopters— could be problematic.
"If they're concerned about the noise, they could say no helicopters over a certain decibel level. What about media helicopters? Those could be noisier than the tourist helicopters. You could have a sightseeing helicopter that's really quiet. Why are we going to ban all sightseeing helicopters?" Mirmina asked. "So such a ban to me is, while on its face nondiscriminatory, it may also be viewed as not reasonably calculated to achieve their objective of keeping the skies more quiet."
Another potential problem with the bill: because the city does not have the authority to control airspace, it can't ban the tours outright.
"Anything that the city does regulating helicopters…will have no effect on how many helicopters will fly in the city's airspace, that is 100 percent under the control of the FAA," said Chapin Fay, vice president of Mercury, the public strategy firm representing tour industry group Helicopters Matter. "So for example, they could take off and land in New Jersey, they could go to Connecticut or Long Island but they still could fly the same routes they're flying now."
But sightseeing helicopter operators in New Jersey may soon find themselves shut out of the state as well: in March, three Garden State Assembly members introduced a bill that would prohibit tourist helicopter operations from taking off and landing on "all aviation facilities licensed by the state."
The bills, now introduced to the City Council Committee on Environmental Protection and with eight sponsors in the 51-member body, may see a first hearing as soon as September. They are the latest in a long line of efforts to regulate helicopter traffic in New York.
In 2010, the Economic Development Corporation and helicopter operators agreed that helicopters would no longer fly over Central Park, the Empire State Building, or Brooklyn. The agreement also eliminated short tours between four and eight minutes. Those tours made up one-fifth of sightseeing traffic at the Downtown Manhattan Heliport, and were the most profitable for helicopter operators, the New York Times reported.
In 2008, Air Pegasus, the operator of the heliport at 30th Street, agreed to eliminate sightseeing tours after the Friends of the Hudson River Park sued the company, arguing that the location of the heliport on the land side of the park violated the law. This agreement— paired with the 1998 ruling of National Helicopter Corp. v. City of New York— left the downtown Manhattan heliport the only one open to sightseeing tours.
Drones
While helicopter regulation has a fairly lengthy New York City history, drone regulation does not. The question of the extent of the city's authority to regulate aircraft becomes perhaps more pressing— and more ambiguous— as unmanned aviation vehicles (UAVs), or drones, become more prevalent.
U.S. Senator Chuck Schumer (D-NY) famously described New York City as the "wild west" of drones. Underlining his point is the series of near-collisions drones have caused near John F. Kennedy and LaGuardia Airports and a close call with a NYPD helicopter over the George Washington Bridge, to name a few of the twelve or more incidents in the past year alone.
In considering regulation, elected officials have also cited privacy concerns, as drones with cameras attached to them become more affordable for the average citizen to purchase. But federal regulations lag behind the increase in popularity.
In 2012, Congress passed a reauthorization act related to the FAA that, among other requirements, compelled the agency to release finalized rules for UAVs by September 2015. A government audit last March, one month after the agency released proposed rules, concluded they would not make the deadline. Finalized rules are not expected for another year.
In the interim, state and local governments are under pressure to tread into the murky territory of drone law.
"Local governments right now are in a really tough position when it comes to drones. And in New York I think that's probably especially true, not just because of what happened at JFK last week. So every time there's a negative drone incident, it puts additional pressure on local officials," said attorney Stephen Hartzell, who specializes in UAS law.
Queens District Attorney Richard Brown released a statement Tuesday urging hobbyists to "use common sense when choosing to employ unmanned vehicles," noting that his office "will utilize all legal tools available to insure the safety of those in the air and on the ground." Queens, of course, is home to both of the city's major airports.
City Council members have introduced two bills looking to curb the use of drones. One, introduced by Council Member Dan Garodnick would ban drones from the city's airspace with the exception of NYPD drones that had obtained a warrant. In an interview with Gotham Gazette, Garodnick acknowledged that his bill starts from the "strictest possible place."
"Our bill is very strict, largely because there exist insufficient tools for enforcement. If you start allowing drones at certain heights or in certain areas or conditions, law enforcement needs to have the ability to both monitor and take action when people do not follow those rules," Garodnick said in reference to what could become quite onerous enforcement. "Today, there is no credible way to do that."
Garodnick said that he believes there is reasonable place and time for drone enthusiasts to operate their unmanned aerial systems, but doesn't want to "open the floodgates" before tools to enforce regulations exist.
The second bill, introduced by Council Member Paul Vallone, would seek to impose a series of regulations on drone usage.
Vallone's bill would prohibit using UAVs for surveillance purposes, at night or operating them within five miles of any airport and within a quarter mile of schools, houses of worship, hospitals and "open-air assemblies." Importantly, it also would require users to operate their drones within their line of sight, a requirement also suggested by the FAA.
"The legal side of me is always looking to put in a bill that's actually got a good chance of passing, an outright ban on something to me is a real hard way to go about a proper balance," Vallone said. "This bill was put in with the intention of trying to find a balance of places that really need to be protected and giving people a place to fly these if they so choose to do so for their recreation."
The two drone bills take different degrees of approaching the same issue. Both bills enjoy support from other council members: Garodnick's bill has 14 sponsors, Vallone's has 23 (as of August 7). Interestingly, there's overlap within those numbers, with Council Members Costa Constantinides, Daniel Dromm, Julissa Ferreras, Rory Lancman, and Jumaane Williams listed as co-sponsors of both bills.
Vallone explains his bill would act as an interim measure until the FAA releases final rules for UAS operation.
"With the absence of federal, or FAA, guidelines, then we as the greatest city have to take steps to protect ourselves. Once we have our hearing - let's be positive - the bill gets passed and becomes law, it still would be preempted or superseded by whatever FAA guidelines come out," Vallone said. "But hopefully they would take note of the steps we took as a city."
Garodnick struck a somewhat cooler stance when asked how he envisioned his bill would interact with the FAA's forthcoming regulations.
"When the FAA puts together rules that protect the safety of New Yorkers, and when they fully occupy the field of law with their own rules, we will defer. Until that happens, we need to act to protect the privacy and safety of people here," Garodnick said.
Whether local governments' efforts may be preempted by FAA regulation is unclear and likely won't be resolved for several years, according to Hartzell, the attorney.
"It's very easy for people to say, 'wait a second, isn't this preempted? The FAA regulates the airspace, the federal government has sovereignty over our airspace so therefore how can any local or state authority possibly do anything?'" Hartzell said. "And the answer is, it depends on what they want to do and how they do it, and what I promise you is that we won't fully know unless and until there is a law passed that winds up being challenged in court."
To Hartzell, an interesting ambiguity in both Vallone's and Garodnick's bills is the clause that would allow someone to operate a UAV "pursuant to and within the limits of an express authorization by the Federal Aviation Administration."
Express authorization, according to Hartzell, could be interpreted to include FAA Advisory Circular 91-57, which sets voluntary guidelines for flying model aircraft. Though the circular was signed into effect in 1981, its scope includes recreational drones (the FAA put in a request last year to formally cancel the advisory).
"There's going to be someone that challenges a rule or law that flatly prohibits drone operation. This [language] is interesting because it seems to contemplate some sort of operation as long as somebody is expressly authorized by the FAA," Hartzell said. "So the question is, what does that mean? It could mean that the FAA has to grant somebody specific permission or what somebody is likely to argue is [the advisory circular] could be interpreted as an express authorization written by the FAA itself."
Garodnick told Gotham Gazette that he does not interpret AC 91-57 as giving "express authorization" because it's an advisory memo, not an individual grant.
The FAA does grant companies and individuals such authorizations, giving them the permission to operate drones in a "continuing effort to safely expand and support commercial unmanned aircraft operations in U.S. airspace." The FAA has passed over 1000 of these so-called "Section 333 exemptions." Those who receive Section 333 exemptions would be allowed to operate drones over the city, Garodnick said.
"Councilman Vallone and I are after the same thing, which is a responsible set of rules that protects New Yorkers in a changing technological environment. We put those bills out to start this conversation," Garodnick said (he and Vallone held a joint press conference to announce their bills). "We want to hear feedback from the public at a hearing and we hope that we will be able to craft cutting edge rules which protect New Yorkers and also open the door to some of the novel and exciting uses for drones once we have appropriate enforcement mechanisms."
***
by Catie Edmondson, Gotham Gazette
@CatieEdmondson