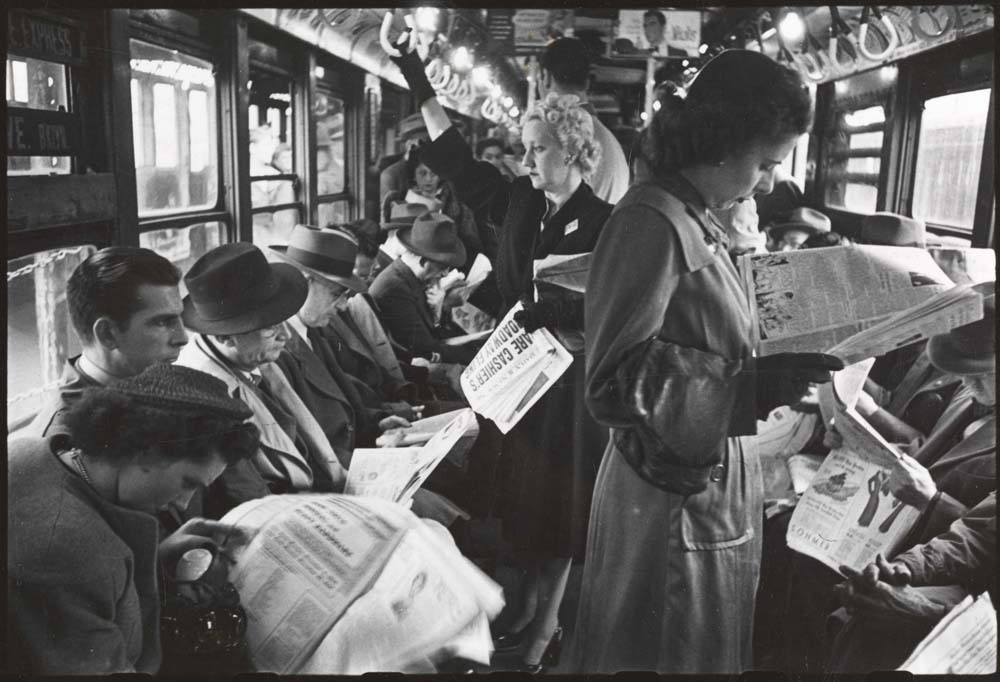 photo: Stanley Kubrick via Museum of the City of New York
---
Gotham Gazette's Week in Review, Friday August 14
PHOTO OF THE WEEK: a Brooklyn street was officially renamed "Do The Right Thing Way," after the iconic Spike Lee movie, via Council Member Jumaane Williams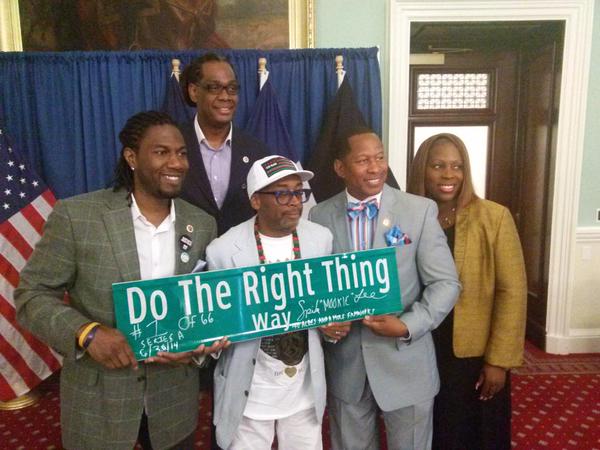 TOP FIVE STORIES OF THE WEEK:
1. Staten Island Standoff: There was a dramatic scene on Staten Island Friday as an individual with a long criminal record set fire to his home and began shooting at firefighters who responded, injuring one. Along standoff ensued, resulting in the apparent suicide of the suspect.
2. State Test Scores: 20% of 3-8 grade students opted out of taking New York State standardized test this year. Districts that fall below 95% participation could face sanctions from state and federal education departments. Opt-out in NYC was just 2%, though, and city students posted small gains on the annual exams, which were in their third year being much tougher and Common Core-aligned.
3. Legionnaires' Update: On Thursday, the City Council passed a bill that requires buildings with cooling towers to conduct quarterly inspections, in an effort to prevent future outbreaks of Legionnaires' disease. Mayor de Blasio has promised to sign the bill into law. The current outbreak is the largest in New York's history with more than 100 cases in the South Bronx, leading to 12 deaths. The outbreak appears to have abated, though, with no new cases diagnosed to have occurred since August 3.
4. Nail Salon Wage Bonds: Governor Cuomo announced that nail salon owners are required to secure a wage bond by October 6, 2015 or incur fines and penalties, which could include closing down the business. The wage bond requirement is part of the reforms Cuomo recently moved related to worker exploitation.
5. New Laws Signed - ADA, Uber, More: Monday, Mayor de Blasio signed a few new bills into law. One bill will show which parks are and are not in full compliance with ADA standards. One much-anticipated "Uber bill" was also signed, it requires the Taxi and Limousine Commission to study and present the impact of the growth in the taxi and for-hire vehicle industries.
THIS WEEK'S NUMBERS:
13 new members were appointed to the Mayor's Committee on City Marshals. The committee "establishes qualifying criteria for marshal candidates, identifies and recruits candidates, and recommends qualified individuals for appointment by the Mayor."
74% of trains on weekdays and 81% of trains on weekends reach the end of their line within five minutes of their scheduled time in 2014, according to a new audit, which also shows a lot of delays.
7 LaGuardia airport taxi dispatchers have been arrested and accused of bribery for letting cab drivers pay to skip the line.
THE GLORY AND THE GOAT:
It was a good week for James Ferrara who will serve as acting President of New York City Transit.
It was a bad week for former New York City schools chancellor Joel Klein: Amplify, the News Corp subsidiary he has been running is being shut down and sold off amid significant financial losses.
THE FLASH:
Around this time last year, August 13, 2014, Mayor de Blasio and Speaker Melissa Mark-Viverito announced plans to reduce gun violence, with an initiative called "Gun Violence Crisis Management System." The initiative is based identifying and engaging individuals more likely to be involved in gun violence and intervening.
Twelve years ago, on August 15, 2003, was the largest blackout in history. At least eight states from the Northeast to the Midwest lost electricity and New York City was largely in the dark.
GOTHAM GAZETTE HIGHLIGHTS OF THE WEEK:
MORE FOR THE WEEKEND:
***
NOTE TO READERS: we hope you enjoy this new Gotham Gazette weekly feature - please share it if you do; on Twitter, use our handle @GothamGazette.
If you have feedback on this feature for us, you can email editor Ben Max: This email address is being protected from spambots. You need JavaScript enabled to view it.
Watch Sunday evening for our latest Week Ahead in New York Politics, which gives you a preview of key issues and events to be aware of for the week about to start. In the meantime, catch up on the latest original reporting from Gotham Gazette here. And have a great weekend!
***
by Erika Wang and Ben Max