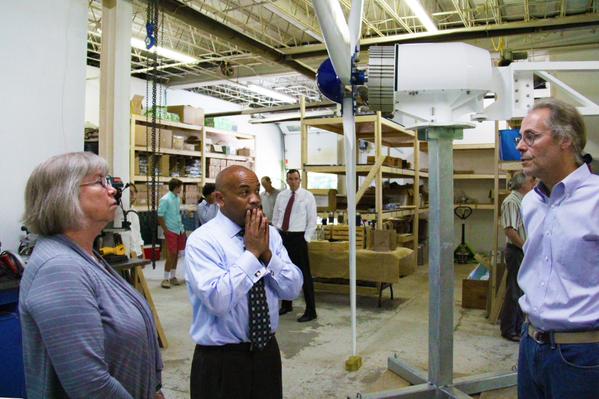 Assembly Speaker Heastie, middle, on a business tour (photo: @WeaverWind)
---
A host of good government groups and legislators say that a state Assembly working group tasked with reforming the chamber's rules to increase transparency and participation has been anything but transparent, operating in secret and rebuffing outside offers of help. One of its two chairs says his group has just been slow to move.
Creation of the 12-member working group, chaired by Assembly Members Brian Kavanagh and Gary Pretlow, was just one reform measure announced by Assembly Speaker Carl Heastie after he took the reins from his indicted predecessor Sheldon Silver. And since that May announcement, it appears the group has only issued a single email soliciting ideas from members.
"It's a mistake not to reach out to the public and groups dedicated to making the legislature more open and independent," said Blair Horner of the New York Public Interest Research Group. "They are just making it harder on themselves by having an unclear process at this point."
"There seems to be no momentum and the Assembly leadership is not laying the groundwork for the kind of big, positive changes we need," said John Kaehny of Reinvent Albany, another good government group. "It does not seem that the Assembly is creating an open process in which bills can progress to a committee hearing, then a vote, then to the floor for a vote. For that matter, there is no process to get a bill voted on when a large portion of the Assembly supports it. In other words, the Assembly process still seems to be about as undemocratic as it was when it was run by Sheldon Silver," says Kaehny.
Pretlow told Gotham Gazette that the task force was moving "slowly" in part because it is the summer and said he expected the group could have recommendations by December. "We only had a few responses from the members to Kavanagh's email so I'm going to start calling them individually," Pretlow said.
Pretlow added that he hadn't ruled out input from good government groups and would eventually contact them. "There are a lot of things that just don't matter," said Pretlow referring to the Assembly rules. "I don't want to do anything that might detract from the Speaker's power, but we are going to take a look at a number of things. I want to make sure every member has a say."
Under Silver, the Assembly became known as a place where it was impossible for younger members and members of the Republican minority to have bills considered or to win membership on an important committee. That perception has changed under Heastie as members say they have input like never before. Good government groups worry that without rules changes the new environment could quickly change when or if Heastie decides to consolidate power.
"The Speaker has done a great job including younger members," said Queens Assembly Member Nily Rozic. Rozic told Gotham Gazette that the working group asked members for their ideas and she specifically put forward her thoughts on using technology. She says Heastie has already made major changes on the technology front as members now get texts alerting them to hearings.
"Individuals are really more empowered than ever before," said Rozic. "Every single member is now on a subcommittee and I'm in my second term; that really speaks to Carl empowering the rank and file. We are lightyears ahead of where we were."
Rozic declined to comment on the working group as she is not a member. Assembly Member Brian Kavanagh's office did not return calls on the subject over a series of months. Calls to other members of the working group were not returned or Gotham Gazette was told to reach out to Kavanagh and Pretlow.
Assembly Minority Leader Brian Kolb told Gotham Gazette that his conference has not been kept in the loop about the reform efforts. In an emailed statement, Kolb said, "In the spirit of transparency, we [the Assembly Minority] have not been contacted by anyone in the Assembly Majority working group to strengthen operations and promote transparency and public participation, nor have we seen any recommendations for improving the way in which the House conducts the people's work. We believe they should reach out to us, because this is about the entire Assembly, not just the Assembly Majority."
Speaker Heastie announced smaller reform measures during his speaker bid and afterward. Facing major scrutiny for his particularly large travel expenses, he announced a plan to overhaul the Assembly's reimbursement system. He also created The Office of Ethics, designed to keep members informed about ethics rules and oversee ethics trainings. A bipartisan search group is currently looking for an executive director.
Some of the pressure Heastie faced to back reform came, of course, from the circumstances of his ascent - Silver has been indicted for using his office to enrich himself. However, during the few days when the Assembly was considering new leadership, a new and quickly formed 'reform caucus' comprised of 23 Assembly members, including Kavanagh and Rozic, issued all candidates for speaker a list of questions that appeared designed to boost a reform agenda, and asked any aspiring speaker to pledge to create a group tasked with reviewing the Assembly's rules with an eye towards increasing transparency.
Examples of reforms put forward by members of the caucus include those to create a measure whereby members could petition to have their bills moved out of committee and to a floor vote; to give freshman members more resources; to give members say in leadership appointments; and to increase opportunities to debate bills in committee.
"We recognize that implementation of many of these reforms will require extensive thought, discussion, and further detail," the reform caucus members wrote in February. "Therefore, we ask that the candidates for Speaker commit to appointing a task force on reform, representing the diversity of the conference. This task force would develop specific proposals on these and other reforms. In addition, we ask that all meetings of the task force be open to all members of the conference. We believe that these reforms are the best way to restore faith in our ability to serve the public."
Heastie did win the support of the reform caucus and has begun to address a number of its concerns. However, the only official work of the task force has been an email sent from Kavanagh soliciting ideas from members, which Pretlow referred to when speaking with Gotham Gazette.
However, observers worry that with Heastie firmly in control he no longer has any reason to deliver major reforms to the rules to enable rank-and-file members to advance their own legislation. Doing so would require him to give up some of the power he fought for, though it appears Heastie knew that he would not wield the same strength Silver did.
"Since becoming Speaker, I have made a special effort to create issue specific workgroups and a new subcommittee structure that promotes member participation while exploring new ideas to move New York forward," said Heastie in a statement announcing the creation of the working group on May 12. "Members have a lot of great ideas, and the creation of this new workgroup is an opportunity for us to build on the strong processes already in place that promote transparency and accountability."
At the time, members of the good government community were hopeful about the reforms but now many say they've simply given up on the idea that the working group is actually independent of the speaker's office, and they now expect a dog-and-pony show. Heastie's office did not reply to a request for comment.
Horner said he remains hopeful but is confused as to why the group charged with increasing transparency hasn't been open itself.
"We don't know even know what issues are on the table," said Horner. "They should be doing more publicly by now. It's been six months."
***
by David King, Albany editor, Gotham Gazette
@DavidHowardKing