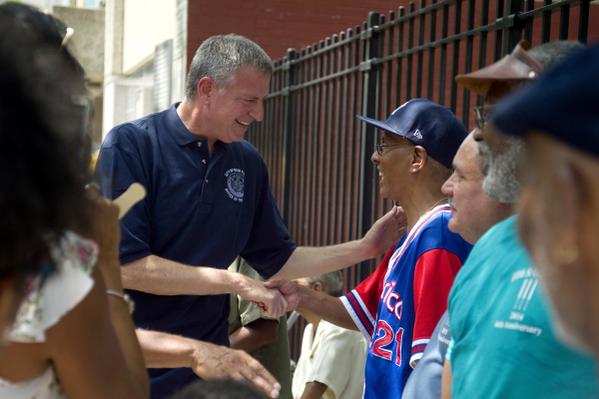 Mayor de Blasio greets a constituent (photo: @BilldeBlasio)
---
Scott Stringer has led 16 town hall-style events since becoming Comptroller; Letitia James, the Public Advocate, hosted her 28th on Wednesday night in Brooklyn. As has been well-documented, Mayor Bill de Blasio - along with Stringer and James, one of three popularly-elected citywide officials - has not yet held a town hall event himself.
Is it time for the mayor to host one?
As de Blasio and his team wrestle with how to combat sagging public opinion poll numbers, what they see as unfair press coverage, and a perception gap that many agree leaves New Yorkers thinking de Blasio is performing worse than he actually is, it may be time for de Blasio to take his message directly to the people and hold his first town hall.
"He might want to look at where his criticism is coming from in his base," says Fordham political science professor Dr. Christina Greer. "If you're going to do a town hall, be strategic about it, so that it is effective for you and for New Yorkers," Greer advises.
Greer says that de Blasio should target where he had the deepest support in his 2013 election, with an eye, though, "especially on people feeling neglected," and go communicate with them. She said that these would be "productive places to start, but can't be the end."
Political consultant Evan Thies argues it would be smart for de Blasio to utilize his elected allies to get his message out, possibly at town hall-style events. "If they believe they can get those surrogates to host friendly conversations with real New Yorkers they should do that," Thies said, adding that de Blasio is suffering from a major perception problem and that he and his team need to resume "politicking."
"The perception" among the public, Thies says, "is not just that he's not the doing the job they hired him for, the perception is that he doesn't care about opinions that aren't his. And I just don't think that's true. He's trying to lead on issues of affordability - it's really just a perception problem and he needs to get out there and talk to people."
Doing so in the form of town halls would surely be risky for the mayor, who mostly plays things safe, but public forums are high-risk, high-reward opportunities. De Blasio could show New Yorkers that he is engaged, that his ear is to the ground, and that he is both tough and humble.
"The risk is not any worse than having the tabloids portray him as they are now," says former Rep. Anthony Weiner, who held many town halls when in office and has urged de Blasio to adopt the practice.
Sure, Weiner says, there can be some tough moments, and the TV cameras will gravitate toward those. But, holding town halls has many advantages: "You become a better representative when you do it...you hear the language real citizens use to describe the problems in their lives," Weiner tells Gotham Gazette.
"It would help him with a lot of the problems that he has," Weiner argues of the mayor. "He develops a little bit more of a fighter identity. If you're standing up in a hostile room, people respect that. There's a sense he's being pushed around too much, town halls gives you the opportunity to change that."
As of now, no one would call de Blasio a hothead or peg him as likely to commit a serious gaffe, but of course a public event with open microphones would leave the mayor prone to all sorts of challenges. (For example, we've seen of late what Black Lives Matter activists have accomplished at several presidential candidate events.) But, these events are always well-staffed with aides and security.
Even if he does a few town halls, there would be inevitable questions about where he's held them, and surely some media latching on to any outrageous moments.
However, nothing says 'I'm listening' like actually listening. And it appears the mayor needs a bit of a correction to perceptions that he's distracted by national politics and not a strong enough chief executive of this very hard to manage city.
In correspondence with City Hall, it does not appear that a de Blasio-led town hall is afoot.
Spokesperson Karen Hinton wrote Gotham Gazette saying, "Mayor de Blasio hears directly from New Yorkers in both formal and informal ways - whether it's through taking calls on public radio, or being stopped on the street - as he often is."
Indeed, in what was a rare formal opportunity for the mayor to engage in unscripted conversation with constituents, de Blasio took calls while on air with radio host Brian Lehrer Wednesday morning. All told, de Blasio's WNYC appearance lasted more than 40 minutes and gave the mayor a chance to speak directly to a wide swath of New Yorkers, and with several who called in.
Doing so, de Blasio again showed he is adept at responding to impromptu gripes about the city and his stewardship of it. Yet, the mayor has made only sporadic appearances on call-in radio.
Hinton's response echoes what the mayor himself has said when asked about holding town halls, something that his predecessors did with varying frequency - but did - and that his current fellow citywide electeds are clearly doing fairly regularly.
Public Advocate James held one town hall in each borough specifically about mayoral control of city schools, releasing a report afterward in which she called for some modifications to the system that would weaken the mayor's power. Among her twenty-plus other open events, James held a public safety town hall Wednesday evening in Brooklyn in response to a recent wave of shootings.
Comptroller Stringer has held at least one town hall in each borough, according to his office. Stringer held a "Sandy Oversight Hearing" in each borough other than the Bronx, which was the borough least damaged by the superstorm.
A spokesperson for the comptroller, Eric Sumberg, said that Stringer "believes that listening to constituents and meeting with them in their communities is one of the best ways to learn how he can use his office to root out waste and fraud and fight for working families."
Hinton, the de Blasio spokesperson, told Gotham Gazette that representatives of the administration are "out in neighborhoods across the city every single day, working directly with New Yorkers and bringing that feedback to City Hall to further shape our work. We are continually looking for additional opportunities to hear directly from New Yorkers across the five boroughs."
Highlighting efforts by the Community Affairs Unit, Hinton cited "dozens of town halls" organized around informing small business owners, improving city services for LGBTQ New Yorkers, and providing information on the city's handling of the recent Legionnaires' Disease outbreak in the Bronx.
To New Yorkers who feel good, bad, or iffy about the mayor, though, those efforts may not be enough. "Sometimes people want to see the mayor, not his proxy," says Dr. Greer, Fordham political science professor.
This, in part, is why the mayor marches in many parades, speaks at churches, and appears at a variety of other community events. There may be nothing quite like the unfiltered town hall, though, to move the public image of de Blasio, as Weiner points out.
In May, de Blasio was asked about plans to hold town halls on at least two different occasions. On May 11, de Blasio said he hears from New Yorkers all the time. "[I]t's amazing how many conversations I have with people every single day because they're not shy about coming up and starting a conversation, I assure you – every time I'm on the subway, every time I'm walking down the street and whether it's the Upper East Side or Park Slope or anywhere else. But beyond that, I talk to people who represent a whole host of communities all the time."
On May 18, de Blasio said of holding town halls, "I don't have a specific plan, but, you know, what I do all the time is go out around different communities in different settings...people just come up and talk about things, and offer their views, raise concerns...I go around all over the place – and the subways, and walking down the street – talk to everybody."
A spokesperson for Public Advocate James wrote Gotham Gazette that the public advocate has "worked aggressively to bring government to every corner of this city" and that the best way to connect constituents and government "is by reaching the people where they are."
It is certainly not a sentiment de Blasio would disagree with, and the mayor often highlights that he's bringing government to those who need it most, whether or not he is holding the type of open evening events his colleagues are. On Thursday, de Blasio held a ground-breaking in Far Rockaway for what will be 154 affordable housing units for low-income seniors.
At the mid-day press conference, de Blasio said affordable housing is the number one thing brought up to him by New Yorkers "on the subway, on the street - wherever I go."
***
by Ben Max, Gotham Gazette
@tweetBenMax