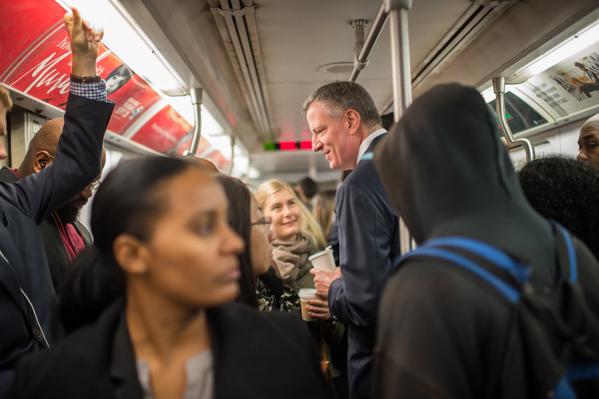 Mayor de Blasio on the subway (@NYCMayorsOffice)
---
Mayor Bill de Blasio appears to be making a concerted effort to increase his direct, public interactions with New Yorkers. The mayor, who is more than halfway through his second year in office and has seen his public opinion poll numbers slide, took to Twitter Monday afternoon for a live chat, during which he replied eleven times to people who tweeted questions for him using the hashtag #BDBchat.
At just before 1 p.m., de Blasio's @BilldeBlasio account wrote "Hey New Yorkers, Bill here" and asked how people were preparing for the start of school. This was quickly followed by a tweet that said, "I'm excited to take your questions for the next few minutes. The team says I need a hashtag. Let's use: #bdbchat."
Monday's social media outreach is another in a series of recent efforts by the mayor to highlight the work of his administration and reassure New Yorkers that he is following through on his promises and that the city is headed in the right direction. It has been a tough stretch for the mayor including an unfavorable legislative session in Albany, an ongoing public feud with Governor Andrew Cuomo, much media attention on the city's homelessness crisis, a battle with car-hailing company Uber, controversy over what to do about topless women in Times Square, and other setbacks and challenges. De Blasio has felt that the press has not treated him fairly and after repeatedly criticizing the media, he appears of late to have taken a more proactive approach to communicating directly with the public.
In less than two weeks, the mayor has made two radio appearances, published a lengthy op-ed column in the Daily News, and held his first Twitter chat. These efforts, along with a Saturday afternoon spent canvassing in Brooklyn to promote his pre-Kindergarten program and other public events have had the mayor interacting with constituents in distinct, direct ways. Since becoming mayor, de Blasio has stressed repeatedly that he hears from New Yorkers all the time when he's out and about in the city, sometimes in response to questions about whether he will hold any public town hall meetings.
Even without any acknowledgment of plans for town halls or a shift in communications strategy, there's a noticable difference of late as the mayor looks to correct any perception of his mayoralty as setting the city on the wrong path. The mayor appeared for more than 40 minutes on WNYC's Brian Lehrer Show on August 19, taking several listener calls. He then appeared on Hot 97's morning radio show on August 25, spent time Saturday afternoon promoting pre-K in East Flatbush, and saw his column in the Daily News on Sunday before taking to Twitter Monday afternoon. Not to mention de Blasio taking in a weekend series of Mets games in Queens (the Mets were hosting de Blasio's hometown favorite team, the Boston Red Sox).
A mayoral spokesperson wrote Gotham Gazette to say that "The Mayor is very interested in connecting with New Yorkers directly, both to hear their concerns and thoughts, and to share information about his administration. He will continue to look for creative opportunities to engage with New Yorkers."
On Twitter Monday, de Blasio answered a fraction of the questions sent his way, ignoring the many tweeted by members of the city press corps, who had not been told about the chat ahead of time. The social media outreach was not listed on de Blasio's public schedule sent to members of the media and was given at least an air of spontaneity. De Blasio has said in the past that he does not control his own Twitter account and it is unclear if the mayor himself was typing his tweets on Monday, but the mayor's office assures Gotham Gazette that the answers coming from de Blasio were his.
In answering questions tweeted at him, de Blasio chose a couple of less substantive ones, answering that he is 6'6" tall when asked his height, for example. Otherwise, de Blasio was asked and answered questions about affordability, homelessness, environmental protection, and education. In brief answers that are all that the medium allows, de Blasio provided the link to his OneNYC plan aimed at addressing sustainability and affordability and highlighted efforts to combat homelessness and keep rent increases down in rent-regulated apartments.
On education, de Blasio replied to one particular question two times, writing, "We're focused on improving teacher training and retaining high quality educators" and that his administration has "Moved away from over-reliance on high-stakes testing and ended the misleading grading of schools."
The mayor is due in front of a large group of New Yorkers Monday evening as he is set to make remarks in Queens at the U.S. Open tennis tournament, which has just begun. It's unclear if de Blasio will take the opportunity to highlight any of his policies.
***
by Ben Max, Gotham Gazette
@tweetBenMax