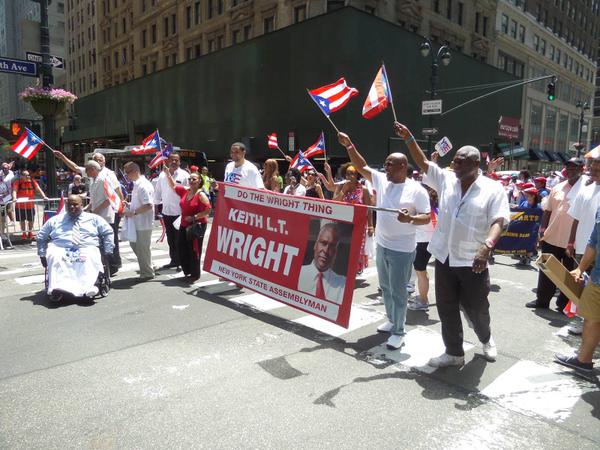 Keith Wright at the Puerto Rican Day Parade (photo: @KeithWright2016)
---
Afua Atta-Mensah, candidate for female district leader in Harlem's 70th Assembly District, had no illusions that running for office for the first time would be easy. But after campaigning against the entrenched Harlem political machine all summer she wonders if she would do it again. "Any newcomer is not taken kindly when they are running against the machine," said Atta-Mensah, a public defender who decided to run for the unpaid position because the job allows you to work for candidates at the grassroots level.
Her feeling is echoed by a number of candidates, including some already elected to district leader positions, but who are not supported by the County party. They say Assemblymember Keith Wright - who serves as the chair of the New York County Democratic Party and is head of the powerful Assembly Housing committee while representing the 70th AD - is unfairly using his influence and well-placed allies to tip the scales in his favor.
Wright, it is alleged, has brought political pressure for them to drop out of the little-watched races and has even used his allies at the Board of Elections to move polling places in a bid to reduce the Latino vote and ensure his loyalists are in place for what is expected to be a heated battle to replace Rep. Charles Rangel against one or more strong Latino candidates.
Since declaring for the office, Atta-Mensah has run up against the traditional roadblocks faced by new candidates, like fundraising and a lack of party apparatus and campaign network.
"These block parties they have, there is nothing like having Charlie Rangel campaign for you," said Atta-Mensah. "No matter what you think of him, he is simply a legend." But there have been additional obstacles for Atta-Mensah and other candidates for district leader and judicial delegate positions, including what they say amounts to drastic voter suppression that is meant to subvert the democratic process.
Recently the Board of Elections changed the locations of a number of polling places in Harlem adding to the confusion of a primary day that will be the first in recent memory to be held on a Thursday (September 10 - it was moved by the State to miss Rosh Hashanah). Turnout is expected to be miniscule at best and polling place changes are likely to further reduce the number of those who actually cast their votes.
A number of district leader incumbents and new candidates say the relocations are politically motivated and orchestrated by Assemblymember Wright's ally, Board of Elections clerk William Allen.
Allen, it happens, is also currently one incumbent male district leader in Assembly District 70. However, Board of Elections chair Michael Ryan told Gotham Gazette that he had Allen removed from making any decisions regarding the the 70th AD in accordance with his policy regarding anyone who is a candidate and a BOE employee.
"We have a policy in the agency in respect to political positions," Ryan told Gotham Gazette on Friday. "If an employee is a candidate and has an opponent we remove them from decision making. If they don't have an opponent it's not an issue. On July 17 I directed William Allen to refrain from activity in the 70th Assembly District."
Ryan added that no one had approached him about any possible conflict of interest before holding a Thursday press conference on the matter.
At that press conference at City Hall, several district leader candidates called this a major conflict of interest and said that Allen should step down from one of the two positions. They also said that it is all too easy for Wright and Allen to exert undue influence over poll workers, trained and hired by the BOE, and their efforts.
The uproar over the district races comes as Wright is set to run to replace Rangel against state Sen. Adriano Espaillat in a district notorious for political strife between black and Latino voters.
Joshua Bauchner, a judicial delegate on Atta-Mensah's ticket, said that he faced direct pressure from Wright's office to drop out of the race. He says Wright staffer Cathleen McCadden called him and told him his candidacy was an affront to the Assemblymember and that Wright intended to appoint the position.
"Cathleen told me these were appointed positions and asked me to withdraw," Bauchner told Gotham Gazette. "I told her I was extremely disappointed and that Wright should be encouraging debate. She asked what I would do. I said I intended to stay in because I thought there needed to be robust debate and that as County chair, Keith's job is to find people to run and increase voter involvement. She told me it would be an interesting summer."
McCadden denied the charge when reached by phone at Wright's district office, saying simply, "That's not the case," before insisting she would have to defer to Wright's press person. Gotham Gazette has not heard back from Wright's office since.
While Bauchner was the only subject willing to go on record, a number of other candidates and canvassers alleged to Gotham Gazette that Wright's office also pressured them to drop their bids for district leader or judicial delegate, or to stop working for certain campaigns. A few of these people say Wright called them personally and invoked his considerable influence both as County chair or head of the Assembly housing committee.
Bauchner said he was deeply disappointed by the call because the race is already expected to be low turnout and citing his proud involvement in politics, saying he's hosted candidates like Scott Stringer, Bill de Blasio, and even Wright at his home to boost voter education and involvement.
"Harlem is the last bastion of Tammany Hall," said Bauchner. "Keith and his generation of colleagues all suffered from the system in that they had to wait their turn for someone to turn 80-something before they could move up the ladder. I would think Keith Would support a robust election instead of a selection."
On Thursday, a group of district leaders and candidates held a press conference at City Hall to call for William Allen to resign his position as BOE clerk because of his connections to Wright. Marisol Alcantara, a District Leader in AD 70, told Gotham Gazette the polling site changes would make voting more difficult for Latino residents.
"We believe that the reason these voting sites were changed is to weaken new Americans, specifically in Northern Manhattan, from coming out to vote. And we believe that William Allen should do the honorable thing and step down," said Alcantara.
Alcantara says that she and other sitting district leaders are seeing County-backed challengers on the ballot, along with shifting poll sites. Alcantara has been honored by Espaillat for her work in the past.
John Ruiz, a District Leader for Assembly District 68, said he was concerned the polling place reshuffling will make it hard for his older constituents and those with health issues like asthma from making it to the polling place.
Maria Morillo, another uptown district leader, agreed with Ruiz. "People are telling me, 'I'm not going to vote, it's only district leader and it's too far to travel.' The polling site where I live, we have a lot of senior citizens, and a lot of them might not come out and vote. From 182 and Bennett, people have to travel seven blocks now to vote."
BOE head Michael Ryan told Gotham Gazette that politics had nothing to do with poll site moves, but instead, they were the result of the settlement of a lawsuit brought by a number of disabled voters concerned with poll site access.
Ryan did say that the BOE plans to review the changes to make sure they aren't actually creating a hardship. That review won't likely be complete until next May, and any other changes would have to be agreed upon and approved by a court. "What we are attempting to do now is to set up meetings with the plaintiffs to take a holistic look if some of the fixes created more of a burden. But so far the analysis has been done by an expert, but it hasn't included a look at distance or the terrain traversed that could have made it worse than it was before."
***
by David King, Albany editor, Gotham Gazette
@DavidHowardKing