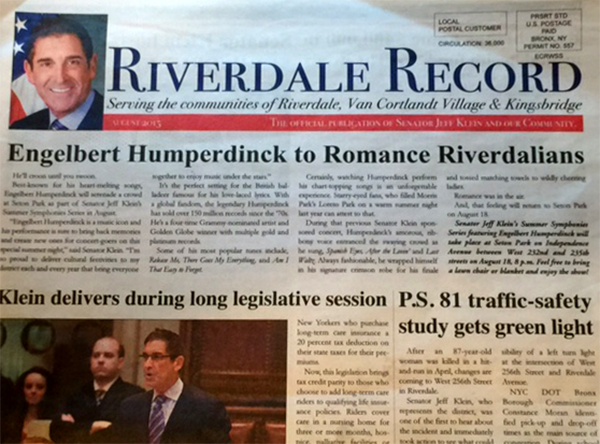 The August issue of Riverdale Record, Sen. Jeff Klein's 'newspaper'
---
Some residents of the Bronx were surprised in August when what looked like a new newspaper arrived in their mailboxes. Upon closer inspection of Riverdale Record, some could tell they had received an elaborate piece of campaign literature from state Senator Jeff Klein dressed up as a community newspaper.
"Riverdale Record Serving the communities of Riverdale, Van Cortlandt Village & Kingsbridge" reads the masthead, next to a picture of a smiling Klein.
Underneath, in smaller white-on-red type: "The Official Publication of Senator Jeff Klein and Our Community." The paper is also labeled as having a distribution of 36,000. At the very bottom of the fourth and last page there is a note that reads: "Paid for and approved by Klein for New York."
The front page of the August edition features a headline about Engelbert Humperdinck and another that reads "Klein delivers during long legislative session." Several pundits say Klein's newspaper may be deceptive but has become part and parcel of big-money politics. However, some Bronx politicos and a host of journalists say that it is only the latest move by the extremely powerful and press-sensitive senator to bully and pressure local journalists and hamstring media outlets.
Klein's press aides are notorious for lashing out at local journalists with threats, personal barbs, curse-laden tirades, and even boycotts. Staffers have tried to physically block journalists from speaking to Klein at public events and are accused of using their influence with the editorial boards of local papers that rely on access and political support from Klein to squash offensive stories.
A number of journalists offended by Klein's latest move - publishing his own newspaper - say that it was borne of his displeasure with two articles from The Riverdale Press that examined the donations he received from real estate mogul Leonard Litwin and another that covered a protest by tenant advocates at Klein's office. Litwin has been tied to the corruption cases against former Assembly Speaker Sheldon Silver and former Senate Majority Leader Dean Skelos. Klein, who heads the Senate's Independent Democratic Conference, has had a close working relationship with both Silver and Skelos, along with Gov. Andrew Cuomo.
The first issue of Klein's paper includes Klein's direct rebuttal to a Riverdale Press column that criticized the senator for his position on sex offender legislation. Klein has boycotted the paper on at least three occasions. He reportedly told The Riverdale Press, "Find another target!" when asked why he was ignoring its inquiries.
Shant Shahrigian, editor at The Riverdale Press and author of two of those articles, used to cover Klein in his previous role as political reporter. Shahrigian said that Klein's office mailed him a copy of the Riverdale Record at his office. Shahrigian gave Gotham Gazette this statement:
"Politicians at every level today are doing their best to thwart independent reporting on their policies and activities. State Sen. Jeff Klein is a case in point. His staff has endeavored to control access to the senator — even at public events — and he has, from time to time, refused to communicate at all with his local newspaper, The Riverdale Press. Now he has packaged the same sort of self-promoting message that every office-holder sends to constituents in the guise of a newspaper. I am confident that readers will be able to tell the difference between that and real news."
A veteran Bronx journalist expressed concern to Gotham Gazette that Klein's paper could hurt the borough's already small media footprint. "It's important that there be independent and responsible media," said the journalist, who asked to remain anonymous for fear of hurting a relationship with Bronx Democrats in general. "Putting out a faux newspaper is disingenuous at best and fraudulent at worst. If Senator Klein disagrees with an editorial, he should respond in kind. But this poisons the media climate in a media-starved borough and that's not good for anyone, including the senator."
Bronx journalists theorize that Klein spokesperson Candice Giove is in charge of the paper as she used to write for The New York Post. Most of the articles in Klein's paper do not feature bylines. One of Giove's 2011 Post articles, "Bronx Dem Deserter's Reward: $1M Staff," centered on Klein and featured a quote likening Klein to disgraced Sen. Pedro Espada and detailed the increased salaries of his staffers.
The article noted that Klein's spokesman at the time, Richard Azzopardi, made more than $95,000 a year working for Klein and the IDC. (Azzopardi now works in the governor's press office.)
Reached by phone, Giove declined to discuss Gotham Gazette inquiries about the paper and asked that questions be emailed to her. She provided a statement about the intentions of the Riverdale Record, but did not respond to questions about who writes the articles. Klein was not made available for a requested phone interview about his relationship with Bronx media.
"The Riverdale Record is geared toward keeping local residents up to date on the latest news, upcoming events and important work Senator Klein is doing to build up our borough and invest in Bronx families," wrote Giove. "Each month, highlights include Bronx small businesses, programs and services Senator Klein sponsors and the important legislation he is fighting for in Albany on behalf of all New Yorkers. Most importantly, the Riverdale Record champions the community – all the progress we've made together, and the work that lies ahead – to build a stronger, brighter borough."
Gotham Gazette spoke to a number of journalists who currently cover Klein on a local level or who did previously, and they described being repeatedly abused by his press staff, insulted by the Senator personally when they asked relevant questions, and constantly contending with the pressure Klein can bring on them and their editors as the most powerful Bronx Senator.
The journalists' major concern about Klein's Riverdale Record is that it could negatively impact local community journalism that is already contending with lower readership and harsh financial realities. They say Klein's delicacy and his office's tactics have become major impediments to providing accurate, detailed coverage to the Bronx community that is already news-starved.
"Senator Klein speaks to local reporters throughout his district," Giove wrote in a statement to Gotham Gazette, responding to questions about Klein's relationship with local press. "Just look at the pages of the Riverdale Review, the Bronx Times, the Bronx Free Press, the Bronx News, the Norwood News, the Bronx Chronicle, the Hunts Point Express, the City Island Current, the Irish Echo, Pelham Weekly, the Pelham Patch, the Pelham Post, Pelham Plus, Pelham Rising, Westchester Rising, Mount Vernon Rising, the Mount Vernon Inquirer and DNAinfo or broadcasts on News12 The Bronx, News 12 Westchester and Fios1."
Gerald Benjamin, professor of political science at SUNY New Paltz, said that Klein's paper is simply par for the course. "This is no more deceptive than some radio or TV ads we see out there. We aren't playing softball," Benjamin told Gotham Gazette.
Blair Horner, of the New York Public Interest Research Group, said that his group believes campaign funds should be spent during election season, not in off-years, but that Klein's paper does not seem to be violating any particular piece of election law.
Good government advocates note that Klein is capable of putting out a monthly paper with a reported circulation of 36,000 because he is such a prolific fundraiser. Klein's committee reported having $1,140,634 on hand in its periodic July campaign finance report, making Klein one of the largest fundraisers in the state. The senator may not have to report expenses incurred from publishing the Riverdale Record until January.
One question that could be answered by Klein's next filings is whether he paid celebrity chef Padma Lakshmi for her column titled "Healthy Eating With Top Chef Padma Lakshmi," or if the column was an in-kind donation. Giove only replied to a question about the column to say that Klein and Lakshmi have worked together in the past.
As Klein's influence has grown as he has leveraged his Independent Democratic Conference's votes to earn powerful positions and favorable legislation from Senate Republicans, Bronx reporters say he and his staff have become less likely to talk and more abusive.
One Bronx reporter who has run into significant backlash while covering Klein said, "They call him the golden goose and you don't want to piss off the golden goose."
The September issue of the Riverdale Record reports a circulation jump from 36,000 to 37,000.
***
by David King, Albany editor, Gotham Gazette
@DavidHowardKing