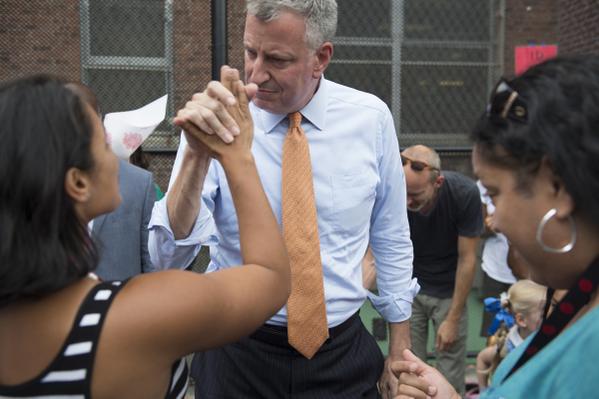 De Blasio greets a parent on the first day of school (photo: @BilldeBlasio)
---
It was his number one campaign policy proposal and as mayor, he's delivering. Mayor Bill de Blasio went on a five-borough school tour Wednesday to celebrate the first day of the 2015-2016 academic year and the initial success of his universal pre-kindergarten program, now enrolling more than 65,500 children.
If there is one thing that de Blasio promised on the 2013 campaign trail, it was "UPK," as it is often called, and in a short time he has devoted unseen resources to increase the number of New York City four-year-olds in school - up from about 20,000 full-day pre-K students in 2013-2014. The only thing that may come ahead of pre-K at City Hall is crime, and that's not such a sure assertion.
How much the mayor's success on pre-K benefits city students, families, and de Blasio himself, is yet to be seen.
UPK is one initiative that has won the oft-embattled mayor universal praise, even, at times, from some of his harshest critics. In fact, de Blasio indicated on Wednesday that UPK will be a key pillar in his argument for another extension of mayoral control of city schools when he must go defend his stewardship to Albany skeptics such as Governor Andrew Cuomo and state Senate Republican Majority Leader John Flanagan.
While de Blasio and members of his administration still need to prove pre-K is effective in helping children increase their learning and set on a path toward greater academic and professional success, the program is having immediate effects in terms of parents' savings on child care and opportunity to work or work more hours. To be sure, pre-K certainly cannot hurt young students from poor families in terms of their word acquisition and social-emotional development.
Still, as far as UPK goes, there will be little other than the impressive rollout for de Blasio to discuss when he sits in front of the state Legislature to discuss mayoral control whenever Flanagan next beckons.
There was much controversy when, this spring, the state extended de Blasio's rule of city schools for just one year (as opposed to a longer extension or letting mayoral control expire and returning the city's education governance to a decentralized Board of Education). This included some he-said/he-said over whether Flanagan, who used to be chair of the Senate education committee, had requested de Blasio appear at a hearing and whether de Blasio had been willing to testify.
On Wednesday, de Blasio promised more on his education initiatives later this month, and touted several aspects of his work on the subject in addition to pre-K, such as his community schools initiative. The mayor was asked about extension of his control of the schools and responded defiantly to any notion that it might be stripped from him.
Whether it was the effects of a humid day spent traversing the city, reading out loud to students, thanking teachers, and snapping selfies with grateful parents or the frustrating reality of the power dynamics at play, de Blasio sounded somewhat fatigued when asked about mayoral control during an afternoon press conference.
"I think the facts really will speak for themselves," the mayor said at his last school stop, in Manhattan. "I think the success of pre-K last year, now amplified on a much greater level. I think the success we're seeing on test scores, the progress we're seeing on renewal schools, the impact of greater professional development, which I know is going to help us retain good teachers," de Blasio said, previewing the argument he will make to Flanagan, Cuomo, and others.
The mayor continued, hitting on something that may help win over Cuomo: "We've obviously been assertive about helping teachers who shouldn't be in the profession to move along," de blasio said. "So I think that all those facts are going to add up. And I think, again, the people are going to demand that it be continued on a longer scale because it's part of what allows us to keep our school system improving."
Whether those points, even explained in more detail, will make for a convincing case in front of Senate Republicans and a governor whose education politics are far from de Blasio's is unclear.
The test scores de Blasio refers to (for 3-8 grade students on Common Core-aligned state tests) did indeed show slight progress, but also a great deal of room for improvement to see New York students meeting the standards as measured by the tests. While only about 30% of students are proficient in reading and 35% proficient in math, the city's test scores do compare well with the rest of the state, especially the other largest cities.
The "renewal schools" that de Blasio referenced are those in which the city has had to implement turnaround plans and are at risk of state takeover. Those 94 "persistently struggling" schools - along with de Blasio's opposition to charter schools, which are often juxtaposed with the city's most maligned schools - could be at the center of the discussion in Albany.
"Renewal schools are a huge focus for us," de Blasio said on Wednesday, "and we're very, very excited about the progress that's already happening in renewal schools...let's be blunt, a lot of those schools were left without the support and resources they needed. A lot of those schools happened to be in disadvantaged communities. We're changing that. We're giving them the support so they succeed."
In a press release, the de Blasio administration wrote that the 94 renewal schools are included in the 130-school community school initiative, which means that they have "wraparound services like counseling, free eyeglasses, and additional tutoring to eliminate barriers to learning for at-risk students." The renewals "all have extra academic support for struggling students, including an extra hour of time in class each day."
De Blasio won't have impressive renewal school test scores to bring to Albany, so he'll have to sell his turnaround model using those services, attendance records, and other metrics. There may be no getting past his opposition to charter school growth, which continues to provide ammunition to Cuomo, who is much less friendly with the teachers unions than de Blasio and is backed by donors who heavily support charters.
While de Blasio has made reforms to the city's education system since taking the helm some 20 months ago and may indeed feel good about the direction he has the schools headed, he knows that he will soon have to bring a scorecard to Albany - and then to New York City voters come 2017. De Blasio himself has said that the real accountability on mayoral control is that New Yorkers know who to hold responsible for the schools when they go to the polls.
It appears fairly certain that de Blasio has at least impressed many parents of new pre-k students.
In front of a Staten Island school the mayor promised "to talk a lot more in the coming days about the other elements that are going to allow us to transform this school system." He said that the month of September is an obvious one for a focus on education.
"But pre-k is literally the foundation, for each child, for each family, and for the change of this school system as a whole," de Blasio said, consistently bringing his narrative back to his crowning achievement.
On WPIX-11 Wednesday morning, the mayor said he'd be saying more on education next week. "We want to strengthen our schools across the system – not just pre-k. All the way up – we want to strengthen graduation rates, college readiness, and we're going to have a lot to put forward on that," de Blasio said. "But what's great about today is, this is really the foundation for the future not only for the individual children and their families, but this will make the whole school system stronger."
***
by Ben Max, Gotham Gazette
@tweetBenMax