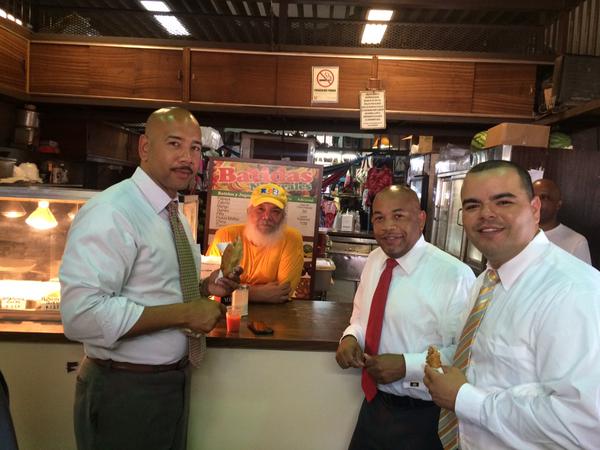 Diaz Jr., Heastie, Crespo (l-r) (photo: @rubendiazjr)
---
By all reasonable indicators, Bronx District Attorney Robert Johnson should cruise to reelection this November despite his low conviction rate, notoriously slow pace in filing charges, and apparent lack of serious fundraising. But many are watching closely to see if Johnson drops off the ballot this month and makes himself eligible to be appointed to a judgeship--thereby allowing the Bronx County Democrats to name his replacement.
As rumors and suspicions swirl, the notion of Johnson and other longtime Bronx party leaders manipulating the electoral system to their advantage comes as little surprise to those who've seen the Bronx machine at work. But, with powerful Bronx elected officials newly more prominent, the risks of such machinations are greater than in the past.
District Attorney Johnson has been in a unique situation for decades. Thanks to the support of the Bronx County Democratic Party, he has faced few serious political challenges since taking office in 1989 and is running this year on the Democratic, Conservative, and Republican ballot lines.
Bronx insiders are convinced that Bronx County Democratic Chair Marcos Crespo and Assembly Speaker Carl Heastie (Crespo's predecessor as county chair) have decided to appoint Johnson to a judgeship and then replace him on the ticket with one of their allies, thereby subverting the democratic process.
The technique that could be used to replace Johnson isn't unique; it has been used time and time again across the city to, basically, gift seats to party-friendly candidates. The Bronx has long been a haven for the workings of the County Democratic machine, but with Heastie's ascent to one of the post powerful positions in the state and Bronx Borough President Ruben Diaz Jr.'s rising profile, it appears it will be much more difficult to pull off such maneuvers without paying a price.
Actions in the Bronx are now linked to the larger political aspirations of these rising stars and they've earned the attention of good government groups and media outside the borough.
What is particularly concerning to reformers inside and outside of government is that Crespo, Heastie, and Diaz would essentially be appointing the person who is, in part, supposed to police their actions. Johnson's record on corruption busting is suspicious to many. He has pursued cases against former Assemblymember Nelson Castro and former Senator Pedro Espada, but at the time both men were out of the county party's good graces. In fact, they were known for causing Bronx Democrats nasty headaches.
With Heastie, who this year replaced the indicted Sheldon Silver as speaker, pledging transparency and reform in the Assembly, some observers wonder if he isn't trying to avoid future embarrassment by being directly responsible for appointing the new district attorney.
"The bottom line is that it is always nice to have your derriere covered by a prosecutor that owes you their job," said Douglas Muzzio, professor of political science at Baruch College.
Johnson's office has refused to comment for this story. Heastie has told other reporters that he gave up decision-making abilities as the chair of the Bronx County Democrats when he became Assembly speaker. And Assemblymember Crespo has avoided responding to queries from numerous outlets, including Gotham Gazette.
It stands to reason that Bronx Borough president Ruben Diaz, Jr., who would also have a say in the matter given his relationship with Heastie and his quest to run, eventually, for mayor. Diaz Jr.'s office also ignored requests for comment.
The scenario has been further complicated by Assemblymember Luis Sepulveda, who has made it no secret that he is interested the district attorney position. Sepulveda is said to have informed Johnson he would be challenging him down the road, even while helping him collect petitions for his reelection this summer.
Bob Kappstatter, a prolific Bronx journalist who currently works as a political consultant and counts Sepulveda as a client, took to Facebook to decry the behind-the-scenes machinations that may be afoot.
"We can count on one hand how many Bronx politicians Rob Johnson has gone after, with most of those being County's enemies. Meanwhile the feds have vacuumed the borough ALMOST clean," Kappstatter wrote on Facebook. "Carl [Heastie], whom we hear didn't expect all this heat from the media and good government groups, has dumped the deal in the lap of new County Leader Marcos Crespo, an honest, decent guy who will have to take the heat if it goes through. Marcos is already looking like Heastie's puppet, diminishing his power among the city's four other Dem county leaders while Carl still pulls County's strings."
Sepulveda's interest in the DA position has angered the Bronx County Democrats. Earlier this month the Daily News ran a story detailing how Sepulveda's estranged wife sought an order of protection from him earlier this summer. Both Luis and his wife told the Daily News that she withdrew the request. Insiders see it as retaliation from County for his interest in Johnson's job.
Exposing any deal among Johnson and other officials could benefit Sepulveda, because outside pressure might lead to Johnson stepping down after the election rather than before.
The process Bronx County Democrats could use to replace Johnson is particularly effective because Democratic enrollment in the borough greatly eclipses that of all other parties.
Democratic voters decide the election during the September primary, with the November election essentially being a formality - not that Johnson was challenged in the primary. If Johnson steps down before Election Day, his county-picked replacement would move into office with all the benefits of incumbency and the backing of the establishment. Any future primary challenger would face a well-known, well-financed incumbent who hadn't actually been elected by a significant number of voters.
"This is a fairly common practice in New York politics," said Gerald Benjamin, professor of political science at SUNY New Paltz. "It is anti-competitive and it allows the newly appointed incumbent to use that incumbency to defeat their next challenger."
"As a general principle of government, it stinks," said Gene Russianoff of The New York Public Interest Research Group. "The primary election process might not be perfect but at least it offers hope. Forgoing it is a thumb in the eye to voters."
Johnson would have to submit a letter to the Board of Elections asking to be removed from the ballot by Monday, September 21.
If Johnson resigns after he is elected in November, Gov. Andrew Cuomo could name an interim district attorney and would eventually set a date for a special election. This would likely allow Sepulveda and other hopefuls a chance to actually vie for the seat.
Professor Benjamin said that voters should be especially concerned about the machinations involved in Johnson's possible replacement and appointment to a judgeship given what The New York Times described as "an unusual string of legal lapses" that allowed Heastie to keep a home his mother purchased with embezzled funds.
Heastie agreed to sell the house as part of a deal that allowed Heastie's mother to avoid jail time. His mother died three weeks after being sentenced and Heastie stopped trying to sell the home. He sold it six years later at a profit of $200,000.
"Carelessness of those involved in the case could be to blame, or something more questionable could have occurred, given the Bronx Democratic Party's influence on the court system and its long history of back-room deal-making," wrote the Times.
***
by David King, Albany editor, Gotham Gazette
@DavidHowardKing