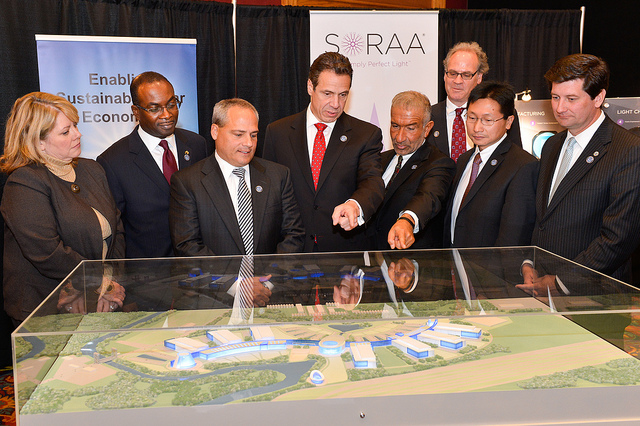 Cuomo and Kaloyeros, both pointing (photo: Governor's Office via flickr)
---
In response to a recent profile of him, Alain Kaloyeros, president of SUNY Polytechnic and the man Gov. Andrew Cuomo chose to administer his Buffalo Billion program, invited Gotham Gazette to meet him for a tour of the SUNY Poly campus. In doing so, Kaloyeros explained that he faces "the threat of jail" if he discusses the U.S. Attorney's investigation into the Buffalo redevelopment program, an investigation that is creating headaches for the governor and thrusting Kaloyeros into the spotlight.
After setting up a date and time for the tour, Kaloyeros' office abruptly canceled a few days later, without providing a reason.
A number of sources and other news outlets have confirmed that U.S. Attorney Preet Bharara's office is investigating how contracts were awarded in the Buffalo Billion initiative, where concerns arose that some requests for proposals were tailored only to fit specific Cuomo campaign donors. Cuomo has denied that he or his staff have been subpoenaed and SUNY Polytechnic has denied Kaloyeros is the subject of any inquiry.
Kaloyeros contacted this reporter by Facebook messenger in response to an article published on September 29 that detailed how a number of officials and observers are concerned with a lack of checks and balances over Kaloyeros and the feeling that he operates with complete impunity and little regard to the fact that he is a public employee handling major sums of taxpayer money.
"Ooo...so you're the one who thinks I act like a teenager...cute," Kaloyeros wrote, referring to mention in the article of his predilection for Facebook posts of bathroom selfies and complaints about slow drivers accompanied by photos of traffic that he appears to take while driving.
After a back-and-forth Kaloyeros suggested that a tour and chat about oversight of the Buffalo Billion project might rectify his concerns with the article. When this reporter pointed out having reached out to SUNY Poly before publishing the article, Kaloyeros responded:
"The issue we have is confidentiality. We were instructed in no uncertain terms not to comment on the inquiry from down South with the threat of jail which is being interpreted as we are the target of an investigation. So that part we cannot comment on beyond what we were authorized to say publicly. The rest is not a problem."
Kaloyeros did not reply when asked if he had a particular issue with the article or thought an individual part of the investigation was being misrepresented in the press.
Gotham Gazette reached out to Kaloyeros via an official email address he provided and a spokesperson set up a meeting and tour for October 19.
In the days following, Kaloyeros continued to post to Facebook traffic photos with clear view of his dashboard and radar detector in the windshield along with complaints. This reporter tweeted one of those photos and Kaloyeros' complaint which apparently caught Kaloyeros' attention (even though he does not appear to be a public Twitter user).
"Since you seem so fascinated with my traffic posts and deem them newsworthy, here's one for you to post," Kaloyeros messaged this reporter over Facebook on Wednesday, October 7 at 11:39 a.m., with another photo included.
Later that day, Gov. Andrew Cuomo took a number of questions from the Albany press on the Buffalo Billion investigation by U.S. Attorney Preet Bharara. Cuomo was asked if he looked into the project after hearing reports of an investigation and he said he hadn't and wouldn't.
Cuomo appeared to waver when asked if he or his staff had been subpoenaed in the case. He denied that he had been, but declined to answer questions about his staff. "Well, you said, 'and staff.' I have not, but I don't want to get into commenting on a U.S. attorney's investigation," Cuomo said before repeatedly telling reporters to ask Bharara's office.
Later, Cuomo spokesperson Rich Azzopardi issued a statement saying, "Just to be clear, neither the Governor, nor his staff has been questioned or subpoenaed on the Buffalo Billion project. Going forward any questions should be referred to the U.S. Attorney."
Around that time this reporter responded to Kaloyeros' message that included a picture of traffic and asked who had warned him he could face jail if he spoke to the press.
Shortly after, Gotham Gazette received an email from Kaloyeros' spokesperson saying the tour and meeting set for the 19th had been canceled. Gotham Gazette reached out to both Kaloyeros and the spokesperson asking why, but neither responded. Kaloyeros appears to have now blocked this reporter on Facebook.
Bharara's office declined to comment on anything regarding the Buffalo Billion investigation when Gotham Gazette asked whether it had threatened Kaloyeros with jail if he spoke out on the investigation.
Jennifer Rodgers, a former prosecutor who served as deputy chief of Bharara's appeals unit, told Gotham Gazette that it was extremely unlikely that the U.S. Attorney's office would warn Kaloyeros not to speak to the press. Rodgers is now executive director of Columbia University's Center for the Advancement of Public Integrity.
"I don't know what was said in this particular case, but generally prosecutors don't tell witnesses or suspects what they should or shouldn't say to the press," Rodgers told Gotham Gazette. "Usually they have a lawyer who would advise them on those matters."
***
by David King, Albany editor, Gotham Gazette
@DavidHowardKing