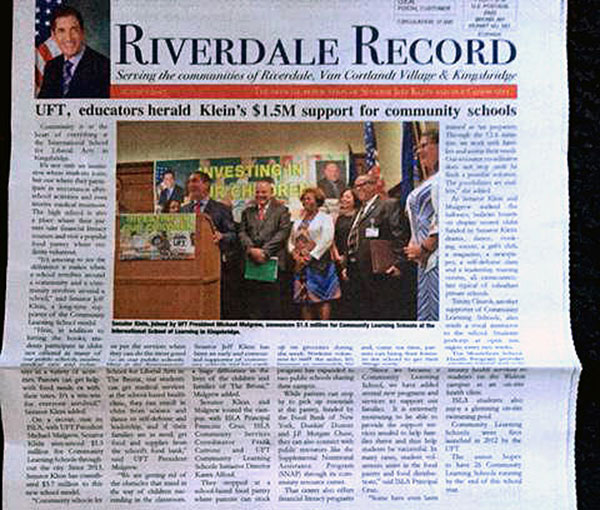 Sen. Klein's "newspaper"
---
The latest edition of the "newspaper" being published by state Senator Jeff Klein features frontpage news celebrating his ability to bring cash home to his Bronx district.
"UFT, educators herald Klein's $1.5M support for community schools," reads one frontpage headline.
Another: "Community applauds Klein for securing $250K for Hudson River Greenway study."
The timing is interesting given that the latest edition of "Riverdale Record" - circulation 37,000 - hit mailboxes just as Klein and the large sums of funding he secured have come under scrutiny by the press and good government groups.
Gov. Andrew Cuomo once railed against member items and pushed to abolish them but this year they returned with a vengeance, given Cuomo's approval, and Klein, an ally to both Cuomo and Senate Republicans, appears to be the biggest beneficiary by far.
The leader of the breakaway Independent Democratic Conference, Klein has been in a unique bargaining position over the last several years. Klein has brought home over $11.7 million in earmarks from the State and Municipal Projects Fund over the last three years, more than three times that of any other Senator, Politico New York reported on Monday. That funding is allocated through the Dormitory Authority to projects like building basketball courts, improving parks, and installing security systems in public places.
The funding Klein touts on his new front page do not appear to be from that allotment of cash, nevertheless it fuels Bronx-based critics who say Klein has been leveraging his largesse to combat or silence local media outlets. Those critics say Klein's "newspaper" is just another weapon that allows him to avoid scrutiny and damage the legitimate Bronx press.
Klein's Democratic critics say his take home in pork projects is a reward from Senate Republicans for helping them keep their thin majority instead of enabling Democrats to seize the chamber.
Good government groups say the current member item system is ripe for corruption and political abuse. "It is stunning that the process of handing out legislative pork was restarted during the most disastrous session in history after the two most powerful Senators and the most powerful Assemblyman were toppled by corruption inquiries," said John Kaehny of Reinvent Albany, referring to Tom Libous, Dean Skelos, and Sheldon Silver. "To restart the process now shows utter obtuseness to the corruption that is going on."
Klein broke from Senate Democrats in 2011 after Republicans won the majority, creating the Independent Democratic Conference (IDC). Klein said the move was motivated by dysfunction in the mainstream Democratic caucus, but Democrats and advocates have since accused Klein of creating the party simply to increase his power and ability to bargain with Senate Republicans.
Klein did in fact partner with Senate Republicans to give them a majority in 2012 when Democrats won a numerical majority. The IDC has enjoyed increased staff funding and more legislative input. Even after Republicans won an outright majority, they have continued to try to keep Klein happy as an insurance policy against future Democratic victories.
Now critics have even more ammunition against Klein's motives as the cold hard numbers are available. To put Klein's State and Municipal Projects Fund awards in perspective you just have to look at what the most senior members of the Senate Republicans were awarded. Former Majority Leader Dean Skelos won $3.6 million, Sen. George Martins, $3.5 million, and former Sen. Tom Libous, nearly $3 million.
A spokesperson for Klein defended the member items to Politico New York, saying it "funds important government projects throughout New York State."
Many legislators argue member items are important because they allow politicians to deliver for the most worthy causes in their districts. The Bronx has traditionally been underserved by state government, but Klein is not the only representative of the area and according to the list of member items released by Senate Republicans, only Republicans and members of the IDC were able to deliver this type of funding for their districts.
Good government groups note that the process has been abused many times and has led to embezzlement and corruption. Some groups call for depoliticizing the process by giving members discretionary funding based on the population of their districts.
Kaehny, of Reinvent Albany, said he believes if the state insists on giving out member items it should follow the model created by the New York City Council under Speaker Melissa Mark-Viverito.
In 2014, the Council overhauled its member item process after a number of members were caught directing funds to projects that benefited them or their friends and family. The old process was also routinely criticized because it allowed the council speaker to punish and reward Council members. Now members bring home nearly equal funding to their districts, with some variance based on poverty levels.
[Related: In Battle with Local Bronx Media, Klein Starts Own 'Newspaper']
***
by David King, Albany editor, Gotham Gazette
@DavidHowardKing