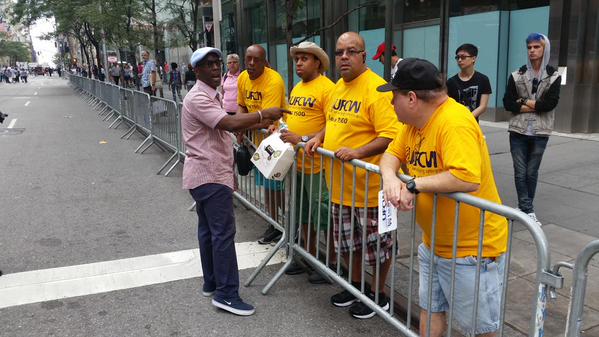 Council Member Miller & union workers (photo: @IDaneekMiller)
---
A slate of recent bills introduced in the New York City Council have a lofty objective indicative of the progressive streak running through city government and raising eyebrows in the business community. Through legislation, the Council is addressing the city's widespread economic disparities by incrementally tackling workforce issues such as wages, workers rights, and access to employment.
Since Mayor Bill de Blasio and Council Speaker Melissa Mark-Viverito both came to power, there has been one big picture aim: to address income and other forms of inequality. Headline-making moves such as an expansion of paid sick leave came within a few months. Less flashy yet crucial bills followed. In August 2014, the Council passed the mayor's proposal to supplement the wages of school bus drivers employed by private contractors.
De Blasio and Mark-Viverito have both been called anti-business, and there have been claims of overreach by the mayor and the Council. Business leaders are often loathe to see the hand of government reach further into industry.
In recent months, the Council's formidable progressive caucus has done just that, pushing bills that address large-scale and nitty gritty workplace issues, including others in specific industries. The Council recently heard a bill aimed at regulating personnel decision in the grocery industry.
Council Member Brad Lander, a Brooklyn Democrat, has been closely involved. He is currently working with the Freelancers Union to develop legislation that would protect freelancers, and by extension other workers in the on-demand "gig" economy, from wage theft. Modelled on similar protections provided by the state Department of Labor and the Attorney General, this "administrative solution with an enforcement option" would protect the likes of writers, graphic designers, Uber drivers, and Handy.com cleaners from being denied their wages and having to go to court to redress grievances.
"The economy is constantly evolving," Lander told Gotham Gazette. "Unfortunately it's doing so in the direction of inequality. And it's not only the Council but also the State which is fighting to level the playing field and lift up the floor in terms of wages for workers." (Governor Andrew Cuomo recently came out with a plan for an eventual $15 per hour minimum wage.)
At the city level, Lander called the Council's efforts a "thumb on the scale" to help workers have paying jobs. Of course, Lander expects this rebalancing of the relationship between employers and workers to be debated and contested. But he insists that the Council wants to be responsible in implementing changes rather than run roughshod over industry and business interests.
For instance, in April this year, the Council passed a bill co-sponsored by Lander that bans employers from discriminating in hiring decisions on the basis of credit checks. But the Council did make accommodations, Lander said, after consulting with business owners and advocates.
From a business perspective, however, the Council's efforts have uncomfortable connotations of government intervention in private enterprise.
Late last month, two bills were discussed at a hearing of the Council's Committee on Civil Rights but received little attention. The bills aim at prohibiting employment discrimination based on a person's status as a caregiver and at clarifying reasonable accommodations that businesses could make for applicants with disabilities.
At the hearing, President and CEO of Partnership for New York City Kathryn Wylde provided written testimony opposing the bills. She stated that the Council was proposing more mandates on employers, driven by special interest advocacy groups that argue based on anecdotal evidence that discrimination and mistreatment of employees and applicants is widespread.
"There is no data that justifies new and costly laws and regulations that make it even more difficult to create jobs and grow a business in New York City," Wylde wrote. She also asserted that the bills would drain resources from businesses and make the city less competitive, and that additional Council mandates would accelerate the loss of middle class jobs (she said the city lost 100,000 middle class jobs in the last five years).
Data consistently shows that inequality has only risen in the city over the last many years. A report last year by The Graduate Center of the City University of New York showed that there was a significant uptick in the concentration of wealth among the richest 20 percent of New Yorkers between 1990 and 2010. According to the study, the median income of the upper one percent of all household income earned in New York City jumped from $452,000 in 1990 to $717,000 in 2010 while the lower 20 percent of New York City households' earned median income rose from $13,000 in 1990 to $14,000 in 2010.
James Parrott, deputy director and chief economist at the Fiscal Policy Institute, approaches any analysis of labor markets from a historical perspective. He said changes in the labor market in recent years have been unproductive and harmful to workers and to the economy. So there is definitely a need for regulation, he believes.
Ideally, he said, regulation would be at the national level and enforced by federal compliance officials. But, with federal action being hampered by an inactive Congress, it has fallen to state and local governments. He called the Council's bent in addressing these issues "reasonable and appropriate."
"Businesses tend to oppose any regulation at all. But a lot of history and analysis shows us that informed regulation is good for businesses," Parrott said, insisting that it keeps the competition honest as well.
In particular, he referenced the Grocery Worker Retention Act (GWRA), introduced by Council Member I. Daneek Miller. Miller, a former labor union leader, is now chair of the Council's civil service and labor committee. The bill would require large grocery chains to at least temporarily retain the workforce when an ownership change occurs, and then handle any personnel moves on an individual basis after three months.
Parrott testified years ago when a similar bill (Local Law 39 from 2002) dealing with building service workers was passed. "I don't see how one could oppose doing that in concept," he said, referring to the opposition from industry representatives who argued feverishly against the GWRA at a hearing two weeks ago.
For Council Member Miller, a Queens Democrat, the bill is just another of many measures to remedy an economic imbalance created by three successive Bloomberg terms.
"To a certain degree, we have come through 12 years of an administration that for all intents and purposes undermined the value of workers," Miller told Gotham Gazette.
His bill mandates personnel practice and grants workers legal remedies against unfair termination. It would help both union and non-union workers, he says, and create transparency and protect employees in an industry with a history of exploitation.
"Organized or unorganized, in order for the middle class to thrive, we need for people to have a voice," Miller said. "Without that, we see the wage disparity and wage suppression that we've seen in the last decade or two."
As expected, industry officials criticized the proposed bill for what they see as an overreaching mandate and even questioned the legal implications of the Council's intervention. But Miller said these objections are not supported by certifiable data and that he is confident the bill will be voted out of the labor committee and brought to a full Council vote.
(On a related note, Miller also sponsored a resolution that was approved by the Council in June calling on the state legislature to extend labor protections to farm workers statewide.)
"My personal preference is that we can educate and we don't have to legislate," he said.
Most of the workforce measures have received wide support from Council members and the mayor. Some have even come from de Blasio or Mark-Viverito themselves.
Last year, de Blasio issued an executive order that expanded the city's living wage law to thousands of individuals. Mark-Viverito successfully sponsored a bill that passed in June this year requiring car wash businesses to operate under licenses and enforcing stronger safeguards for employees. Another employment bill goes into effect by the end of October: the Fair Chance Act prohibits employers from discriminating against applicants based on their arrest record or criminal convictions.
But wide support does not mean unanimous. There are concerns even within the Council about the scope of legislation. Council minority leader Steve Matteo, a Republican from Staten Island, shares his colleagues' interest in improving working conditions but worries about possible harmful unintended consequences.
Matteo said he is a "firm believer" in the free market's ability to self-correct and adapt whether in response to consumer demands for healthier food or safer products, or to compete for better employees with higher pay, more benefits, and a better work environment. "Over-reaching government mandates, on the other hand, as many economic studies have shown, can be financially devastating to small businesses and lead to job cuts and fewer new hires," he said.
On the other hand, some question how easily workers can adapt to the free market.
"Businesses have a better ability to shift their economic resources to adapt to changing economic conditions, more so than workers, especially low-income workers who lack access to education, child care, the basic necessities of life," said Christian Gonzalez-Rivera, research associate at the Center for an Urban Future, who believes that the balance of resources has tilted towards businesses.
Gonzalez-Rivera said more people than ever before are working low-wage jobs in the city; even those working full-time are not able to make ends meet and are being treated as if they are expendable.
Gonzalez-Rivera praised the City's increased support for worker cooperatives. The Council announced in its budget this year that it will invest an additional $2.1 million in its Worker Cooperative Business Development Initiative and create 22 new worker cooperatives.
"Government does need to step in and provide protection," he said. It's a sentiment that Council Member Lander echoes: "Looking to give people a fair shot is part of our job," he said.
***
by Samar Khurshid, Gotham Gazette
@samarkhurshid