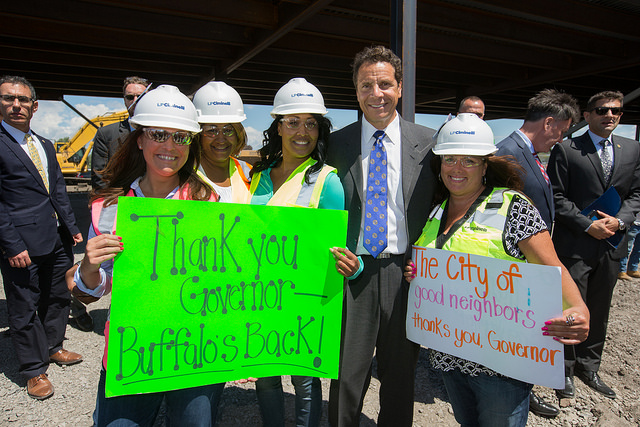 Cuomo in Buffalo (photo: Governor's Office via flickr)
---
United States Attorney Preet Bharara's attention has been drawn away from his normal stomping grounds to Buffalo, intrigued by what critics say is a shadowy network of state authorities and state-controlled non-profits handing out large business subsidies and contracts with little to no oversight.
Watchdogs say that Gov. Andrew Cuomo, through SUNY Polytechnic head Alain Kaloyeros, is essentially rewarding campaign donors with major contracts while using state cash to win political favor in economically-depressed areas. That sense has been exacerbated by a forceful push back against transparency by both the Cuomo administration and Kaloyeros.
Last legislative session the renewal of the 421-A tax break for real estate developers was the center of debate over business subsidies thanks to Bharara's indictments of former Assembly Speaker Sheldon Silver and former Senate Majority Leader Dean Skelos. Both face corruption charges stemming from their involvement with a major donor who sought renewal of the tax break.
But Bharara's interest in Buffalo Billion has shifted the gaze of some reformers and legislators to discretionary subsidies that are controlled by the Governor. At the heart of the U.S. Attorney's investigation appears to be requests for proposals written in a way to ensure one company, led by a major donor to the governor, would win the lucrative contract at stake.
"We believe many of these programs are out of control," said John Kaehny of Reinvent Albany, a group that has been focused on these subsidies. Kaehny said the programs have been "generally wasteful and driven more by pay-to-play or interest in providing local pork than derived from sound public policy."
Kaehny, a number of other reformers, and a small group of legislators want to pull back the curtain on these deals and create a system of true accountability that would show how contracts are awarded, how many jobs the contracts create, and how much state money is spent per job. Kaehny isn't exactly holding his breath, though, because he believes the current system was designed specifically to obfuscate and confuse.
"We do not see any reasonable motivation for the convoluted governance structure created by the governor other than to avoid oversight," Kaehny told Gotham Gazette. Kaehny said Cuomo has "created a legal fiction" involving SUNY Research Foundation and the Fort Schuyler Management Corporation, which sign contracts "on behalf of" state agencies like SUNY Poly. The state funnels money for a number of programs from Empire State Development Corporation, a state-run authority that has virtually no legislative or public oversight.
"Funding also comes from theoretically independent state authorities like NYSERDA and the Power Authority, which are told by the governor to provide money, power and land to SUNY Poly, which then gives resources away to select businesses," said Kaehny. "We believe this complexity is a deliberate effort to avoid transparency and accountability by the governor."
Some lawmakers are in the early stages of exploring legislative changes to how the state approves business subsidies. A few of them have been motivated by an Investigative Post report that the Cuomo administration dropped requirements to hire workers of color in one Buffalo Billion contract from 25 to 15 percent.
Others have been troubled by Cuomo's efforts to entice General Electric (GE) to move its headquarters back to the state. So far Cuomo has refused to detail what kind of incentives he has offered the company. Some legislators are concerned the company has yet to make good on its pledge to clean up the PCBs it poured into the Hudson River years ago and that its headquarters would have no economic benefit for the state.
"We have a real problem in New York with learning from history," said Ron Deutsch of the Fiscal Policy Institute. He said that New York has given businesses like GE, IBM, and Globalfoundries major incentives only to see them cut jobs, or move overseas. "We do nothing to hold anyone accountable" in the end, he said.
Cuomo has made it clear in conversations with the press that he sees no reason to scrutinize the Buffalo Billion program. Asked if he thought any procedures needed to be changed because of the investigation, Cuomo responded: "Do you know if there was any problem? No. If you knew there was a problem, then you would fix the problem. But we don't know any problem."
Good Jobs First, a national policy group that tracks business subsidies, actually rated New York 8th out of all 50 states on transparency for subsidy disclosures in a report released in January of last year.
Another study by the group found that New York spends more on "megadeals" than any other state. Megadeals are defined as subsidy agreements with businesses that cost $75 million or more. The 2013 report by Good Jobs First found that New York had spent $11.4 billion on such deals from 1984 to 2013.
When asked where New York's subsidy programs rank overall compared to other states, Greg LeRoy, executive director of Good Jobs First, replied, "Pick your metric."
SUNY Poly issued the following statement:
"In fact, neither SUNY Poly nor its affiliates have ever been in a position to unilaterally approve a single Buffalo project, including Buffalo project contracts or expenditures. The New York State system simply does not allow it. There are checks and balances at every step, layers of state oversight, internal and external audits, public hearings, public board meetings, and public votes."
So what can be done to prevent both the appearance and the reality of conflicts of interest; restore transparency and confidence in the system; and make sure someone is accountable for the way billions of dollars of taxpayer money is spent? Reformers have some suggestions.
One simple reform would be to ban businesses that win subsidies from donating large amounts to elected officials. The state need only look to New York City to see an effective model. In 2007, then City Council Speaker Christine Quinn and Mayor Michael Bloomberg reached a campaign financing deal that drastically reduced the amount any government contractor or group with business before the city can give to any campaign.
"Even the appearance of conflict of interest is a problem," said Deutsch, of the Fiscal Policy Institute.
Another piece of the puzzle could be eliminating the LLC loophole so that businesses cannot create multiple fronts to pour cash into the campaign coffers of state electeds.
To enhance transparency, advocates say the convoluted route by which money goes from the state to businesses needs to be simplified.
Kaehny said he wants to see the Empire State Development Corporation become a one-stop shop for business subsidies. Preventing state-controlled non-profits from distributing state funds would theoretically increase transparency by streamlining the decision-making process.
Both the Comptroller and Attorney General do have some oversight capabilities, but the Comptroller had some authority stripped away in 2011 by a bill that limited the office's ability to audit SUNY and CUNY as well as its hospitals and construction funds. Fort Schuyler and SUNY Poly have led the distribution of Buffalo Billion funds.
DiNapoli noted the situation during a recent appearance on WCNY's Capitol Pressroom with Susan Arbetter. "Our authority in some of these areas was curtailed a few years ago," DiNapoli said. "We complained about that at the time."
Kaehny said he wants to see the Comptroller and the Attorney General push publically on the issue of transparency. It isn't totally obvious how hard the Comptroller has been pushing for this information or not. If we had a right-wing Republican in the office I'm fairly sure we would see someone pushing relentlessly and using their bully pulpit when they weren't given the answers," Kaehny said, referring to the fact that all of the statewide offices are controlled by Democrats.
"The Comptroller could speak up clearly and directly and say: 'Here is what we don't know. Here are the dark spots. Here is where we see these structures created to defeat transparency,'" Kaehny said.
Still, many calling for change would like the Comptroller's office to have complete oversight over all subsidy deals.
One final, and perhaps farfetched possibility would be creating a State Independent Budget Office in the model of New York City's that would actually weigh the risks and possible rewards of highly nuanced tech and other business deals so that legislators and the public would understand where state money may be going. Deutsch said that someone needs to start asking a basic question: "How much is a job worth?"
The Cuomo administration has repeatedly stated that the Buffalo Billion will create 14,000 reliable jobs and attract $8 billion in investment as a result of the roughly $1 billion state expenditure.
It seems unlikely any of the reforms being discussed to the subsidy process will pick up steam in an election year, especially as Albany waits to see if Bharara's investigation leads to criminal charges.
"There are simple solutions," said Kaehny, "but they are very hard to get done because there is no will."
***
by David King, Albany editor, Gotham Gazette
@DavidHowardKing
Note: this article has been updated with a clarification from John Kaehny that Reinvent Albany beieves "many," not "most," of the subsidy programs are "out of control"