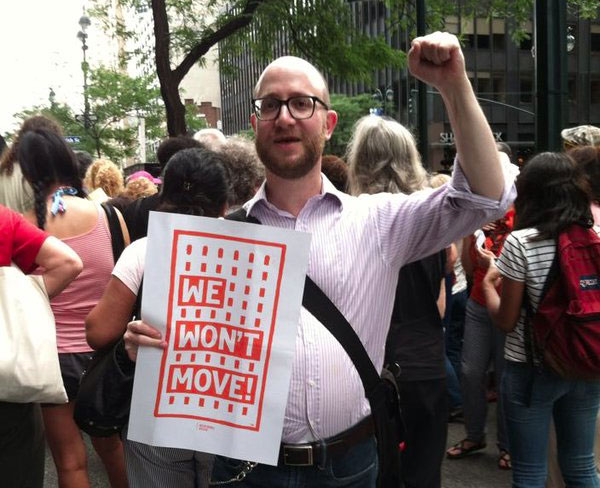 Paul Newell at a housing rally (via @NewellNYC)
---
Manhattan District Leader Paul Newell is gearing up for his second bid to replace Assemblymember Sheldon Silver. Newell told Gotham Gazette that he has started fundraising and is "close to running." A political lifetime ago, in 2008, Newell ran a grassroots campaign to unseat Silver, who was then at the height of his power.
Things have changed since then. Silver was indicted on multiple corruption charges earlier this year and then deposed from the Assembly speakership that he held for 21 years. His trial starts November 2, almost exactly one year before Election Day, though Newell would be challenging Silver in the September 2016 Democratic primary. That is if Silver is still in office and decides to run for reelection.
Silver has already pleaded not guilty to charges that he hid what amounted to political kickbacks, traded state funds for referrals to his law firm, and influenced real estate companies to do business with his law firm. "This is going to trial and I hope, I'm confident I will be vindicated after a full hearing," Silver told reporters earlier this year. Silver will remain in office unless he is convicted.
According to the state Board of Elections website, Newell has raised a little over $46,000 this year through his Friends of Paul Newell committee and has a little over $47,000 on hand.
Newell ran in 2008 as an anti-Albany candidate, pushing ethics reforms and calling out Silver as an impediment to real reform in Albany. The stance won him the endorsement of the New York Times, whose editorial board wrote:
"[T]here are two Democratic races in New York City that offer a chance to make a change in Albany or, at least make a strong statement about how badly change is needed. The most important of these races is in Lower Manhattan, where Assembly Speaker Sheldon Silver, one of the most powerful people in the state, is facing his first real challenge in decades. It is still an uphill fight for any opponent, but the race has already made one difference. It has brought the ever-secretive Mr. Silver out to meet voters and campaign for his job."
Silver faced Republican challenger Maureen Koetz in 2014. She ran on Silver's mishandling of a number of sexual harassment suits against his members, but Silver won easily. Generally Silver has escaped facing any well-funded challengers thanks to his immense power and connections.
Newell said Silver's very public fall from grace this year has residents of lower Manhattan's 65th Assembly District excited for new representation.
"Mr. Silver has the right to a trial, but there is no question the era of Sheldon Silver is over," Newell told Gotham Gazette. "Lower Manhattanites are aware of that. We are going to have new representation whether it is now or two years from now. We have a representative who no one wants their photo taken with, someone who can not actively represent our community, not because he is distracted, but because he no longer has the capacity to build the type of coalitions you need to help the district."
Douglas Muzzio, professor of political science at Baruch College, said that should Silver survive his trial and run for reelection, Newell could easily find himself the underdog again. "The bottom line is you can't beat somebody with nobody even though Silver is clearly weakened," said Muzzio.
Newell, who has served as district leader since 2009, is a community organizer who currently consults for a number of non-profit organizations. He's used his non-paid role as district leader to raise his profile, and this year there have been more opportunities as his district faces the reality that their representative, who was once arguably the most powerful man in Albany, will no longer be bringing millions of dollars in funding to community organizations. Newell has been outspoken about the need for local service organizations to reduce redundancy and work together in what are sure to be leaner times.
Newell also said Silver's replacement has to focus on reform of social service funding in the state "so that it isn't based on who sits where in Albany." He said going forward Silver's replacement, whoever it may be whenever it might be, will have to work at "building coalitions statewide" and working with the new leadership in the Assembly and Senate.
In the wake of Silver's arrest, Newell quickly took to The Daily News to write an op-ed expressing disappointment in Silver on behalf of the community and outlining the need for reform in Albany. He also explained his on-the-ground role as a district leader.
It is unlikely Newell will be the only one looking to either challenge or replace Silver. Another district leader, Jenifer Rajkumar, is also rumored to be interested in the seat. Rajkumar was defeated by incumbent City Council Member Margaret Chin, a Silver ally, in a 2013 bid for the Council. Rajkumar did not return Gotham Gazette's calls at publication of this story.
A number of other potential challengers appear to be waiting for the outcome of Silver's trial before committing to a run. Many observers expect that if Silver doesn't run, he will certainly have a horse in the race.
"If he gets convicted everybody and his mother is going to jump in," said Muzzio.
No matter how many candidates run, it's virtually certain the race will focus on Silver, Albany, and ethics.
The attention on the race could boost voter turnout. In 2008 only five percent of the district's 127,000 residents voted in the primary contest between Silver, Newell, and Luke Henry. Silver won 68 percent of the vote with 6,743 in his favor. Newell received 23 percent with 2,301 votes and Henry received 879 votes.
Newell said that regardless of the outcome of the trial anyone who challenges Silver next year is not likely to face the same resistance he did in his unsuccessful 2008 bid.
"It's unlikely you will have 25 members of the Assembly standing with [Silver] on Grand Street like I did in 2008," said Newell.
***
by David King, Albany editor, Gotham Gazette
@DavidHowardKing