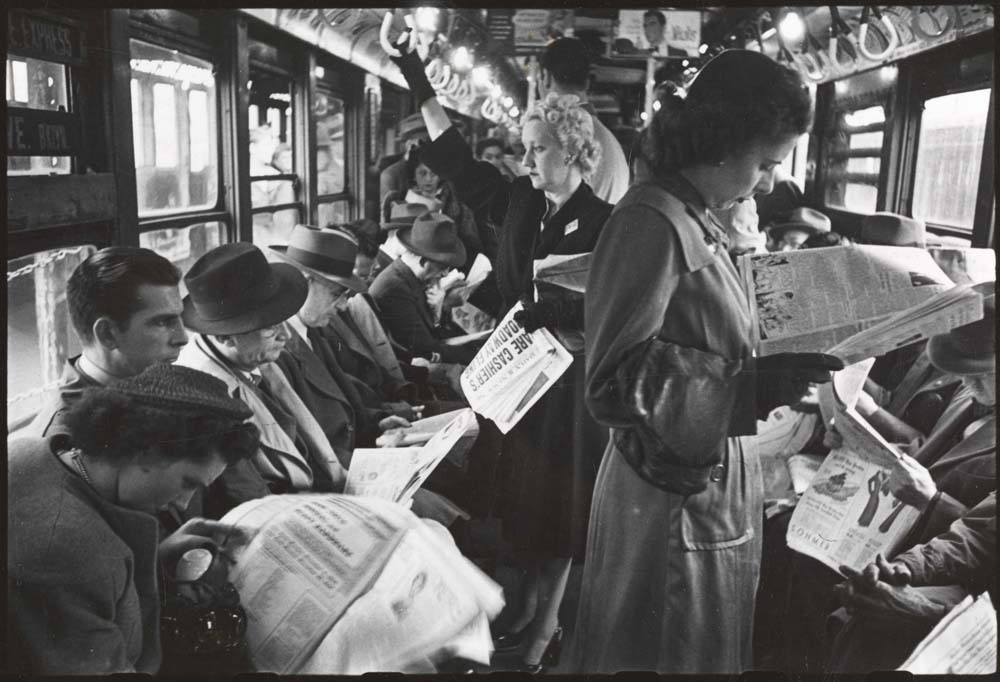 photo: Stanley Kubrick via Museum of the City of New York
---
Gotham Gazette's Week in Review, Friday October 30
PHOTO OF THE WEEK: Officers line up on Merrick Blvd in Queens outside the funeral of fallen officer Randolph Holder, killed in the line of duty and posthumously promoted to detective, via the 103rd Precinct; Mayor de Blasio on Staten Island for the third anniversary of Superstorm Sandy, via John Kenny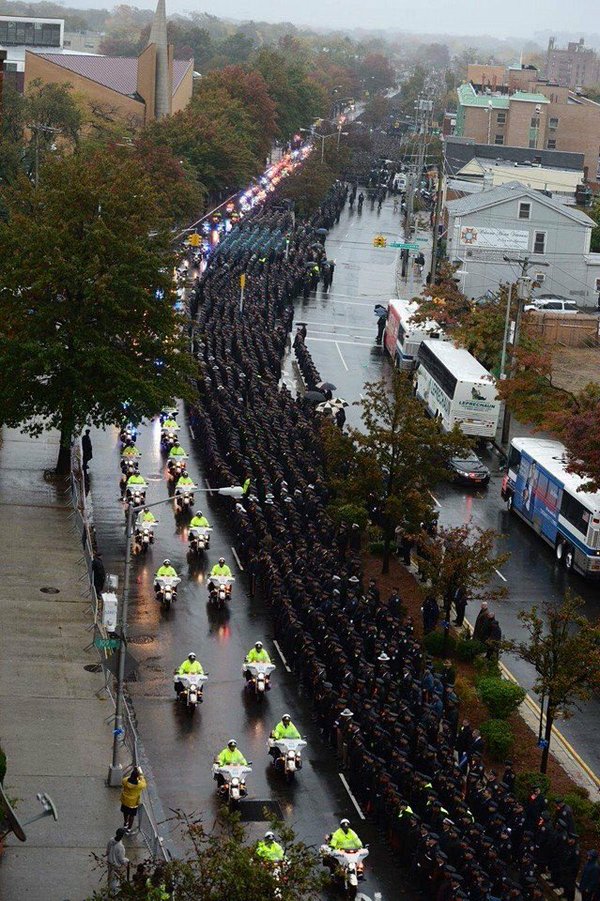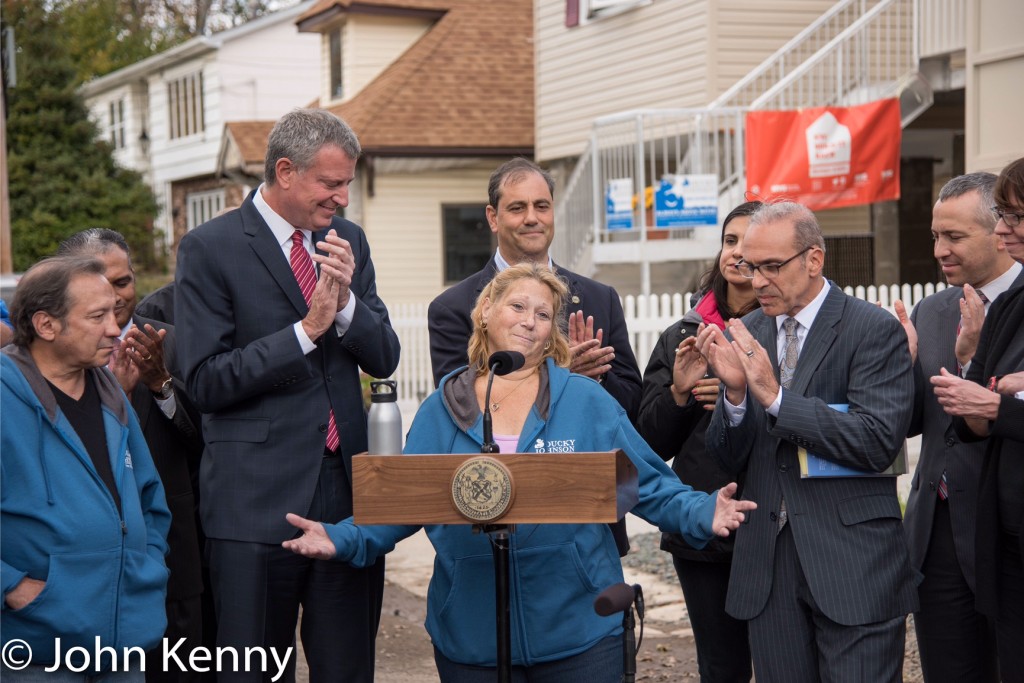 TOP FIVE STORIES OF THE WEEK:
1. Three Years After Sandy: October 29 marked three years since Hurricane Sandy hit New York, destroying thousands of homes, killing 53 people, and causing $32 billion in damages statewide. On Thursday on Staten Island, Mayor Bill de Blasio announced that the city's Build it Back program aims to finish its work repairing homes by the end of 2016. So far, the Build it Back program has spent more than $100 million to repair homes and has began construction on nearly 1,900 homes, according to a report released by the Mayor last week.
2. Success Academy Scrutiny: A report published by The New York Times on Thursday revealed that at least one school in the network singled out students who they wanted to get rid of - allegations that the network and CEO Eva Moskowitz had repeatedly denied. Success Academy representatives defended their integrity at a Friday press conference. The network's high student suspension rates continue to draw attention while Moskowitz continues to explain the schools' approach.
3. Departures: On Monday, Board of Regents Chancellor Merryl Tisch announced that she would step down from her post when her term ends. This week, Andrew Albanese, acting superintendent of the state Department of Financial Services, and Matthew Anderson, the agency's spokesman, resigned from their respective positions amid a disagreement with Governor Andrew Cuomo's office over the agency's independence. And, one of Cuomo's top aides, Joe Percoco, is leaving the administration. Cuomo says Percoco's departure was a personal decision and is not related to ongoing investigations in Albany.
4. Gun Control: On Tuesday, Mayor de Blasio, NYPD Commissioner Bratton, and Manhattan District Attorney Vance announced two indictments of gun traffickers for selling loaded handguns, assault weapons, and ammunition. Over the past six years, the Violent Criminal Enterprises Unit, working with the NYPD, have taken over "1,000 illegal guns off city streets over the course of 21 indictments filed against 64 gun traffickers," said Vance. Most of the guns are believed to have come from out of state. On Friday, the New York Times reported that Governor Cuomo plans to take a lead role in the national fight to enact more gun control laws, pledging to work with the Brady Campaign to Prevent Gun Violence. [Read: As Cuomo Pushes for Federal Action on Guns, New York Measures Await His Support]
5. Honoring Police Officer Holder: Services took place this week to honor Police Officer Randolph Holder, who was shot and killed while on duty October 20. Thousands of police officers gathered at Holder's funeral on Wednesday to pay their respects. Holder has been posthumously promoted to Detective by Commissioner Bratton. Holder's death marks the fourth time in less than a year that a New York City police officer has been killed while on duty.
THIS WEEK'S NUMBERS:
91 cents is how much New York gets back in federal spending for every dollar it sends to Washington, D.C. in taxes - well below the national average of $1.22.
1.8% decline in shootings citywide, with 947 incidents as of October 25.
$837,000 in restitution and fines for more than 6,000 employees has been secured by the Department of Consumer Affairs since New York City's Paid Sick Leave Law went into effect.
$750 million in incentives is how much New York State has offered SolarCity to locate its GigaFactory in Buffalo, which has promised to create 5,000 jobs.
THE GLORY AND THE GOAT:
It was a good week for Mayor Bill de Blasio, who held his first re-election fundraiser Thursday night, which was expected to bring in about $1 million for the mayor's campaign.
It was a bad week for Mayor Bill de Blasio, who endorsed Hillary Clinton for president Friday morning after his delay in doing so earned him a lot of negative publicity and, likely, fewer friends in the Clinton camp.
THE FLASH:
GOTHAM GAZETTE HIGHLIGHTS OF THE WEEK:
De Blasio Attempts to Undo Negative First Impressions, by Ben Max
Hearing Will Examine Pay for Workers Serving City's Most Vulnerable, by Meg O'Connor
As Sheldon Silver Heads to Trial, A Democratic Challenger is Poised to Run, by David Howard King
Brooklyn Neighborhoods Look to Address School Overcrowding, Avoid Rezoning Issues Seen Elsewhere, by Ryan Brady
As Cuomo Pushes for Federal Action on Guns, New York Measures Await His Support, by David Howard King
More NYC Families Will Soon Have Access to Care, by Nisha Agarwal, Commisioner of the Mayor's Office of Immigrant Affairs (opinion)
MORE FOR THE WEEKEND:
In an interview with City & State NY,

David Miranda, president of the New York State Bar Association, discusses the organization's constitutional convention committee and some of its priorities for 2016, including gun control reform.
***
NOTE TO READERS: we hope you enjoy this new Gotham Gazette weekly feature - please share it if you do; on Twitter, use our handle @GothamGazette.
If you have feedback on this feature for us, you can email editor Ben Max: This email address is being protected from spambots. You need JavaScript enabled to view it.
Watch Sunday evening for our latest Week Ahead in New York Politics, which gives you a preview of key issues and events to be aware of for the week about to start. In the meantime, catch up on the latest original reporting from Gotham Gazette here. And have a great weekend!
***
by Meg O'Connor and Ben Max