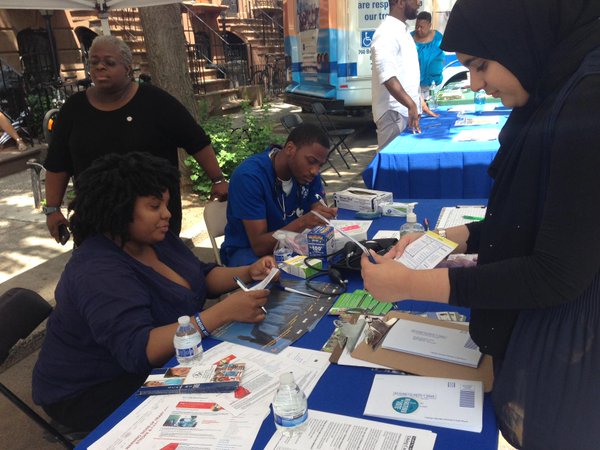 Voter registration efforts (photo: @NYCVotes)
---
On Tuesday morning - Election Day - in Manhattan's Foley Square, a large group of New Yorkers will hold a rally, kicking off a campaign to address two of New York's enduring problems: voting access and voter turnout.
While New York City voters go to the polls Tuesday to fill vacant City Council, District Attorney, and state legislative seats, as well as to vote for judges, a coalition of advocates and activists, including good government and community groups, will launch a petition drive toward passing legislation it says will "modernize elections in New York."
The "Vote Better NY" coalition is led by NYC Votes, the voter outreach arm of the city Campaign Finance Board; and also includes Dominicanos USA; Generation Citizen; New York Immigration Coalition, and other advocacy groups, along with good government organizations Citizens Union, League of Women Voters, and NYPIRG. The push is to garner popular support and "show lawmakers" that "New Yorkers from across the state want election reform to be a priority in Albany."
The petition calls for three key reforms to make voting easier in New York:
-The Voter Empowerment Act (A5972/S2538A) to upgrade our voter registration system
-The Voter Friendly Ballot Act (A3389) to establish better ballot design
-Early voting so New Yorkers have more than one day to cast their ballots
The hope is that Albany lawmakers will pass these measures during their 2016 legislative session.
Speaking of 2016, New Yorkers will go to the polls several times next year as they vote in presidential, congressional, and state-level elections on a variety of dates. Then, come 2017, there will be another round of New York City elections featuring a mayoral race as well as other citywide and City Council seats.
First, though, there's this Tuesday's Election Day. There aren't a lot of high-profile races on the ballot, but New York City will soon have two new members of the City Council (one in Queens, one on Staten Island), two new District Attorneys (Staten Island and the Bronx), two new Assembly members (Queens and Brooklyn), a new state Senator (Brooklyn), and perhaps a few new judges.
Judicial elections can often be the most mysterious, as City Limits recently pointed out, along with its discussion of how the election for Bronx District Attorney has transpired in a fashion that good government groups and other watchers have called an insult to democracy.
On Staten Island, the district attorney race has been far different as two candidates seek to replace Congressional Rep. Dan Donovan. It's unclear who has the edge heading into Tuesday's vote as former Rep. Michael McMahon, the Democrat, faces Republican Joan Illuzzi, a longtime prosecutor.
Along with its voter guide for Tuesday's city elections, the New York City Campaign Finance Board offers, "To learn more about judicial candidates running in your district, visit the online Judicial Voter Guide published by the New York State Unified Court." Still, there's limited information to be found on the candidates, as City Limits has shown.
The CFB outlines candidates for several special elections taking place on Tuesday to fill vacant seats in the City Council or the state Legislature.
The two Council vacancies are due to members who resigned to take other jobs. There are three vacancies in the state Legislature that are being filled. One, a Brooklyn Assembly seat (District 46), is due to a resignation for another job opportunity. Two others are due to corruption, where the former members were forced to resign. Those two seats include one Queens Assembly seat (District 29) and one Brooklyn Senate seat (District 19).
In District 23 in Queens there is a City Council vacancy created by the resignation of Mark Weprin, who took a job in Governor Cuomo's administration. The Democratic candidate, Barry Grodenchik, faces Republican candidate Joseph Concannon. Grodenchik, a former Assembly member, came out of a crowded Democratic primary.
In District 51 on Staten Island, there is another vacancy being filled - it is an uncontested race for City Council, where Assemblymember Joseph Borelli will be elected to the Council to fill the seat vacated by former Minority Leader Vinny Ignizio, who resigned to take a job as a nonprofit leader. Like Ignizio, Borelli is a Republican.
Borelli and the winner of the Grodenchik-Concannon race will have to run for re-election in 2017, when the entirety of the City Council and the citywide officials will be on the ballot.
First, a year from now, there will be elections for all the seats in the New York State Assembly and Senate. Just ten months from now, there will be primaries in those races.
As both former Assembly Speaker Sheldon Silver and form Senate Majority Leader Dean Skelos head to trial this month on corruption charges (Silver's trial starts Monday), speculation continues to swirl around whether either will still be in office come next year's elections, and if they are, whether they will see significant challenges.
While there is more intrigue ahead in 2016 and 2017, don't forget to go out and vote on Tuesday in the 2015 elections, if you have races to vote in - check your poll site here, via the City Board of Elections. Turnout is expected to be quite low this year, even lower than it has been in other recent years with more high-profile offices on the ballot, part of why 'Vote Better' activists are launching their campaign Tuesday.
***
by Ben Max, editor, Gotham Gazette
@TweetBenMax
Note: Gotham Gazette is an independent publication of Citizens Union Foundation, sister organization of Citizens Union.