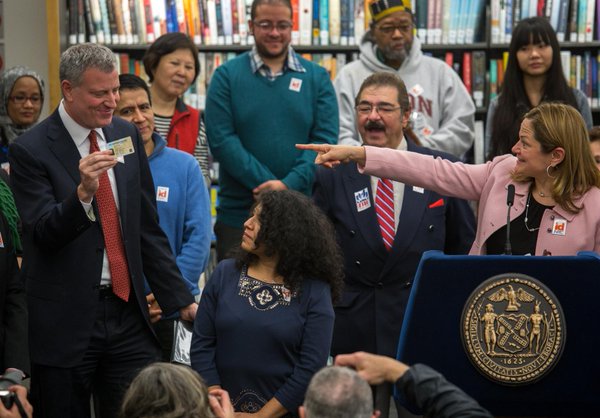 Mayor de Blasio holds his IDNYC (photo: William Alatriste)
---
According to a recent report from Mayor Bill de Blasio's office, there are 345,507 undocumented immigrants in New York City who do not have health insurance. The Mayor's Task Force on Immigrant Health Care Access seeks to provide coverage next year to 1,000 of those individuals.
A new plan from the de Blasio administration, called Direct Access, is intended to expand health care to New Yorkers who do not have it and diminish the mounting number of undocumented immigrants without insurance. Direct Access is lauded by Task Force members, whose work led to the plan, but has critics and immigrants wondering if it is enough.
The Direct Access program will launch in the Spring of 2016 as a year-long pilot, coordinating access for 1,000 uninsured, undocumented immigrant New Yorkers, while accomplishing other goals. The launch is intended to be a preliminary step to collect data to design a larger citywide model. The estimated cost of the pilot is $6 million, paid for by a mix of public and private funds.
Dr. Ramin Asgary, professor of population health at the NYU School of Medicine, is skeptical. "The thinking is right, but it is nothing and close to a joke," he said of the plan and its affect on the overall population of uninsured undocumented New Yorkers. "On paper they can say we are doing something, but it is a drop in a bucket in the ocean."
Nancy Berlinger of the Hastings Center for Bioethics and Public Policy defended the number. "You don't want to launch a citywide program and then realize you don't have enough doctors, social workers, and nurses," she said. "You make a commitment to people when you promise 'direct access.'" The Hastings Center co-released a report on immigrant health care access with the New York Immigration Coalition (NYIC) in March with recommendations for the mayor's office.
Uninsured undocumented immigrants in New York City have a handful of insurance options, but all come with hurdles in an increasingly complex health system.
For instance, the Affordable Care Act, aka Obamacare, is not an option. The healthcare legislation from 2009 shut out undocumented immigrants, and made them ineligible for federal Medicaid. As a result of few options, 64 percent of undocumented immigrants in New York City go uninsured.
In emergencies, older immigrants use safety net health insurance at some hospitals. The New York City Health and Hospitals Corporation (HHC) and community health centers are the primary safety-net providers that care for uninsured New Yorkers.
However, some undocumented people find the cost of care prohibitive, and have major gaps in referrals to specialists for chronic conditions, according to the Hastings Center and NYIC report. Community centers and hospitals do not have access to the same specialists, so health providers often find themselves at a loss for where they can send their patients in situations of chronic conditions like diabetes and arthritis.
Young people are the select few with the opportunity to apply for help through Medicaid, but only on a state level, and only after applying for the protected status of Deferred Action for Childhood Arrivals (DACA). While the program's participants are not eligible for the Affordable Care Act at the national level, five states, including New York, offer health insurance to low-income youth granted DACA.
Direct Access, Mayor de Blasio's plan, aims to address four issues for the undocumented uninsured: language barriers; coordination shortfalls between health centers and hospitals; lack of education of healthcare options; and the mountain of high-priced services.
The mayor's task force brought together 25 agencies and nonprofits beginning in June of 2014. The plan, released in early October, estimated the large number of undocumented immigrants who are uninsured, a higher figure than the previous estimate of 250,000 in Beringer's 2015 report. The NYC Center for Economic Opportunity's Poverty Research Unit worked with the task force to develop a model to estimate the number of uninsured undocumented immigrants in New York City based on information contained in the Census Bureau's American Community Survey data.
Young Adults Struggle through a Two-Step Process
Applying for DACA is no easy task.
The initial deferred action application requires applicants to prove their age; that they arrived to the U.S. before their 16th birthday; have continuously resided in the US since 2007; were physically present on June 15, 2012 - the date of the president's announcement; are currently in educational programs (school, vocational training, etc.) or graduated from high school/have a GED; and haven't been convicted of a felony, significant misdemeanor, or more than three misdemeanors.
Many of the above are difficult for people who did not keep records, don't have a bank account, cannot speak English, or were not enrolled in school. Limited DACA enrollment keeps undocumented youth from accessing Medicaid, and creates more need for a program like de Blasio's Direct Access.
Cesar Andrade is a 23-year-old deferred action holder interested in becoming a physician in order to address the very problem he endured— lack of access to vital services for undocumented immigrants. Andrade was insured through the Children's Health Insurance Program, which expired when he was 19. He was uninsured between the ages of 19 and 22, while he was attending CUNY's Macaulay Honors College.
"I always had to be cautious," Cesar explained, "If you play soccer and tear your ACL, that's a lot of physical therapy. Once I got insurance, there was a sense of relief. I got glasses and got treatment for an autoimmune disorder."
In the meantime, CUNY was able to offer him clinic check-ups, which cost $20 each. Cesar became insured last year through Medicaid after DACA made him eligible.
Deferred action applications are seven-page forms, and must be mailed to the U.S. Citizenship and Immigration Services along with a $465 fee. Cesar said it was straightforward if you know English, but what gets most people, other than any language barrier, is the evidence one must submit.
Claudia Calhoon, director of health advocacy at the New York Immigration Coalition said, "The take home is really that given how tough it is for you and me to understand, you can imagine how this is for an immigrant with low-English proficiency, who may be new to navigating the U.S. healthcare system."
As DACA enrollment continues, the number of enrollees in Medicaid will increase. According to the New York State Statistical Handbook, the average monthly number of Medicaid beneficiaries in New York has increased, with approximately 424,740 new enrollees in 2013. Sixty-three percent of the recipients lived in New York City. An unspecified number were new DACA holders and thus undocumented immigrants.
Kinsey Dinan, acting deputy commissioner of the city's Human Resources Administration's Office of Evaluation and Research said in an email, "We do not have the ability to specifically identify DACA clients in our Medicaid data."
An unknown number of DACA recipients are accessing an already existing healthcare option. One of the plans for the Direct Access program is to educate uninsured immigrants on the options they may have if they have a protected status like DACA.
Harvard Professor Roberto Gonzales is working on an initiative, the National UnDACAmented Research Project, which is a study to assess the effects DACA access has among undocumented young adults.
Gonzales and the American Immigration Council published a report in 2014 that announces preliminary findings where over 21 percent of survey participants obtained health care since receiving the benefit. Although the number of applicants to health insurance is low, he thinks there are reasonable explanations for this.
"The more likely option is that some DACA beneficiaries are acquiring health care coverage through work and college. Our survey was carried out in late 2013, 16 months after the initiation of deferred action. I suspect that since then more of our respondents have acquired health insurance."
Still, Medicaid for deferred action recipients only addresses a small percentage of the 345,000 uninsured immigrants in New York City.
Can Community Health Centers and HHC serve the rest of the population?
Community health centers do not ask for documentation for patient treatment, so undocumented immigrants often go to these centers for emergency procedures. Over 400,000 of the New York City Health and Hospitals Corporation's 1.4 million annual patients are uninsured.
For those earning up to 400 percent of the federal poverty level, these patients are offered a sliding scale for HHC health care services, including prescription drugs. However, patients and taxpayers often fall under tremendous financial burdens from copayments and subsidized care.
"If they are undocumented and don't have financial resources, they aren't going to be able to pay the bill. The government will have to pay the bill. It is a cost effective perspective that is idiotic not to address," said Dr. Asgary, of NYU Medical.
Asgary also mentioned that most undocumented immigrants do not have preventative care options that accompany being insured. "Imagine if someone has diabetes or heart problems, and doesn't see a doctor in ten years. If they have kidney failure or an emergency, society has to pay for dialysis or surgery. One single night in a CCU in a public hospital will cost [taxpayers] $6,000. Five nights in a hospital will cost 20-30K, and they will need follow-up care. Forget just being a decent human being. There are a lot of costs on the line."
An official statement from the city Department of Health and Mental Hygiene mentioned the expansion of current safety net services as outlined in the task force plan.
"The Direct Access program will build on New York City's strong safety-net health care system. It will help make our safety net system more coordinated, will focus on prevention and primary care by providing "primary care homes" and will improve coordination of care while still preserving federal and state funds," a representative from DOHMH wrote.
The Plan
Launching in the Spring of 2016, the initial $6 million cost of the plan will be partially funded by the Robin Hood Foundation through the Mayor's Fund to Advance New York City. The New York City Council has also committed $2.5 million toward related education and outreach efforts, including a recommended medical interpreter training program to address language barrier issues in immigrant health care access.
In a statement, the Mayor's Office of Immigrant Affairs expanded on the details: "The Direct Access program will provide predictable costs, provide a primary care home, and increase coordination of care. By providing a defined network and package of health services, set eligibility criteria and predictable fees, we will be enhancing the existing system for the uninsured in our city."
The hope is that the program will expand access to health care, and coordinate many independent efforts throughout the city, including the new Caring Neighborhoods initiative, recently announced by Mayor de Blasio. Caring Neighborhoods, a new program led by HHC and the New York City Economic Development Corporation (EDC), will expand community health centers in all five boroughs, so that 100,000 new patients will be able to receive care. The City is dedicating $20 million over two years to cover costs for new health centers.
According to the de Blasio administration press release on Caring Neighborhoods, the initiative will complement the Direct Access plan for immigrant New Yorkers by expanding services at Federally Qualified Health Centers (FQHCs) in neighborhoods with high concentrations of immigrants.
There is also hope that the recently launched municipal identification card program, IDNYC, will play into removing the paperwork barrier for the undocumented. The Direct Access program will require a verification of identity and residency in New York. The program will allow use of IDNYC to verify both, and as a participant ID card that will expedite access to care.
Berlinger, of the Hastings Center, is hopeful that the plan will bring together private and public health providers who do not typically work together. "You have to figure out how they share information, how they work together, how they share patient info. Then you have to figure out what it is a better way to reach the population," she explained.
Enough?
Not everyone is satisfied with the plan as it stands. The Task Force report shows that in the neighborhood of Flushing, 14-37 percent are uninsured non-citizens.
City Council Member Peter Koo, of Flushing, is aware of the high population of uninsured undocumented immigrants, and has held community meetings that promote the use of MetroPlus Health Plan, the insurance plan of the New York City Health and Hospitals Corporation.
A recent Monday afternoon meeting had 75 attendees. Koo's Chief of Staff, Elaine Cheung, said, "In terms of the Mayor's Task Force report, Councilman Koo believes that there will be a huge demand for these services and we would like to see the number of participants expanded, especially in an community such as Flushing."
In Brooklyn, 14-37 percent residents in Sunset Park are also uninsured non-citizens. City Council Member Carlos Menchaca addressed the issue in a statement: "The inaccessibility of care for immigrant communities in our City continues to be of great concern for me, and for the City Council as a whole. In the Council, we've allocated millions of dollars in the last year alone to help bridge some of the information and access gaps that exist on this front." The Caring Neighborhoods Initiative recently announced that two of the community health expansion sites would be in Sunset Park and Queens.
Asgary recommends the pilot target senior citizens. "I would target the elderly undocumented. In terms of cost saving, it should be directed toward elderly. They are equally neglected as children. This program moves in the right direction but needs to be expanded."
The Direct Access plan is modeled after assessments of several other cities' health plans for immigrants. The plan, with adjustments, is based on Los Angeles' My Health LA, a no-cost program for low-income residents regardless of immigration status. It offers care through 164 community clinics, and incorporates a preventative health approach.
Of the estimated 400,000 remaining uninsured in Los Angeles County, 280,000 are being served through the plan.
***
by Sarah Betancourt for Gotham Gazette
@GothamGazette
Note: this article has been corrected to note that the Hastings estimate for undocumented uninsured New Yorkers is 250,000, not 150,000; to remove mention of use of passport for DACA age verification; and to clarify City Council funding toward relevant initiatives and rates of non-citizens who are uninsured in certain neighborhoods.