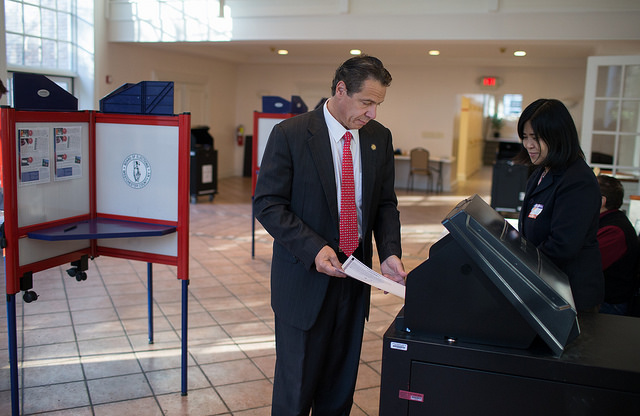 Gov. Cuomo votes on Tuesday (via the Governor's Office on flickr)
---
Although there weren't many high-profile races in yesterday's election, New York City now has two new members of the City Council (one in Queens, one on Staten Island), two new District Attorneys (Staten Island and the Bronx), two new Assembly members (Queens and Brooklyn), a new state Senator (Brooklyn), and a few new judges.
On Staten Island, former Congressional Rep. and City Council Member Michael McMahon, a Democrat, defeated Republican Joan Illuzzi to become District Attorney. The seat was left vacant when former DA Daniel Donovan was elected to the U.S. House of Representatives. Democrats now hold the DA position in all five boroughs.

The Bronx got its first new DA in 26 years as Darcel Clark was elected to the seat. Clark, a New York Supreme Court judge, replaced Robert Johnson who resigned to run for Supreme Court justice.

A Democrat also won the City Council seat from Eastern Queens. Former Assembly Member Barry Grodenchik beat his Republican opponent, Joseph Colcannon, a retired police captain. The seat belonged to Mark Weprin, a Democrat who left the Council to join Governor Andrew Cuomo's administration. The Staten Island City Council seat went to Republican Joseph Borelli, an Assembly member who ran unopposed to replace Vincent Ignizio, who had resigned for a job as a nonprofit leader. Borelli joins the Council's Republican minority, returning it to three members in the 51-seat body. Both Grodenchik and Borelli will have to run in 2017 to retain their seats.
As was the case with the two Council seats, the three special elections for New York City-based seats in the state legislature remained with the same political party. All three state legislative seats stayed Democrat. With a whopping majority, Democrat Assembly Member Roxanne Persaud won a Brooklyn Senate seat over Republican Jeffrey Ferretti, owner of a real estate company. The seat was left vacant when former State Senator John Sampson was convicted in July on federal charges of obstruction of justice and false statements.

The two Assembly seats were also won by Democrats. Pamela Harris, a retired corrections officer, defeated Republican Lucretia Regina-Potter to become the only African-American to represent a majority white district in the city. The district covers parts of southern Brooklyn and the post was left vacant when the former rep resigned to take a private-sector job.

In the special election to complete the term of Democrat William Scarborough -- who was forced from office after accepting a plea on corruption charges -- Democrat Alicia Hyndman beat her opponent with a wide margin. Hyndman, Harris, and Regina-Potter will all have to run for re-election next year, in 2016 when all of the state legislature goes up for election, to retain their seats.

In one of many unopposed races, Democrat Richard Brown won the seat of Queens DA for the seventh consecutive term.
***
by Samar Khrushid
@GothamGazette