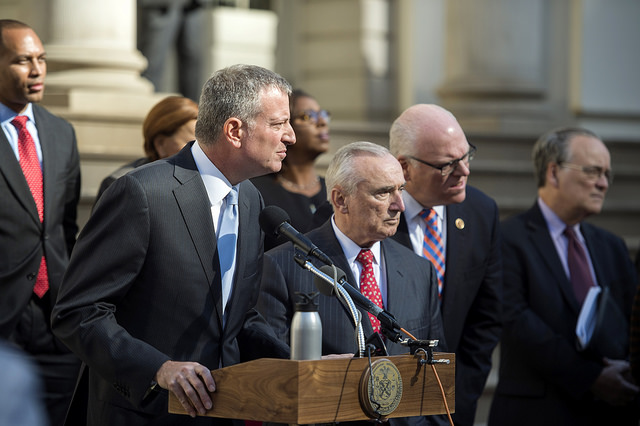 De Blasio & Bratton Monday (photo: Demetrius Freeman/Mayoral Photography Office)
---
NYPD Commissioner Bill Bratton is not blinking when it comes to public safety in New York City. Despite a shooting Monday morning near Penn Station and a rise in murders this year, Bratton said at an afternoon news conference that "The city is very safe and getting safer all the time."
"There will be incidents, as we saw this morning," Bratton added, taking his usual approach to focusing on crime over time, not allowing isolated incidents to be evidence of any trend as he and Mayor Bill de Blasio continue to criticize media outlets and others who are less constrained by responsible use of data.
Bratton and de Blasio insisted Monday that New Yorkers are not more comfortable committing crimes or carrying guns because of their policies. They point to numbers showing major crimes down three percent this year to last, which was a historically safe year, and to a rise in gun arrests despite the fact that overall arrests are down significantly.
This decrease in total arrests, as well as in other "negative interactions" between police and civilians, is symbolic of what Bratton calls a "peace dividend," an approach the commissioner said will continue.
The peace dividend, which Bratton said Monday is of "great benefit" to his officers and to the public, and de Blasio said allows the NYPD to "move resources where the need is greatest," is itself the product of a safer city. As Bratton has explained it, the peace dividend that his NYPD is yielding to the public is the use of more discretion - a less punitive approach to broken windows policing - even while staying vigilant about crime.
It includes encouraging people committing low-level offenses to 'move along,' issuing summonses instead of arrests in some instances, fewer stop-and-frisks, coordinating mental health services, and NYPD officers taking a more friendly approach to interacting with the public.
"We project that by the end of this year there will have been one million fewer what I would describe as negative interactions – enforcement actions by members of my department," Bratton said Monday at a press conference outside City Hall. "We are making a concerted effort to have our officers act appropriately when dealing with what they understand is a crime being committed, or has been committed, so that peace dividend, which I talked about, I think is of great benefit to my officers. They're not needlessly getting engaged in negative interactions with the public – of great benefit to the public, certainly, that was complaining very loudly about them."
Meanwhile, the city has become safe enough that virtually every murder is accounted for with alarm in the media. Heightening scrutiny and alarm is the fact that four NYPD officers have been killed while on duty in the past twelve months. And, "Homicides are up about 19 against last year's record-low number," Bratton said Monday (there were 333 murders in the city in 2014, so the city is on pace for about 350 this year). Rape is also up this year, and in combination with a homelessness problem that City Hall has not been able to mitigate, these incidents and increases have led some - including Governor Andrew Cuomo - to say that the city is slipping backwards.
Yet, shootings and several other major crimes are down year-to-date, leaving the seven major index crimes down slightly overall. "I think the statistics speak for themselves," Bratton said Monday, adding that New York "will end this year with the safest year in the history of this city." Bratton can also point to the fact that over many years the homicide rate has been dropping, but that during occasional years there have been slight increases from the year before.
Asked by Gotham Gazette if incidents like Monday's shooting near Penn Station or media coverage of crime in the city had led him to rethink the peace dividend, Bratton said no. After mentioning reductions in arrests, stops, and other "negative interactions," Bratton also cited a decrease in complaints by New Yorkers to the Civilian Complaint Review Board, or CCRB. "And that's what it's all about," Bratton said, "improved citizen satisfaction."
"I think we're very much on the right track to not only bridge the gap between the public and the police, particularly that portion of the public that really feel that the police have not been responsive to their concerns, I think we have the real ability to close that gap, not just bridge it," the commissioner said.
The NYPD is in the process of hiring the additional 1,297 police officers that the mayor announced the city would fund beginning in Fiscal Year 2016, which began July 1 of this year. De Blasio explained that his decision to support an increase in the NYPD headcount, despite his previous objections to City Council calls to do so, was the result, in part, of Bratton's plan for deploying additional cops. Along with counterrorism, the main pillar of Bratton's plan is a neighborhood policing model that is meant to continue to pay the peace dividend by increasing positive interactions and pre-empting negative ones by building stronger community relationships.
After Bratton expressed enthusiastic support for the peace dividend approach Monday, the mayor took the chance to comment on the subject. De Blasio said that the "time and energy freed up through that peace dividend is going to fighting more serious crime. Look at the seven percent increase in gun arrests. Look at the decrease in shootings. There's a direct correlation and I think this commissioner and his team have done a fantastic job of continuing to, in the spirit of CompStat, move resources where the need is greatest."
***
by Ben Max, Gotham Gazette
@TweetBenMax