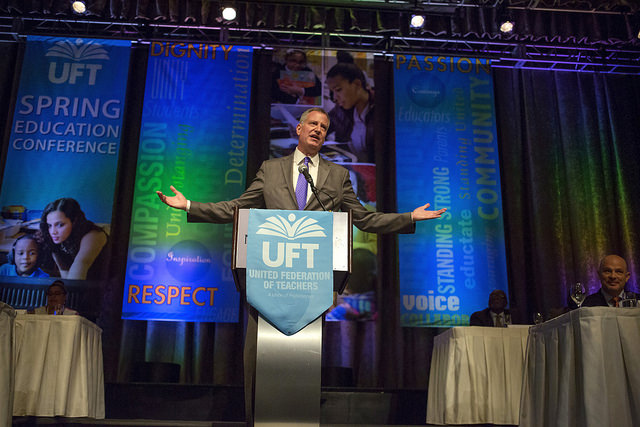 Mayor de Blasio at a UFT conference (photo: Ed Reed/Mayoral Photography Office)
---
Four of New York's top labor leaders assembled recently to give a state of their unions, and to assess the broader union climate in New York and elsewhere.
Each sounding like a determined boxer in the middle rounds of a grueling fight, they decried attacks on unions across the country, but indicated that they are pleased with the strength of the labor movement in New York. They credited intra- and inter-union solidarity for much of the movement's staying power, at times referencing the importance of relationships with community groups and City Hall - making sure to acknowledge the new, more union-friendly occupant of the mayor's office.
While unions have taken legal and membership hits across the country in recent years, labor has indeed remained relatively strong in New York. City union leaders speaking to this phenomenon alternate between sounding hesitantly triumphant and passionately defiant. Never far from their minds, it seems, is that what the labor movement has fought for could slip away any time.
At a panel discussion titled "What is the future of organized labor in New York?" hosted by the government relations practice group of Stroock & Stroock & Lavan LLP, the assembled union heads were Michael Mulgrew, President of the United Federation of Teachers; Harry Nespoli, President of the Uniformed Sanitationmen's Association; Gregory Floyd, President of Local 237 Teamsters; and Vincent Alvarez, President of New York City Central Labor Council. They were questioned by two moderators, both Stroock attorneys: Alan M. Klinger and Robert Abrams, who is also former New York State Attorney General.
"The state of unions in New York City is strong," said Mulgrew, of the teachers union, citing "the relationships of the union leaders" as essential to the survival and success of labor.
Time and again, Mulgrew and others referenced the fight that is often characteristic of union work, with the UFT president at one point describing a 20-year "war" with City Hall, referencing his union's relationship with Mayors Giuliani and Bloomberg. He also noted that public opinion of unions is on the upswing after some decline, saying that the broader population has come to appreciate unions more as they realize corporations and many government officials do not have workers' best interest at heart.
At the Stroock event, the labor leaders referred to lobbyists and corporate interests as out for union demise, with Mulgrew saying, "there's a group who are advocating for what they want for their industries or for their own bottom lines. They want more profit and they don't care what they have to do to get it. And if that is to leverage a state or a local municipality to get breaks the way they want, they'll do it."
Mulgrew's city chapter has been part of a larger, ongoing teachers union feud with Governor Andrew Cuomo, who has aligned himself with an education reform movement that is highly critical of the teachers unions and is supported by wealthy donors. Cuomo has said he intends to break the teachers union "monopoly" on public education.
"I said it, and I'll say it again," said Nespoli of the sanitation workers union, in one of his several segments of animated commentary, "New York, we're the last of the Mohicans. If you look throughout the country, what they did to unions is a disgrace; what they did to the middle class."
The data on union membership and wages support Nespoli's point. Nationwide, about 11 percent of workers belong to a union, indicative of a steady, decades-long decline according to the Bureau of Labor Statistics. In 1973, the national rate was 24 percent - which is about New York's current rate. Still, New York's union rate was 35.5 percent in 1964. New York has historically been a place of labor union strength and continues to be so, though union leaders note without prompting that unions continue to feel under threat and in a perpetual fight to survive.
For evidence, union bosses, especially Mulgrew, need look no further than the ongoing legal challenge to teacher tenure laws. A case in New York is modeled after a successful California case (set to be heard by the U.S. Supreme Court) alleging that tenure rules violate students' civil rights because they lead to weaker teachers with strong job protection in disadvantaged schools.
There are currently about 2 million union workers in New York State, with about 877,000 union members in New York City, according to the Joseph Murphy Institute at CUNY Graduate Center. New York City has about 25 percent union membership, about the same as the state overall. Albany has the highest metro area union membership rate in the state, about 36 percent of the capital's workforce is union. In the city, about 70 percent of government employees are union; whereas private sector workers are about 18 percent unionized.
More than 100,000 of the city's union workers are UFT members (the union also has many thousands of members who are retired, of course). Mulgrew said that 40 years of attacks on unions did some damage, but that things are trending up. "We're part of the solution," Mulgrew said, "I know that the teacher unions, the city and state teacher unions, are trusted more than the elected officials. When's the last time that happened?"
Key to this trend, he said, is partnership with community-based groups. Unions, Mulgrew asserted, were in the past too myopic, only focusing on their members and their issues. It is essential, he said - and others agreed - that individual unions support each other, while also partnering with community and advocacy groups. "That's what makes New York different, the fact that we communicate with each other," Nespoli said of leaders of different unions.
Floyd said, "Well, it's important for us to understand that we not only represent our members, but we represent the community. Because, without the labor movement, there would be no middle class."
A different approach has produced results.
"It starts in New York City," Mulgrew told Gotham Gazette after the panel, "I mean, for my union, you could just see in all the polls - when it was us against Bloomberg, by the end [the public] trusted us much more than they trusted the mayor. Now, the same thing's happening with the governor." Adding that it is on education issues, but also throughout the city and state, "the whole idea of unions is trending upwards."
Indeed, a September Quinnipiac poll found that "voters statewide trust the teachers' unions more than Gov. Andrew Cuomo to improve education in New York State 54 - 31 percent." Quinnipiac did note, though, that that margin was slimmer in New York City (47 - 43 percent).
There has been a stark contrast between public sector unions' relationship with Mayor de Blasio and with Gov. Cuomo. But the disparity in positivity has been shrinking as Cuomo has championed a higher minimum wage.
"And let's not make any mistakes about it, the $15 an hour wage increase that the governor has put forth is because the union movement had it on its agenda," Floyd said of union impact on public policy.
As much as de Blasio and Mulgrew have praised each other, coming to a much-needed new contract for city teachers that also set the bargaining pattern for others, it is not all rosy between labor and city government, of course.
The Policemen's Benevolent Association, which represents rank-and-file NYPD officers, did not agree to the pattern the de Blasio administration established with the UFT and then uniformed unions, and is now in arbitration with the city. The proceedings are not going well for the PBA and it may come around to accept what other unions have gone with. (The UFT contract announced May 1, 2014 covers nine years, some retroactive, expiring October 31, 2018. The PBA may be able to pursue a deal akin to what firefighters have inked with City Hall, more in line with the uniformed worker pattern that is slightly different from the non-uniform one.)
Some have called the union deals inked by de Blasio too generous. Meanwhile, Nespoli is among those who think that those contracts were not as good for labor as they could or should have been. At the Stroock panel, he said the public should know that labor made concessions.
"We sat down, we made adjustments and we got the contract done and we saved a ton of money," Nespoli said. "This city right now is in great shape financially. Don't ever let anybody tell you they're not because they're all full of it. They have the money. They have it. And thank God that the tourists are still coming in here. And that's thanks to the city workers that actually take care of this city to make it safe, clean, and teachers, and custodians and sanitation workers, police, fire - that's the backbone here."
***
by Ben Max, Gotham Gazette
@TweetBenMax