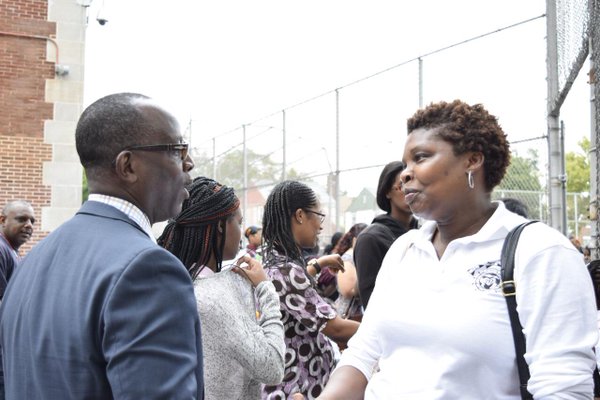 Council Member Miller & a constituent (photo: @IDaneekMiller)
---
When the city's Department of Homeless Services was quickly and quietly moving homeless families into the former Pan American Hotel in Elmhurst, Queens last June, the response from locals was swift and sharp. A group of Chinese immigrants and a local Republican club organized a protest against the new facility, saying city officials had unfairly targeted the neighborhood. Things got ugly. Shouts of "Get a job!" by protesters were responded to with shouts of "Go back to China!" by shelter residents, the New York Times reported.
Contributing to the controversy was that the city had not notified local leaders until the day before moving families into the former hotel. The next month, DHS pledged to set up a seven-day timeline to notify communities before opening new shelters.
But that timeline is not a hard requirement, but more of a promised courtesy. And with the city's homeless population near 60,000 (the shelter census was at 57,390 individuals as of November 10, and there are hundreds who live on the street) and DHS legally mandated to provide housing for all in need, the city frequently finds its options limited when deciding where and when to open new shelters. There are also incentives to not giving a lot of public notice before opening a new shelter, as that notice is often met with significant backlash.
Twenty-eight shelters have opened so far during Mayor Bill de Blasio's administration—25 in 2014 and three this year. DHS receives proposals from contractors to open shelters through an open-ended Request for Proposals—although an agency spokesperson said that they do not track what proportion of proposals are accepted. Whether for historic or economic reasons, the current situation leaves some boroughs and neighborhoods with far more shelters than others. This fact leaves some local elected officials, community activists, residents, and advocates up in arms.
Communication and transparency
"We work diligently to ensure borough equity in shelter siting and collaborate closely with surrounding communities to ease the transition and ensure safety," a DHS spokesperson said. "Though DHS weighs multiple factors including proximity to public transportation and existing shelters in the area when choosing sites, we are also limited in options due to low building vacancy rates in New York City."
City Council members have long been calling on DHS to distribute shelters among boroughs and neighborhoods more equally, and to provide greater transparency when siting them. Queens Council Member I. Daneek Miller, whose district includes Jamaica, introduced a bill in September that would require social-services agencies like DHS to publically disclose the owners, developers, and service providers of sites 30 days before a contract starts. The goal of Intro. 906, he said, is to make it easier to find out which organizations are operating which shelters - an important step in holding contractors with often-questionable records accountable.
"What we're trying to accomplish here is developing the tools to address specific issues," Miller told Gotham Gazette. "These supportive services, they're not well-managed, there's no oversight."
Manhattan Council Member Margaret Chin, whose district includes Chinatown and the Lower East Side, said she supports the bill because open communication is necessary for engaging the local community. "When the city didn't inform us what was going on" with changes at a local shelter, she said, "there were rumors flying around."
Bronx Council Member Annabel Palma, who was previously chair of the Council's General Welfare committee, which has oversight of DHS, said that "there's a lot more work that needs to be done" in terms of improving communication between city and local officials. But setting a 30-day deadline could be unrealistic for an agency like DHS, she added, especially with the current homelessness crisis.
"Homelessness doesn't have a timeline. You can't say, 'In 30 days you will be homeless,'" she said. "We see people become homeless on a daily basis, and the city has to help them…In the case of an emergency, it becomes difficult to say, 'We need X amount of time.'"
A fair share?
One thing Council members Gotham Gazette spoke with (and many others) agree on is the idea that shelters should be more equally distributed throughout the city—though no one is speaking explicitly in "not-in-my-backyard" terms.
"Having people on the streets is not the solution. So we try to provide them with temporary housing," said Manhattan Council Member Rosie Mendez, whose district includes the Lower East Side. "The issue is where there is more than a fair share—there's a shelter in Community Board 6 that has more than 800 beds."
"It's important for us to provide shelter to the homeless," Chin said. "All of us need to pitch in and help…Which is why [DHS] interacting and communicating with the community is very important."
Miller, who represents parts of Southeast Queens, compared homeless shelters to other necessary, but often undesirable services like waste transfer sites, which have been the source of major "fair share" battles. "We have an opinion, and we certainly don't mind doing our fair share," he said. "Obviously we need these services, but we don't want to be disproportionate in delivering these services or being impacted by them."
In response to complaints of unfairly burdening specific areas with more shelters, DHS has said it is making efforts to ensure "borough equity" by opening new shelters in Queens (the de Blasio administration has opened more shelters in the Bronx and Brooklyn). But a similar policy on the neighborhood or community-board level does not exist.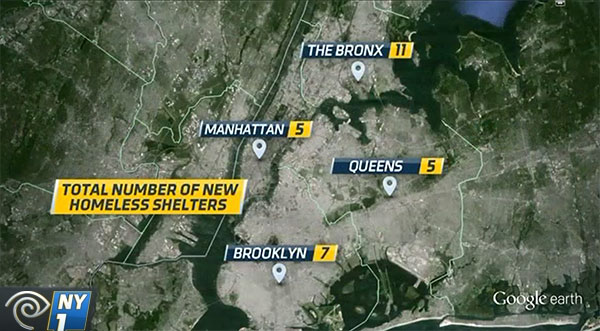 [screenshot of NY1, from a recent story on shelters]
Palma said that "we have to create a system where we don't oversaturate a community over another. So I think every community should be doing their fair share to help each other out." She added, however, that homeless individuals are often coming from the same or similar neighborhoods as where there are high concentrations of shelters. Palma's Bronx district is one of the poorest in the city. "They're our family, they're our neighbors," she said.
The need for permanent housing
For Llima Berkley, who has been homeless since March 2014 and works with the service and advocacy group Picture the Homeless, the questions of fair share and transparency are irrelevant. The focus, she said, should be on providing permanent affordable housing to end homelessness. "New York City has to build housing, renovate housing that's vacant—and then these conversations would cease," Berkley said.
In the meantime, she said that those living in shelters should also be making efforts to become more active members of their new community. "You just happen to be homeless. Just because you're homeless doesn't mean you don't have integrity or decency," she said. "This is not a shelter. This is a home. This is where you live."
Indeed, as the city's affordable housing crisis has worsened and homelessness has swelled, there is an increasing number of working homeless people.
Part of de Blasio's affordable housing plan involves reallocating funds from shelters to permanent housing and providing more supportive housing for individuals with mental health or substance abuse issues. More than 19,000 of the 52,000 people who have exited the shelter system since July 2014 have moved into permanent housing through the new Rental Assistance Programs and Exit Pathways, the administration announced earlier this month.
Even still, homelessness remains much higher than past years. DHS' daily shelter population count is near 58,000 —close to double the population at the start of Mayor Michael Bloomberg's administration, when there were 33,194 individuals in shelters on January 1, 2002.
"We don't want to be doing this all the time," Council Member Miller said. "We want to make sure we are providing permanent homes for folk wherever possible, and I think we have an opportunity to do that."
On Wednesday, November 18, Mayor de Blasio is set to announce he is putting $3 billion toward 15,000 new units of supportive housing, another major investment by the administration toward reducing homelessness.
"No one wants to wake up one day and tell their children or child, 'We have no where to live today,'" Council Member Palma said. "No one wants to be homeless, no one plans to be homeless. Individuals want to be part of a community, they want to be productive. And communities need to understand where these families are coming from."
***
by Christian Zhang, Gotham Gazette
@GothamGazette