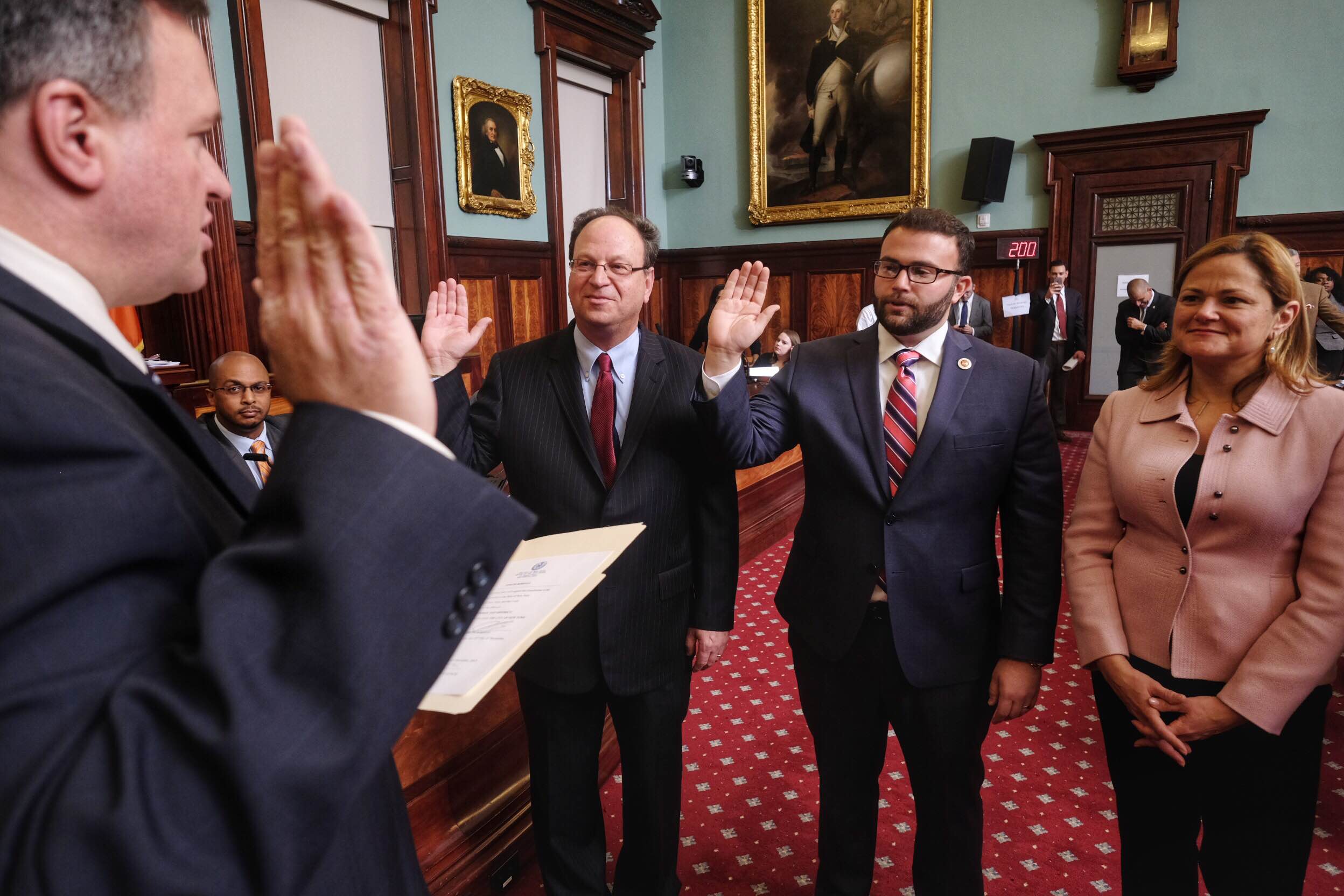 CMs Borelli, right, & Grodenchik are sworn in next to the Speaker (photo by William Alatriste)
---
The New York City Council has two new members, each with prior experience in elected office and bringing to the 51-member body the perspective of New Yorkers living in the city's outer-reaches. Both districts being represented by new members are populated by many car- and single-family-home-owners.
One new representative - Barry Grodenchik of Queens - brings a fairly moderate Democratic viewpoint to the Council's majority, while the other new Council member - Joseph Borelli of Staten Island - brings an outspoken style to the Republican minority. Both Grodenchik and Borelli were sworn in on Tuesday, November 24, and participated in their first official Council business at that afternoon's "Stated Meeting."
Earlier this month, the two former Assembly members were chosen through special elections to fill Council vacancies created by members who resigned to take other jobs: Mark Weprin left to work for Governor Andrew Cuomo and Vincent Ignizio to lead Staten Island Catholic Charities.
The New York City Board of Elections counted all absentee and military ballots and officially certified the elections, and the two members took office. They were given a standing round of applause by their colleagues when they were announced into Council Chambers at City Hall.
Grodenchik, most recently a deputy Queens borough president after his time in the Assembly, prevailed in a crowded Democratic primary and went on to defeat his Republican opponent, retired police captain Joseph Concannon. Grodenchik will now serve the remainder of Weprin's term through 2017.
No stranger to elected office and political work, Grodenchik says he's ready to hit the ground running: "My learning curve is much shorter than a new Council member's would usually be," he said. "I bring experience in government. This is what we campaigned on and obviously people responded to that."
While Grodenchik says he's excited to work with his new colleagues, many of whom he knows well, and about the progressive direction of the Council, he also represents a district that largely differs on some of the policies of Council Speaker Melissa Mark-Viverito, many Council members, and Mayor Bill de Blasio.
Borelli, meanwhile, represents a district whose residents have even less affinity for the progressive direction the city is heading and the people leading that charge, starting with the mayor. Borelli is expected to bring a strong dissenting voice to the Council as he joins what will be a three-member Republican minority led by his Staten Island neighbor Steven Matteo and also includes Queens Council Member Eric Ulrich.
Coming from the Assembly minority, though, Borelli may actually have more opportunity to influence the policy discussions in the Council.
"I think it's a great time to be a member of the City Council because the spectrum of opinion is so wide," Borelli told Gotham Gazette. "I'm excited from a policy advocacy standpoint just to be able to present my opinion."
Besides their obvious disadvantage, he said the Republican minority is "a small but stalwart band."
Both Borelli and Grodenchik plan to make an impact over the next two years, as they described to Gotham Gazette in recent interviews, and will then be up for reelection in 2017, when the entire Council is on the ballot, including 11 seats where the current members are term-limited - chief among those being the speaker.
In a statement to Gotham Gazette, Mark-Viverito said, "Council Members-elect Barry Grodenchik and Joseph Borelli staunchly represented Queens and Staten Island in the New York State Assembly and now bring their strong records of public service to the City Council. I look forward to working with our incoming members to deliver results for New Yorkers across the five boroughs."
Gotham Gazette spoke at some length with both incoming Council members, Grodenchik and Borelli, about their experience and their priorities:
Barry Grodenchik, Queens Democrat, District 23
"I knocked on close to 5,000 doors in the course of the campaign. The two complaints that I heard over and over was water and sewer rates and property taxes going up each year," Grodenchik told Gotham Gazette. "Taxes on condos and co-ops are unfair. There's no question about it. That's something I'm going to gauge my colleagues on," he added.
Along with these issues of home ownership and affordability, Grodenchik cited transportation as a key concern. Situated on the edge of Queens, District 23 lacks much of the mass transit infrastructure in other parts of the city. There are no subway or Long Island Rail Road stops. "We live in what has been rightly called a mass transit desert," he said. "It can take an awfully long time to get from my district to the downtown business district," he said.
While he did not say he has any specific legislation in mind, Grodenchik is gathering a policy agenda and continuing to talk with constituents. He's been attending community and private meetings across the district, which covers Queens Village, Bayside, Douglaston, Fresh Meadows, Glen Oaks, New Hyde Park and Little Neck. One week this month he had more than a dozen meetings with representatives from community boards, civic, and cultural organizations, he said.
Grodenchik also has plans to visit every public school in his district over the next few months to familiarize himself with school officials and parent-teacher associations to "make sure they're getting what they need to be the best schools in the city," he said.
As a "good Democrat," Grodenchik has a strong contingent of progressive colleagues, some of whom he has known for years. He admires the progressive direction that the Council has taken in the last two years and says he will likely see eye-to-eye with them on most issues, but not all. "I think people can disagree without being disagreeable," he said, stating his ardent opposition to congestion pricing proposals as an example. "I see it as a tax, particularly for people in Queens. It's a non-starter as far as I'm concerned," he said.
But he looks forward to being a part of a Council that has become more equitable, he said, under current Speaker Melissa Mark-Viverito, with resources allotted to members and districts in a clear, fair fashion.
Grodenchik has a long history of serving Queens. He worked under Queens Assemblywoman Nettie Mayersohn; he was Chief Administrative Officer for Borough President Claire Shulman for more than ten years. He was also a deputy borough president under Helen Marshall. In 2002, he was elected to the New York State Assembly where he served till 2014 (Grodenchik ran an abbreviated campaign for Queens BP in 2013 before dropping out of the race during the primary - he went on to become eventual winner Melinda Katz's director of community boards.)
Government, at any level, is complicated, Grodenchik says, but "You have to be able to come to the table with people you like and people you don't like to craft a solution that works for both community and the city...to move the city forward in the best possible way."
Joseph Borelli, Staten Island Republican, District 51
Borelli, a state Assembly member, ran unopposed for District 51 on Staten Island, winning the seat formerly held by Vincent Ignizio. The district covers the southern end of the borough including neighborhoods such as Arden Heights, Bay Terrace, Oakwood, Great Kills, Richmond Valley, Huguenot and Princes Bay. Like Grodenchik's, it is also seen as a transportation desert.
For Borelli, the transition to the City Council is relatively easy. "The district is pretty much the same so I'm just sort of moving my bullseye over a bit," he said. With a strong idea of the work ahead, Borelli is making the rounds of the district. He has spent time during the last two weeks in meetings with his predecessor about issues to pursue and with city agencies to discuss capital projects in the district.
In setting his agenda, Borelli already has a few concrete priorities. "There are some major land use issues here that are especially important to us," he said of the construction of an outlet mall in Rossville at a massive liquefied natural gas storage site.
"These are big projects in this, some would say, backwater of New York City that require the same attention from the city planning and building department as some of the higher-profile projects in Brooklyn or Manhattan," he said.
He also hopes to improve the city's solid waste plan for e-waste which, he said, seems to work better in areas with high-rise buildings than it does in his community. "Why should it be more difficult for my community to get rid of a TV?"
A Republican, Borelli is not particularly on board with the Council's liberal bent, expressing his concern for many of the proposals recently put forward such as those to reform the NYPD and Riker's Island, and the decriminalization of minor offenses like public urination and open container violations.
"Some of the new proposals don't jive well with a bedroom community like Staten Island," he said, citing a bill recently introduced by Council Member Mark Levine which would prohibit credit checks for renters.
Borelli believes that "progressivism" doesn't speak to many people who live in the outer boroughs, who aren't represented by "these squeaky-wheel groups" who lobby the Council on issues and who feel the movement has lost touch with middle class New Yorkers.
"What group out there hopes for more public urination?" he asked rhetorically. "I'm against progressivism and in favor of restoring some rational thought to policies like that."
In doing so, he firmly believes he has his community's support. "My constituents really have my back," he said, "and it's very empowering when you feel like that."
***
by Samar Khurshid, Gotham Gazette
@GothamGazette
This article has been updated to reflect the two new members officially taking office - it had originally been published in the lead up to their formally joining the Council.