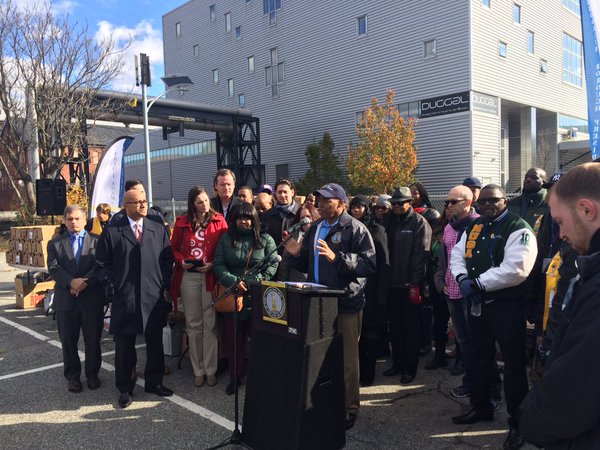 BK BP Adams at an event (photo via @bpericadams)
---
At Brooklyn Borough Hall on Monday, Borough President Eric Adams held a public hearing on the de Blasio administration's controversial East New York Community Plan. After remarks from City Council representatives at the packed-to-capacity hearing, stakeholders from the affected area urged Adams to reject it.
"What I'm gonna stand here and talk about is you putting yourself in the position of these community members, young and old, who are coming to you and asking you to just look at the mayor's plan and just understand that it's crap," Jasbir Singh, Brooklyn organizer for the advocacy group Faith In New York, said at the hearing, addressing Adams directly.
Though most opinions expressed were less harsh, only two people - officials from the City Planning Department who provided a powerpoint of plan details at the hearing's start - voiced approval for the proposal, at least in its current form. The plan aims to create affordable housing units, protect existing ones, and strengthen the economy of the area proposed for rezoning, which contains East New York, Cypress Hills, and Ocean Hill.
The area has high poverty rates and is largely populated by people of color. There are limited work and transportation options. It is an area that could be upzoned to allow more retail space, as well as new housing development. The administration's plan seeks to create new housing that will include "affordable" units, while also fostering new business and jobs as buildings are "mixed-use," meaning retail on the ground floor with housing atop.
On Monday at Borough Hall, participants urged the city officials present to vote against the proposal. Though it has already been rejected by Community Board 5 (East New York, Cypress Hills, Highland Park, New Lots, City Line, Starrett City, and Ridgewood), Community Board 16 (Brownsville and Ocean Hill) could endorse it when it votes at the end of the month. These votes are advisory, though - the City Council is expected to vote on the plan in 2016. The Council typically follows the lead of the local rep(s), which is this case are Council Members Rafael Espinal and Inez Barron.
The East New York area is one initial proving ground for the de Blasio administration's larger rezoning and housing plans - plans that are being met with resistance all over the city and are likely to be tweaked before they are presented to the Council.
Most of the concerns expressed Monday were about the proposal's potential to displace residents of the rezoned area. Around 50 percent of the approximately 6,300 housing units created for the East New York Community Plan are slated to be affordable units. The remainder are market-rate.
During her remarks at the start of the hearing, Council Member Barron held up a sheet of paper with two pie graphs. One showed the current East New York community by percentage of income levels and the other showed the same statistics as forecast after the rezoning, she said.
If the proposal is implemented, Barron said, the majority of East New York residents will earn salaries of $75,000 and up, a group that currently composes only 18 percent of the neighborhood population. (It was not immediately clear where Barron's data came from.)
"I also want to say that they don't tell you the size of the units. So, we need two and three bedrooms, some of us will obviously need four-bedroom apartments," Barron said. "But we don't know, of the units that they're going to bring in that they call affordable, how many bedrooms there are going to be."
Barron reaffirmed her stance on the proposal: as it currently exists, she does not support it. Council Member Espinal, who represents most of the area proposed for rezoning, expressed the same stance in his remarks.
Despite some concerns mentioned about the proposal's economic plan, which does not require that businesses interested in East New York pay workers a "living wage," most concerns voiced were about the plan's potential to displace residents.
"We are deeply concerned about displacement and urge the city to study the impact of rezoning on displacement in other areas such as Park Slope [and] Williamsburg in order to develop an understanding of what rezoning will really mean to low-income East New Yorkers," Jamal Burgess, Future of Tomorrow youth organizer and Cypress Hills resident, said. "Through the years, we have seen gentrification in Williamsburg, Bushwick, Bed-Stuy, Harlem, covered up by urban renewal projects."
In the plan, one of the strategies listed for the protection of existing affordable housing is providing free legal representation from the Tenant Harassment Prevention Task Force for people facing harassment by landlords. Several who spoke at Monday's hearing reported that they had personally experienced this type of harassment, and doubted the capability of the legal representation strategy to fight it.
"I cannot accept a legal clinic at face value as being able to solve that problem," five-year East New York resident Barbara Champion said.
Mayor de Blasio has personally guaranteed such legal help to tenants in any of the neighborhoods he plans to rezone and has dedicated budgetary dollars toward such aid.
East New York is one of 15 areas selected by the de Blasio administration for rezoning. The proposals are part of Mandatory Inclusionary Zoning and Zoning for Quality and Affordability, two main pieces of the mayor's Housing New York plan that are being reviewed by community and borough boards now before some version goes to the Council.
Local reception to planned rezonings have been mixed, largely skewing negative. Community boards in Park Slope and Carroll Gardens have voted in favor of rezoning plans; due to possible overcrowding, a Long Island City community board voted against; and the Movement for Justice in El Barrio advocacy group recently interrupted a Community Board 11 meeting to protest against East Harlem's proposed rezoning changes. The Bronx and Queens Borough Boards voted against the plans and other boroughs are set to vote soon. Again, these are all advisory opinions.
Brooklyn Borough President Adams did not give a verdict on the city's proposal at Monday's hearing. "I did not come into this room with my mind made up," the borough president said. He encouraged community input, letting participants do the talking as he listened and eyes his Borough Board meeting on Tuesday, December 1, which will include a vote on the mayor's two larger rezoning plans.
As part of the city's Uniform Land Use Review Procedure (ULURP), the borough president reviews the proposal and has the power to recommend it to the City Planning Commission, the final body that reviews it before the City Council.
Asked about neighborhood and board resistance to his plans on Monday, de Blasio said that it did not surprise him that there would be objections. "Those objections should be heard and we should, you know, think about them, and where we see the need to make certain modifications we will," de Blasio said. "But in the end, the community boards aren't the final decision makers. The mayor and the City Council make the decisions, in some cases, obviously, with the City Planning Commission."
***
by Ryan Brady, Gotham Gazette
@GothamGazette
This article has been updated to more carefully reflect Borough President Adams' comments at the town hall.