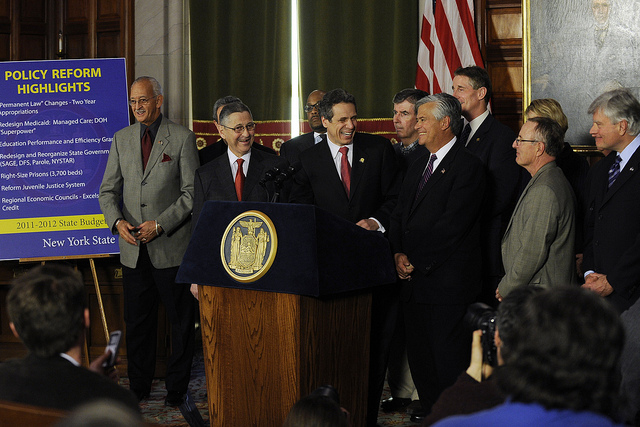 Happier times: Silver, Cuomo, Skelos in 2011 (l-r) photo via Governor's Office on flickr
---
Two former leaders of their respective houses of the New York state legislature are on trial concurrently. In separate cases brought by the office of U.S. Attorney Preet Bharara, each is accused of using his office for private gain, among other charges. While the case against former Assembly Speaker Sheldon Silver was sent to jury deliberation on Tuesday, Nov. 24; the case against former Senate Majority Leader Dean Skelos and his son, Adam, continues on.
No matter the outcome of the two cases, the underbelly of New York state politics has been further exposed through the two trials.
As good government groups and fellow reformers call for sweeping changes to the way business is done in Albany and around the state, Governor Andrew Cuomo, Assembly Speaker Carl Heastie, and others throw their hands up and say you can't legislate morality, that there will always be bad actors.
The Silver and Skelos trials have provided significant insight into the ways in which legislators use their power and influence for personal gain - and, especially in Skelos' case, the ways in which scheming politicians talk about their "work." While one or both may be found not guilty, there have been a number of comments made or heard during the trials that relate to corruption, whether of the legal or illegal kind.
We bring you top moments of the two trials thus far:
1. "It makes some people uncomfortable, but that is the system New York State has chosen, and it is not a crime," Silver's defense attorney Steven Molo said on Nov. 3 during opening statements. "The prosecutors are trying to make it a crime, but it's not." Molo insisting that prosecutors are trying to criminalize a part-time legislature and lawmakers holding outside employment.
Reform Issues: lawyers as legislators, full-time legislature, quid pro quo
2. "It's OK to be motivated by the money," Steven Molo, defense attorney for Sheldon Silver said during closing arguments on November 23. "Our legislators in the state of New York are part-time. They're able to work and have other jobs."
Issues: part-time legislature, lawyer legislators, conflicts of interest
3. "At the beginning of our relationship, I asked Mr. Silver if he would convince his company to donate funds to [cancer research] and he asked for referrals. That was the pattern," Dr. Robert Taub told jurors on Nov. 4.
Issues: Lawyers legislators, public officers law/self-dealing
4. "You have my cellphone number. It's a privilege to have that number. Now, if you want to utilize my f–king reach and business opportunity, then you call me and I'll set up a meeting," Adam Skelos told a member of a diner association, exploiting the sense of power he felt as his father's son, as captured through federal wiretap Dec. 22nd, 2014.
Issue: public officers law
5. "Let's stop pretending. Guys like you aren't fit to shine my shoes. And if you talk to me like that again, I'll smash your [expletive] head in," Adam Skelos said to his "boss," the head of a medical malpractice insurance firm. Prosecutors contend Skelos was only hired by the firm as a favor to his father.
Issue: public officers law
6. "I was uncomfortable with the arraignment," Richard Runes, lobbyist for Glenwood Management - a real estate firm that is also the state's largest donor to political campaigns (including the governor's) and is involved in the corruption cases against Silver and Skelos - speaking about removing Silver's name from what would have been a publicly disclosed document revealing a fee-sharing arrangement between Silver and a law firm employed by Glenwood. Runes further testified he "did not want to sign a retainer that listed Mr. Silver as one of the attorneys."
Issues: disclosure of outside income, lawyers as legislators, LLC loophole, public officers law
7. "You've been nodding your head up and down and back and forth in what looks like a signal to the witness," Judge Kimba Wood scolded a Senate staffer on Nov. 23 during testimony by an ex-councilman from North Hempstead who testified he gave Adam Skelos a $20,000 referral fee on behalf of Glenwood Management. Wood was addressing Senate staffer Welquis Lopez, a friend of Dean Skelos who remains on the Senate payroll.
"If you nod your head one more time, I'm going to have court security escort you out of the courtroom," Wood added.
Issue: corruption
8."Keep them separate and fighting and hating each other," Dean Skelos said, explaining why he empowered state Senator Jeff Klein, head of the Independent Democratic Conference, during a wiretapped phone call captured Dec. 22, 2014. "It's worked for six years...Keeping them at each other's throat."
The younger Skelos protested giving Klein any role at all. "I can't afford [Sen.] Bill Larkin having a heart attack," Dean Skelos said, referring to an elderly Republican senator and the slim Republican margin in the Senate.
"When your enemy is in a weak state, you don't back off. You destroy them," Adam Skelos said, referring to Klein. "It's going to be co-coalition leader. It means nothing," Dean Skelos responded.
Issues: political control of the Senate; 'Three men in a room'
9. "Ahhh! This day sucks," Adam Skelos said during a phone call with his father, then Senate Majority Leader Dean Skelos on December 17, 2014. The Cuomo administration had decided not to move ahead with hydrofracking and the prosecution in the trial where both father and son are defendants contends that the younger Skelos used his father's connections to win no-show jobs with companies that stood to benefit from his father's actions. Adam Skelos was employed with AbTech, a group that manufactures water filters that are used in the fracking process. Prosecutors say he stood to gain $1 for each barrel of waste created in the fracking process on top of his $10,000-a-month salary. Skelos and his Senate Republican majority strongly promoted fracking for the state.
Issue: public officers law/self-dealing
10. "I represent only claimants, individual claimants, in personal injury actions," Silver told a reporter during a recorded interview played during the trial. "My clients are little people. I don't represent any corporations," he told another reporter. "I don't represent any entities that are involved in the legislative process." The prosecution provided witnesses and documentation showing that Silver's income came exclusively from referrals set up through his law firm - not from working with clients - referrals he is accused of earning through quid-pro-quo relationships with real estate interests and Dr. Taub.
Issues: outside income, income disclosure, conflict of interest, lawyers as legislators
Silver jury deliberations and the Skelos trial will continue Monday, November 30. All defendents are innocent until proven guilty.
[Related: Good Government Groups Point to New Evidence of Need for Sweeping Reforms]
***
by David King, Albany editor, Gotham Gazette
@DavidHowardKing