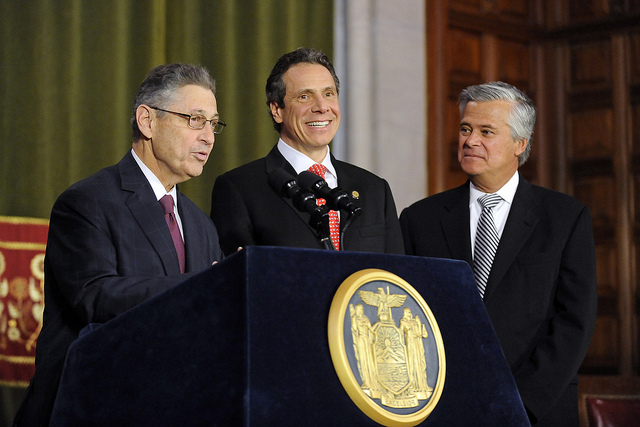 Sheldon Silver in 2012 (photo via the Governor's Office)
---
Former Assembly Speaker Sheldon Silver, thought to be the most powerful man in New York state government for decades, was found guilty Monday on seven counts of corruption in multiple schemes to monetize the power of his office. During the trial Silver's own defense attorney insisted that Albany itself was on trial and claimed that Silver's behavior was business as usual in Albany, and that even if it felt unseemly, it was in fact legal.
The jury did not agree. And though Silver left the courthouse saying he plans to continue his legal fight, the big question now is whether this startling development will be the impetus for major reform of the rules of the game for Albany lawmakers. With his conviction, Silver is removed from office and becomes the 32nd state lawmaker forced from office due to criminal or ethical issues since 2000.
Silver never took the stand on his own behalf and the defense called no witnesses. Instead, Silver's defense attorney, Steven Molo, argued that the federal government was trying to make Albany's long tradition of backroom dealing illegal. "It makes some people uncomfortable, but that is the system New York state has chosen, and it is not a crime," Molo said on Nov. 3 during opening statements. "The prosecutors are trying to make it a crime, but it's not."
Some advocates and legislators have railed against Silver's influence for years, decrying the concentration of power of the 'three men in a room,' of which Silver was one until he was indicted and resigned his leadership post. Some thought that with Silver all but gone Albany would somehow be redeemed. That redemption has been elusive.
As Silver faces decades of prison sentencing, Albany is still left to write its own rules. The men in charge, including Gov. Andrew Cuomo and Assembly Speaker Carl Heastie, who replaced Silver, have indicated there is currently no appetite for more reform and have rejected calls for special session on ethics.
"We will continue to work to root out corruption and demand more of elected officials when it comes to ethical conduct," Heastie said in a statement responding to Silver's conviction, adding that "accountability and transparency" are of utmost importance to the Assembly Majority. Heastie went on to list previously enacted reforms as evidence of his commitment as well as reform efforts that have been repeatedly stalled in the legislature by Senate Republicans.
"In addition to the enacted measures, the Assembly Majority has independently passed a number of ethics-related bills that were not taken up by the State Senate," reads the statement from Heastie, a Democrat like Silver and Cuomo. "Among these measures is a bill to close the LLC loophole and campaign finance reform measures to limit the influence of big money in politics, including the clarification of housekeeping accounts and independent expenditures, as well as the establishment of a meaningful public financing system."
Advocates hope public reaction to the conviction and the ongoing trial against Silver's former Senate counterpart, Sen. Dean Skelos - which is creating sensational soundbites thanks to wiretaps - will force more systemic change. Charges against Silver and Skelos were brought by U.S. Attorney Preet Bharara's office.
"A political earthquake has hit Albany," said Blair Horner of The New York Public Interest Research Group. "This is a stinging rebuke to the 'Albany business as usual' defense and a clarion call to clean up state ethics. Hopefully this will be the tipping point at which New York's political leadership will gets its heads out of the sand. Governor Cuomo must now call a special session devoted to ethics reform."
Good government group Citizens Union, which tracks lawmakers who've left office due to criminal or ethical issues, quickly issued a statement calling for a special session after Silver's conviction. "Citizens Union calls upon the legislature to meet in special session and deal once and for all with the problem of public corruption in state government," the statement reads. "Legislators need to address the problem of using their public posts for private gain."
Attorney General Eric Schneiderman has been calling for a move away from incremental reform and laid out a legislative package to move the needle and prevent conflicts of interest and corruption.
Good government groups including NYPIRG and Citizens Union recently reiterated calls for sweeping reform, including:
Increased legislative compensation, but add greater limits on outside income.
"Limit the influence of dark money campaign contributions and end government spending that takes place in the shadows' through measures such as closing the infamous LLC loophole."
"Reform ethics oversight and enforcement" by making changes to JCOPE's structure, scope, and voting procedures to increase transparency and independence.
"Strengthen financial reporting disclosure requirements for public officers to allow the public to more easily spot conflicts of interest."
"Streamline and standardize disclosure of lobbying activity for better analysis and easier evaluation by the public."
Earlier this year, Gov. Cuomo pointed to prior reforms he oversaw that required disclosure of outside income that enabled the case against Silver. "We've passed disclosure laws that, frankly, would have been unthinkable ten years ago," Cuomo said, adding, "For the first time ever, they have to disclose their clients. That's one of the reasons this case is this case, right?"
But the Reform Albany Act that contained the disclosure requirements also created the Joint Commission on Public Ethics, a board that has yet to take any major actions and remains paralyzed by infighting between members appointed by legislative leaders (including Skelos and Silver) and Cuomo.
In response to the Silver verdict Monday, Cuomo issued a statement that read, "Today, justice was served. Corruption was discovered, investigated, and prosecuted, and the jury has spoken. With the allegations proven, it is time for the Legislature to take seriously the need for reform. There will be zero tolerance for the violation of the public trust in New York."
There is some indication rank-and-file legislators are looking for larger reforms. Assembly Member Daniel O'Donnell issued a statement calling for a full-time legislature to limit the influence of outside income and to raise legislative salaries in conjunction.
"We need to change the way things work in Albany. As today's verdict demonstrates, the ability to earn outside income creates too much potential for impropriety," wrote O'Donnell, a Manhattan Democrat. "To restore respect for the hard work that the New York State Legislature does, we need to make it more like the federal system."
Schneiderman, a Democrat, has called for the creation of a full-time legislature and a few members of the Senate also support the idea.
Several other members of the Assembly and Senate have called for major changes to campaign finance and other laws.
Paul Newell, a Manhattan Democratic district leader who challenged Silver in 2008 and is raising money to run for Silver's seat, called on voters to take action to reform state government.
"This is a sad day for Lower Manhattan and a sad day for New York," Newell said in a statement. "Today's verdict proves it is up to us to reclaim our government. No court will end Albany's culture of corruption and cronyism. If we, as voters and citizens, continue to accept a government that favors those who buy power and influence, then that will be the government we get. But, if we want a government that is fair, transparent, and works for all of us, we must reclaim it ourselves. We can and must do better. The time for us to act is now."
[Read: Top Ten Corruption Quotes from Silver, Skelos Trials]
***
by David King, Albany editor, Gotham Gazette
@DavidHowardKing
Note: Gotham Gazette is an independent publication of Citizens Union Foundation, sister organization of Citizens Union.