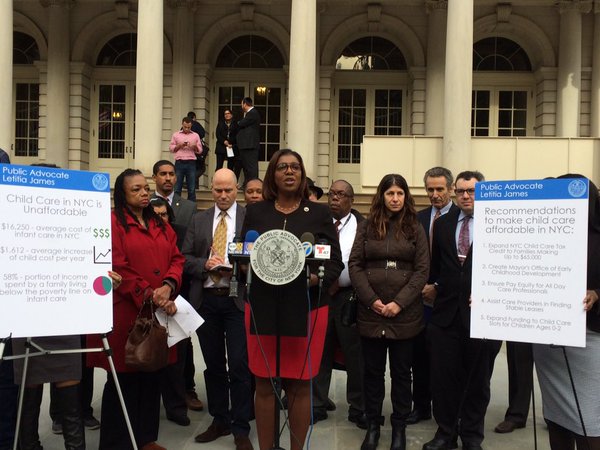 Public Advocate James (photo via @TishJames)
---
While government transparency can often be a vague concept, one concrete way to see what elected and appointed officials are doing is through live-streamed and archived video of public hearings.
On Tuesday, Dec. 8, the little-known Commission on Public Information and Communication (COPIC) met for the final time this year at John Jay College in Manhattan. The meeting agenda was centered around the commission getting an update on the implementation of Local Law 103 of 2013, better known as the city's webcasting law, which requires certain agencies to record all public meetings and make them available online.
At the meeting, officials discussed progress on developing programs to provide training and equipment to municipal entities for webcasting; creating a central repository for municipal webcasts; and establishing COPIC's own website.
The goal of the commission, established by the City Charter in 1989, is to improve public access to City information and to develop strategies for the use of new communications technologies to improve access to and distribution of city data. It is led by the Public Advocate, currently Letitia James, who has revived the commission since taking office in 2014.
According to COPIC commissioners, programs to provide training and guidance to agencies looking to comply with the webcasting law are almost set, with the first "best practices workshop" likely to be held in February. The COPIC website should be operational mid- to late-January. The commission is still looking into better ways to provide webcasting equipment to agencies, and a venue to host a central archive of the city's webcasts has yet to be determined.
Nicholas Sbordone, a delegate to COPIC from the city's Department of Information Technology and Telecommunications, kicked off the meeting by asking Janet Choi, general manager at the Mayor's Office of Media and Entertainment, for an update on the plans to provide training resources and technology aids for agencies looking to comply with the webcasting law.
Choi said that since the last meeting, COPIC has explored how to go about "providing the best guidance for all of the organizations and agencies to help them comply with Local Law 103," and has examined the potential creation of a "lending library" to provide equipment for webcasting.
As of October 20, 2015, under the webcasting law, 45 boards and commissions must webcast public meetings. According to Sbordone, many agencies subject to the webcasting law are either in full compliance or are willing to comply.
"For the most part," Sbordone said, agencies that are not actively webcasting "have not yet met, or they have particular meetings that they have on specific topics that are not subject to webcasting...For instance, there's the Master Electricians and Licensing Board," which holds a number of meetings on "the details of specific licensee information, which would not be subject to public review anyway."
As for the "guidance" COPIC has been developing to help agencies comply with the webcasting law, Choi said COPIC is "about ready to host or continue to build the agenda and the training for a best practices workshop to be held in February, the first of what we hope will be a couple per year," Choi said. "This is essentially to give the agencies and organizations who are looking for guidance tips, pointers, and best standards and practices for effective webcasting."
Given the rapid rate of technological development, Choi said, COPIC has determined that "there is no one best way to do anything. We can't possibly say [to the agencies] 'this is the equipment you should use'…we don't want to give them information that is obsolete."
"So," Choi continued, "We have concluded that the best thing we can do is show them what the goals are. We want clear and audible audio, we want a clear visual representation - everything that is needed to best fulfill the spirit of the law. There's any number of ways you can accomplish this, and all we can do is provide guidance."
Regarding the creation of a "lending library" for webcasting equipment, Sbordone said COPIC is "culling and trying to refine a list of facilities that have good audio/visual capability and to the extent that they have WiFi or an internet connection."
"The thought was that if there is a number of places that the city has or has access to, we can put those into one place, a pool, and then have a calendar developed," Sbordone continued, "so that agencies might have the ability to reserve certain dates and times and then have their webcasting calendar built out, so if agencies have a meeting, they would know the best place and date to go."
Public Advocate James, chair of COPIC, turned the discussion toward the establishment of a central repository for municipal webcasts and the use of the City Record.
"The newly launched City Record Online has modules in each of the records that are submitted by the agencies, about a public meeting, where and when," Sbordone said "it has a module that you could add a link to to a webcast version of the hearing."
Some agencies, Sbordone said, like the Taxi and Limousine Commission (TLC), will add links to their entries on City Record, which will link to their webcasting archives. "Going forward," Sbordone said, when the Taxi and Limousine Commission makes "submissions to the city record about upcoming commission hearings," they will add the link to their webcasting archives.
"We have a number of agencies that we're conducting outreach to," Sbordone added. "It's very iterative, but it's really starting to come together now where we have the new version of the City Record launched, that itself allows for the better proliferation and dissemination of webcasting materials through the actual technology."
Still addressing James' question regarding the establishment of a "central portal" and the use of the City Record, Sbordone brought up finding "some type of central repository where all these archive webcast videos would reside. The City Record, ideally, would be a record that the meeting is taking place or has taken place. The link then would link back out to where this central repository is."
"I think one of the things that we maybe want to begin discussing for next year is how best to present this to the public," Sbordone said, floating the idea of creating a place online - "for instance, 'webcasting.nyc'" - where all of these archive records would reside. "So if someone was looking for everything in one place, they could find it, and that would also be the place that was linked out to from various sites."
"The shape and the form of what that takes is still yet to be determined," Sbordone added, explaining that it could be something that the city hosts, or even a YouTube channel that contains all of New York City's webcasting archives.
"I know the last time [we met] Commissioner Toole had suggested that the Department of Records and Information Systems could also be a possible venue" for hosting the city's webcasting archives, James suggested.
Toole was unable to attend COPIC's Dec. 8 meeting, though Sbordone said that she had mentioned "she would love to see, to the extent that it made sense, the government publications portal to play a role in this, again, as a central repository for all the reports and white papers, things like that, that are issued by city agencies across the board."
The discussion then shifted from the creation of a central repository for the city's webcasts to the progress in updating COPIC's own website. COPIC meeting announcements are currently available within the Public Advocate site.
Sbordone passed out a mock-up of the website, which is not yet functional, and which, he said, was actually created at the request of a prior public advocate a number of years ago, though he wasn't sure which. "We stood it up for them and it's got basic functionality, as you can see, but the content was never updated."
The next step, Sbordone said, "between now and the next time we get together, is to try to work to get that content updated with recent information."
"Due to the work of this commission over the past year now," Sbordone continued, "we have a good amount of stuff to put up - meeting minutes, meeting agendas, what we've accomplished, we have information on webcasting, tips, maybe even links to the webcast hearings that we've had, so we have quite a bit we can update the site with."
"The idea is to institutionalize COPIC," Umair Khan, Deputy Counsel to Public Advocate James, added, "by having a web presence for a body that's purpose is to provide City information to the public."
"That is something that we're eagerly working on and moving forward with. We hope by mid- to late-January to have a fully functioning operational website for people to access all of our COPIC records," Khan said. "Over time, we can tweak it and adjust it make it more user-friendly, but at least start to get this information out and make it more accessible."
In addition to webcasting information, the website could also include information on "how [agencies] can get web cameras to use for their own proceedings," Khan said, and "will have a mailbox, so people can communicate more directly with COPIC."
James added that the website should include a list of COPIC members with brief bios on each, then adjourned the meeting, with the next meeting tentatively set for February.
Under James, COPIC is more active than it has been in previous years - COPIC held only one meeting during Mayor Bill de Blasio's time as Public Advocate, according to Politico New York. Though COPIC may have made some strides toward the goal of improving access to City information under the webcasting law, issues remain with both the access to equipment for webcasting, and improving the dissemination of data.
***
by Meg O'Connor, Gotham Gazette
@GothamGazette
@MegOConnor13