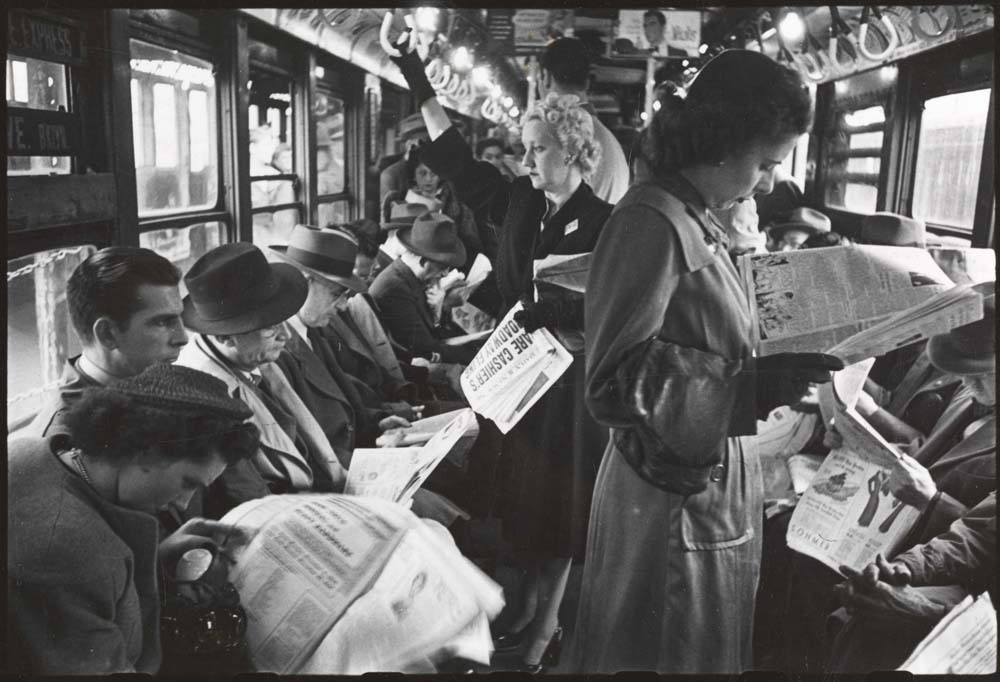 photo: Stanley Kubrick via Museum of the City of New York
---
Gotham Gazette's Week in Review, Friday
PHOTO OF THE WEEK: Mayor de Blasio signs legislation creating the city's new Department of Veterans' Services, via Joe Bello, @NYMetroVets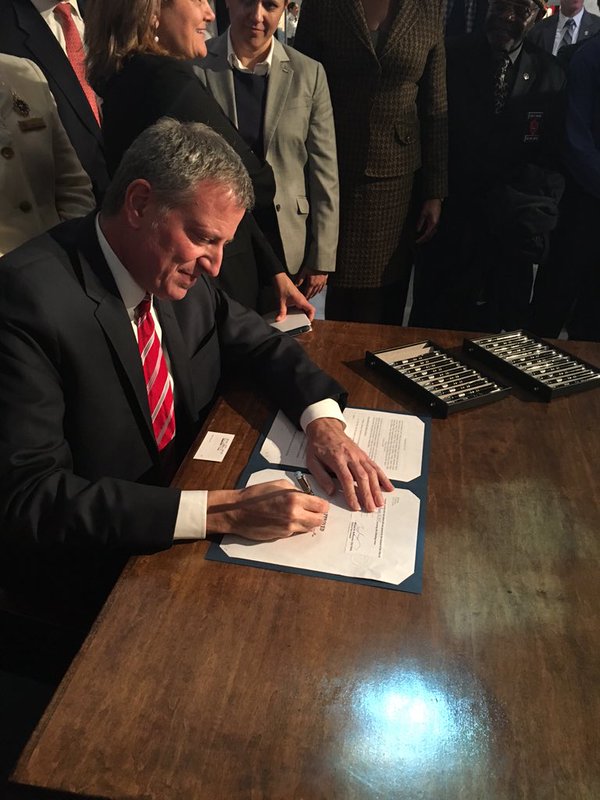 TOP FIVE STORIES OF THE WEEK:
1. Skelos Guilty: Former state Senate Majority Leader Dean Skelos and his son, Adam Skelos were found guilty on eight counts Friday. They will be sentenced in March. [Read: Tenant Activists Trace Road to Corruption Trials, Eye Elusive Reform]
2. Security Guards for Private Schools: On Monday, the City Council passed a controversial bill to provide public funding to private and religious schools to pay for security guards. $19.8 million will be spent to place at least one security guard at every private school in New York City with at least 300 students that wants one. Mayor Bill de Blasio is expected to sign the bill into law.
3. Cuomo's Common Core Overhaul: A task force created by Governor Andrew Cuomo issued a report Thursday which found that the state made a number of mistakes in its implementation of Common Core learning standards and recommended reducing the tendency to "teach to a test," giving shorter tests, and not linking test results to teacher evaluations until the 2018-2019 school year.
4. Housing Developments: The Staten Island Borough Board became the fifth to vote against Mayor de Blasio's zoning amendment proposals on Thursday, adding to the significant criticism the plan has received from community and borough boards. Creating more affordable housing is a signature issue for the mayor determined to make New York City more equal, and de Blasio's administration is now prepared to devise a new strategy to regain momentum and secure support for a plan they believe has been poorly understood. On Thursday, AARP endorsed the mayor's plans (it has 750,000 members in New York City), adding to two significant union endorsements the plans have recently received. [Read: Mayor & Speaker: Rezoning Plans Will Change Before Council Vote & Next Steps for the Mayor's Controversial Zoning Proposals]
5. Public Housing Problem: A New York City Department of Investigation report found that the NYPD's "systematic failure" to communicate required information to the city's public housing authority, NYCHA, is partially responsible for the disproportionately high crime rates that have plagued public housing projects. In response to the report, the NYPD will create an interactive database to improve information sharing about criminal activity in public housing with NYCHA officials.
THIS WEEK'S NUMBERS:
THE GLORY AND THE GOAT:
It was a good week for supporters of raising the minimum wage, as a state appeals board upheld Governor Cuomo's planned increase to a $15 per hour minimum wage for fast food workers, disputing arguments that certain factors weren't adequately analyzed before making the decision to raise the wage.
It was a bad week for Anthony Mangone, a former attorney whose cooperation aided in the conviction of three New York state senators, who was sentenced to 18 months behind bars this week after a judge said the "dirty lawyer" had committed crimes too serious to escape incarceration.
THE FLASH:
Around this time 40 years ago, on December 9, 1975, President Gerald Ford signed a $2.3 billion seasonal loan authorization to prevent New York City from having to default.
Around this time 74 years ago, on December 7, 1941, in the panic that ensued after the Japanese attacked Pearl Harbor, Japanese nationals living in New York were rounded up by FBI agents and held on Ellis Island. They were later transferred to internment camps for the remainder of the war.
Around this time 22 years ago, on December 7, 1993, Colin Ferguson opened fire on a Long Island Rail Road train, killing six passengers and wounding 19 others. Days later, a New York Times editorial called for stronger gun control laws in response to the murders, pointing to the ease with which Ferguson obtained a handgun in California, which had one of the country's stricter gun laws at the time.
GOTHAM GAZETTE HIGHLIGHTS OF THE WEEK:
Resignation Highlights City Council Gender Imbalance, by Ben Max
Cuomo Urged to Sign Executive Transparency Bills Before Looming Deadline, by David Howard King
Next Steps for The Mayor's Controversial Zoning Proposals, Christian Zhang
Tenant Activists Trace Road to Corruption Trials, Eye Elusive Reform, by David Howard King
Little-Known Commission Expands Access to City Government, by Meg O'Connor
Hearing to Examine 'Efficacy' of City Response to 'Homelessness Crisis', by Ryan Brady
In Zoning Amendment, One Size Does Not Fit All, by Council Member Donovan Richards (opinion)
Harmful Legal Reform Is Not an Ethics Solution, by Joanne Doroshow (opinion)
Give Police Tools to Reduce Arrest and Improve Community Health, by Chelsea Davis (opinion)
Public Money Is For Public Schools, by Ayishah Irvin (opinion)
MORE FOR THE WEEKEND:
Mayor de Blasio spoke with Errol Louis on NY1's Inside City Hall on Wednesday to discuss his first two years in office, and spoke about the city's homelessness crisis, his affordable housing plan, and more.
An in-depth report by ProPublica's Marcelo Rochabrun and Cezary Podkul reveals that city and state regulators stood by as developer Two Trees Management disregarded laws requiring rent stabilization in exchange for the large property tax break it received.
Politico New York's Bill Hammond writes that Cuomo is making excuses about not doing anything to stop Albany's ongoing culture of corruption, and argues that there are many glaring weaknesses left in New York's anti-corruption laws.
***
NOTE TO READERS: we hope you enjoy this new Gotham Gazette weekly feature - please share it if you do; on Twitter, use our handle @GothamGazette.
If you have feedback on this feature for us, you can email editor Ben Max: This email address is being protected from spambots. You need JavaScript enabled to view it.
Watch Sunday evening for our latest Week Ahead in New York Politics, which gives you a preview of key issues and events to be aware of for the week about to start. In the meantime, catch up on the latest original reporting from Gotham Gazette here. And have a great weekend!
***
by Meg O'Connor and Ben Max