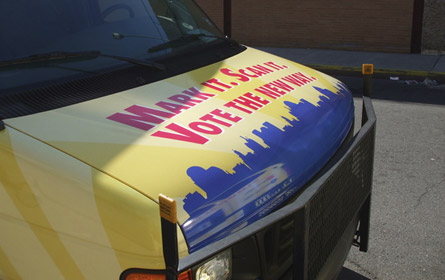 Photo by New York City Board of Elections
(For a list of all primary winners and losers in New York City, go to our primary election results.)
The Tea Party arrived in New York last night as Buffalo millionaire businessman Carl Paladino dealt a stunning blow to the Republican Party establishment, defeating its candidate for governor, former U.S. Rep. Rick Lazio.
In a race not decided until after midnight, State Sen. Eric Schneiderman defeated four opponents to become the Democratic nominee for attorney general. As appeared to be the case throughout the campaign, Schneiderman's closest rival was Nassau County District Attorney Kathleen Rice, with Sean Coffey, Richard Brodsky and Eric Dinallo trailing farther behind. Schniederman will face Staten Island District Attorney Daniel Donovanin November.
Amid all the talk of anti-incumbent sentiment, Democratic voters did not seem particularly rebellious. Most of the party officeholders won their elections yesterday. And most will be formidable favorites in the general election, where many face token opposition. To see how the races shape up for November, go to Who's Running for What.
The major exception came in the Bronx's 33rd Senate district where political newcomer Gustavo Rivera defeated State Senate Majority leader Pedro Espada. Rivera, backed by major newspapers, the Working Families Party and a number of politicians, trounced Espada, defeating him by more than a two-to-one margin. Espada conceded early in the evening, long before any news outlet had declared Rivera the winner.
For Democrats, the defeat of Espada -- who is under criminal investigation and faces a civil suit from the state -- removes an embarrassing symbol of Albany dysfunction as the party heads into the general election hoping to hold on to, if not expand, its thin margin of control in the State Senate. As Schneiderman celebrated his own victory, he called Rivera to the stage and declared that change began that night. (For David King's report from the 33rd Senate district and interview with Rivera, go here.)
In other closely watched races, Rep. Charles Rangel held off five challengers all hoping to capitalize on the ethics charges facing the longtime member of Congress. Another veteran member of Congress, Carolyn Maloney, handily fended off her challenge, defeating Reshma Saujani, a Wall Street veteran and political novice.
Also making news yesterday was the city's new voting system. New Yorkers reported glitches throughout the city, particularly in the morning as pollworkers struggled -- and sometimes failed -- to get the new technology up and running.
Paladino's Push
On a night when a Tea Party candidate defeated a longtime member of Congress in Delaware, Paladino's victory provided another, perhaps even more startling evidence of the movement's strength among rank-and-file Republicans.
In his victory speech, Paladino stressed his anger and that of his supporters, quoting the now-famous "mad as hell" line from the movie Network.
"Tonight the ruling class noticed -- they not only noticed it but they've seen it. There's a people's revolution," Paladino declared, citing anger over high taxes and "our incompetent dysfunctional government."
He wasted no time attacking his November opponent, Attorney General Andrew Cuomo. Deriding Cuomo as a "lifetime Albany insider," he told the crowd, "Andrew Cuomo thinks he can hide his lifelong liberal beliefs and hijack our agenda, and the voters won't notice."
Paladino though, may find he has things to hide as well. He has urged housing welfare recipients in prison, called for taking a baseball bat to Albany and described Assembly Speak Sheldon Silver as "an antichirst or a Hitler."
The Democratic Governors Association immediately seized upon this. In a statement issued last night, Nathan Daschle, the group's executive director, charged Paladino has "been tarnished with scandals that run the gamut. … He won by appealing to the fringe element of the Republican base and will not survive a general election."
A multimillionaire, Paladino poured his own money into his campaign, enabling his to advertise heavily in his campaign against the poorly financed Lazio. He enters next round, though, as the definite underdog against the well-known and extremely well financed Cuomo.
Lazio did manage to win the Conservative Party primary, meaning that he could still run in November. Whether he would remained unclear as he congratulated Paladino and conceded defeat in the GOP primary.
Congressional Contests
As expected Gillibrand sailed to victory against her virtually unkown opponent. In November, she will face Joseph DioGuardi, a former member of Congress from Westchester and certified public accountant. DioGuardi defeated two opponents last night: Bruce Blakeman, a former Nassau County official, and David Malpass, who was chief economist for Bear Stearns, perhaps not the best credential in a year of voter anger at Wall Street.
In a bow to the national mood, in his emailed victory statement last night, DioGuardi did not mention his time in Congress, instead stressing his experience as an accountant who has "spent my life balancing budgets around kitchen tables and boardroom tables alike."
In the other Republican Senate primary, Jay Townsend won the right to take on Sen. Charles Schumer, widely regarded as virtually unbeatable. Townsend, who runs his own communications and marketing firm, defeated Gary Berntsen, who served with the CIA in Afghanistan. According to the Associated Press, Schumer has more than $23 million in his campaign warchest, while Townsend has less than $11,000.
The most hotly contested Republican congressional primary came in the 13th District, largely on Staten Island. The GOP has high hopes of defeating the incumbent Democratic Rep. Michael McMahon to regain a seat it held for many years but then lost in 2008 when Vito Fossella did not seek re-election, following revelations he led a kind of double life.
In a race that reflected some of the tensions in the Republican gubernatorial contest, Michael Grimm, a former FBI agent, got about two thirds of the vote to defeat Michael Allegretti, part owner of a Brooklyn oil company. Allegretti had support from Fossella and many elected officials on Staten Island/ while both John McCain and Sarah Palin backed Grimm, who was viewed as a Tea Party candidate. In the closing days of the campaign, the candidates clashed over whether Grimm had distributed photos of himself wearing military ribbons he did not earn.
All Democratic members of Congress who faced primaries won. While Maloney and Rangel faced their most serious challenges, both survived easily. Rangel garnered about 50 percent of the vote, with his five opponents dividing the rest. Adam Clayton Powell IV, whose father Rangel defeated to win the seat 40 years ago, came in second, with only half as many votes as Rangel received.
In his victory speech, Rangel thanked those who stood with him and worked with him and reaffirmed his -- and his district's commitment to traditional liberal principles, declaring, "President Obama needs people like me more than ever."
Saujani originally took on Maloney saying the district needed new leadership and castigating Maloney for being too hostile to Wall Street, But as the race evolved, Saujani then accused the 10-term representative of being too close to Wall Street, a charge Maloney threw back at Saujani.
As the candidates squabbled, the Villager reported, "Saujani seems to have gotten the worst of it. Article after article … has termed her Wall Street's candidate, repeating a quote from the Washington Post, in which she told a wealthy Upper East Side crowd, 'We need to extend a hand rather than a fist' to Wall Street."
Meanwhile the Democratic Party establishment, from the president on down, stood behind Maloney, as did feminists. The main support Saujani had came from Diana Taylor, Mayor Michael Bloomberg's girlfriend, who, by the way, is a Republican.
Back to Albany
While editorial board at the Times and the News urged their reader to throw the rascals out in Albany, several legislators once deemed to be in serious trouble, sailed through the primary. Shirley Huntley, who was targeted for her vote against same sex marriage last year, trounced Lynn Nunes, who in 2009 came within a few votes of capturing a City Council seat from the same area of south Queens in 2009.
Charter school supporters failed to oust two incumbents they had hoped to defeat. Bill Perkins in Harlem bested political consultant Basil Smikle, getting more than three quarters of the vote. And in Brooklyn, Velmanette Mongomery won more than 80 percent of the vote in defeating Mark Pollard.
On the other hand, the teachers union also failed to oust an incumbent. Jonathan Bing easily dispatched teacher Gregory Lundahl on Manhattan's East Side, getting 84 percent of the ballots cast.
There were several contests for open seats around the city, some still too close to call. In the decided contests, Francisco Moya thwarted former State Sen. Hiram Monserrate's bid to return to elected office, defeating Monserrate in Queens 39th Assembly district by a two-to-one margin. Monserrate was ousted from his Senate seat last year following his conviction on a charge related to a domestic violence incident and then lost the special election for that seat.
Former City Councilmember Guillermo Linares, the first Dominican ever elected to office in New York, topped a field of five for the seat now held by Adriano Espaillat in upper Manhattan. Espaillat, meanwhile, appeared to win his bid to move up to the State Senate. In a hotly contested race, he defeated former teacher Mark Levin by 51 to 39 percent, with two other candidates trailing far behind.
Also, in Manhattan, Robert Rodriguez easily defeated six other candidates for the seat vacated by Powell.
Ballot Scanning
Whoever they voted for, New Yorkers yesterday cast their votes differently than they did before. New York City yesterday finally switched to the new voting system to bring it in compliance with the Help America Vote Act , the last place in the country to do so.
The transition was not without problems, particularly early in the day. There were numerous accounts of polling places opening late -- one supposedly a whopping three hours after the scheduled 6 a.m. opening -- as poll workers struggled to get things in order.

Election Protection, a nonpartisan group, said late poll openings occurred throughout the city.
Public Advocate Bill de Blasio's poll place -- on Eighth Street in Park Slope -- reportedly did not open at least until 8:30 a.m. leaving neighborhood voters disenfranchised, as de Blasio put it. Di Blasio has said he will investigate the voting delays and other problems.
Alex Camarda, advocacy director for Gotham Gazette's sister organization, Citizens Union, said when he arrived at his voting place in Astoria at around 6 a.m. "it was chaos. People were unpacking things." When he went to a table to ask how to vote, "people were bewildered."
When Gary E. VanderPutten reached his polling place St. Ann's Warehouse in DUMBO at 7:30 a.m., he discovered the voting equipment had just arrived and nothing was set up. The staff fro the Board of Election and the poll watcher were "equally embarrassed at the situation and had to turn away voters," VanderPutten wrote in an email. "They finally attempted to unlock the equipment and, after a few tries, successfully got the first voting machine to work, but the keys to the second voting machine did not fit. This was almost immaterial as there were no keys" to unlock the containers holding the ballots. VanderPutten left at 8 a.m. -- without voting -- planning to return again in the evening.
Sheryl A. Douglas, the poll coordinator at PS 22 in Prospect Heights, Brooklyn, said her site could not open on time. When the staff arrived, she said, the workers could not find the codes to run the scanners. She said the Board of Election then sent someone with the code, and the site started running at 7:37 a.m.
Some problems were not so quickly resolved, Douglas said, The site was supposed to have three scanners, but only had two, and the poll workers and staff from the Board of Elections never managed to unlock the ballot marking device that assists voters with disabilities. Although no one used the machine last year, "you should have it ready, just in case," she said.
To make matters worse, several staff workers never showed up at the polling p[lace. Despite that, she said "We're keeping things together."
Mayor Michael Bloomberg, long a critic of the city Board of Elections, was none too pleased. "We are hearing disturbing reports from some polling sites," Bloomberg told reporters. "We've been told of some poll sites that opened two to four hours late. That is a royal screw-up -- and it's completely unacceptable."
The Board of Elections urged voters to be patient. "Every year, Election Days bring challenges," Valerie Vazquez, a spokeswoman for the board, wrote in an email to the Times. "This year, the Board of Elections in the City of New York knew the change to the new voting system would present additional challenges."
She said the board would try to do better for the general election. "We will apply all lessons learned from the primary election," she wrote.
Election Protection also cited "reports of broken machines in Brooklyn and Queens and long lines in places where only one voting machine was actually functioning."
Michael Misko, the coordinator at the PS 131 polling site on in Chinatown, said the new system confused some voters, who wrote on the ballot or tried to select candidates on the scanners.
Secret Ballot?
Some voters also complained about a lack of privacy as they cast and scanned their ballots — though so-called privacy booths are supposed to be available to ensure secrecy. Certainly the new system feels less secret than the behind the green curtains of days gone by.
Camarda said that when he used a ballot-marking device — an alternative to marking it by hand — the printer jammed and "made an awful retching sound."
Poll workers were able to remedy the problem -- removing the mangled ballot, voiding it and so on -- but, while they were helpful, he said, they clearly could have looked at his ballot. "The more help you need, the more privacy is compromised, Camarda said.
Certainly the new system is different -- something some voters liked and some did not. Nicholas Minella, 39, voted at PS 22 in the middle of the day to avoid crowd. Using the new ballot, he said, "wasn't anything too harrowing," he said. While Minella had no trouble with the new ballots, he said he preferred pulling the lever required to process the old ones. "I felt like I voted instead of throwing a piece of paper into an electronic scanner."
But Stacy Sheffey, 22, who also voted at PS 22, said she liked watching the scanner count her vote. "That's exciting," she said.