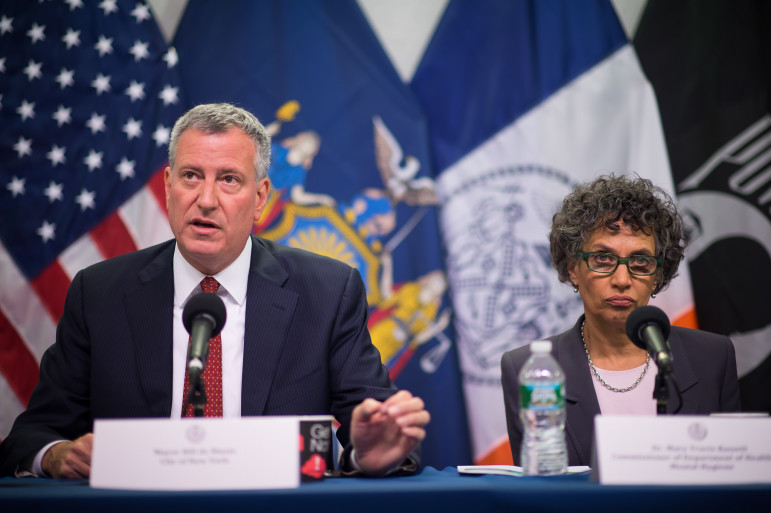 Mayor de Blasio and Health Commissioner Bassett (Rob Bennett/Mayor's Office)
---
Crisis is part of the gig for the chief health official in the nation's largest city, and Dr. Mary Bassett has dealt with her share of emergencies in the two years she's served as commissioner of the Department of Health and Mental Hygiene. First there was Ebola, followed by Legionnaires', and now comes Zika—and those are just the ones the public has heard about. New York City is also seeing an outbreak of whooping cough, Bassett told a Thursday briefing at the CUNY Graduate School of Journalism.
But as Bassett sees it, her job is as much about confronting the "enduring disparities" that characterize public health in New York City as it is about responding to sudden threats. The map of disease and death in the city reflects "patterns of marginalization," she told members of the Center for Community and Ethnic Media, "patterns that I am determined to talk about and ameliorate."
Among the more striking examples: Life expectancy in Brownsville is 11 years shorter, on average, than for residents of the financial district. "That means Brownsville has a life expectancy more along the lines of Sri Lanka, a developing country," Bassett told the panel moderated by NY1 anchor Errol Louis, the director of urban reporting at the school and joined by Vania Andre, editor-in-chief of the Haitian Times, and I.
There's much more to this story - read the rest here, from our partner City Limits.