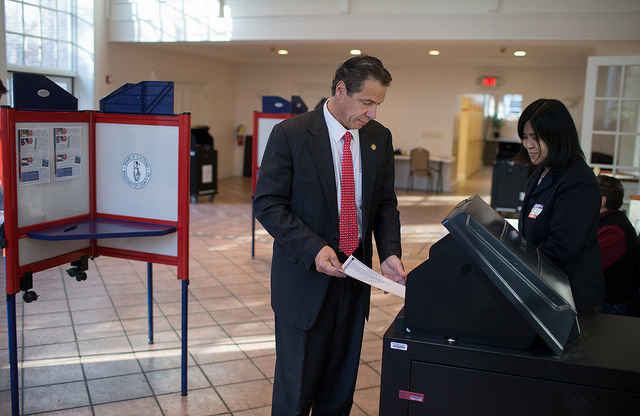 Gov. Cuomo votes (photo via The Governor's Office on flickr)
---
"There's a lot of states ahead," Mayor Bill de Blasio said on MSNBC late Monday night from Iowa, where he spent the weekend campaigning for Hillary Clinton in her bid to become the Democratic nominee and next President of the United States.
And de Blasio is right - there are 49 more states and the District of Columbia to vote before the primary season is over. New York will be the 37th state to hold a vote when April 19 comes around.
As de Blasio spoke, it was still unclear if Clinton or Bernie Sanders had prevailed in the first vote of the primary - Iowa caucus goers split down the middle between the two - with Martin O'Malley garnering a few votes and deciding to suspend his campaign.
On the Republican side, Ted Cruz won, with Donald Trump coming in second and Marco Rubio third.
It is unclear whether there will still be a race on either side of the aisle when voting comes to New York. The Republican field has a lot of winnowing to do and the two remaining Democrats could be in for a long slog - but, April 19 is a long way away.
Next up, New Hampshire. Primary voting there will take place on Tuesday, Feb. 9. Before the New Hampshire primary, though, each party will hold another debate - the Democrats on Thursday, Feb. 4 and the Republicans on Saturday, Feb. 6. The details of the Democratic debate are still being negotiated as it was a late addition to the schedule - the Democrats have been criticized for a limited number of debates and for holding several on weekend nights.
The Clinton and Sanders campaigns have reportedly agreed to add four additional debates to the two that still remain on the original schedule (those are still set for Feb. 11 and March 9). Other than this week's in New Hampshire, the other three have not been given dates.
On the Republican side, there are debates set for Feb. 6, 13, and 26; as well as for March 10. There could always be others added, of course.
As for the votes to take place leading up to New York, 34 states will have held either caucus or primary votes for both major parties, while two states - North Dakota and Kentucky - will have only held their Republican vote, with their Democratic vote coming later in the spring. The calendar is below.
Keep in mind that there are actually four election days in New York this year: presidential primary on April 19, followed by congressional primaries in June, state-level primaries in September, and the November Election Day.
The presidential primary calendar (if no party is noted, both major party votes will occur the same day):
Feb. 9
New Hampshire
Feb. 20
Nevada caucus (D)
South Carolina (R)
Washington caucus (R)
Feb. 23
Nevada caucus (R)
Feb. 27
South Carolina (D)
March 1
Alabama
Alaska caucus (R)
Arkansas
Colorado caucus
Georgia
Massachusetts
Minnesota caucus
North Dakota caucus (R)
Oklahoma
Tennessee
Texas
Vermont
Virginia
Wyoming caucus (R)
March 5
Kansas caucus
Kentucky caucus (R)
Louisiana
Maine caucus (R)
Nebraska caucus (D)
March 6
Maine caucus (D)
March 8
Hawaii caucus (R)
Idaho (R)
Michigan
Mississippi
March 15
Florida
Illinois
Missouri
North Carolina
Ohio
March 22
Arizona
Idaho caucus (D)
Utah
March 26
Alaska caucus (D)
Hawaii caucus (D)
Washington caucus (D)
April 5
Wisconsin
April 9
Wyoming caucus (D)
April 19
New York
April 26
Connecticut
Delaware
Maryland
Pennsylvania
Rhode Island
May 3
Indiana
May 10
Nebraska (R)
West Virginia
May 17
Kentucky (D)
Oregon
May 24
Washington (R)
June 7
California
Montana
New Jersey
New Mexico
North Dakota caucus (D)
South Dakota
June 14
District of Columbia