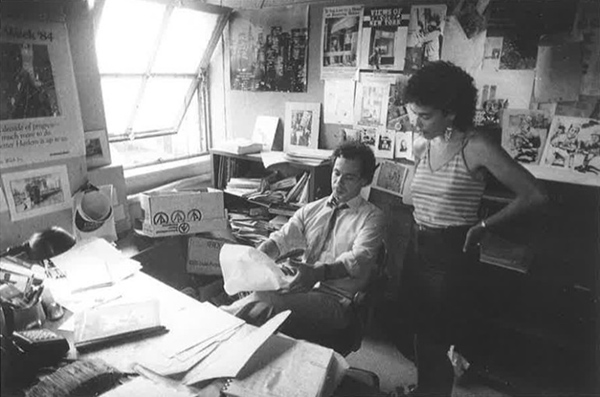 Tom Robbins and Annette Fuentes, City Limits' editing team in the early 1980s, in the magazine's offices. (photo courtesy of City Limits/Brian Patrick O'Donohue)
---
Since its start 40 years ago this month, City Limits has published millions of words about hundreds of topics and survived thanks to the smarts and sacrifice of dozens of journalists. The history below, combining an essay my predecessor Alyssa Katz wrote on the occasion of our 30th anniversary with my own update on the past 10 years, doesn't pretend to capture all the people and projects that made City Limits what it is. Hopefully, however, it does give a sense of where City Limits came from, the changes it has seen and the values that continue to drive our journalism four decades in. –Jarrett Murphy.
1976-1979: A Mission Begins
The Saving of 414 West 48th Street
What is Redlining? (Answer: Redlining is a white collar crime.)
South Bronx Snubbed on Redevelopment Plan
The headlines were forceful, printed in capital letters. They came from a publication that spoke to its times.
In 1976, New York City's neighborhoods were facing crushing challenges unlike any they had seen before. The city's fiscal crisis had left New York with few resources and a growing sense of doom. In many neighborhoods, arson and abandonment of apartment buildings were becoming everyday occurrences, as some property owners determined that their real estate was worth more in insurance proceeds than it was for its rental income. By the summer of 1977, more than 20,000 buildings in New York would be abandoned. At the end of that year the city owned 6,000 buildings and was poised to foreclose on 25,000 more.
Read more about this era and several others leading to present day and the future, at City Limits