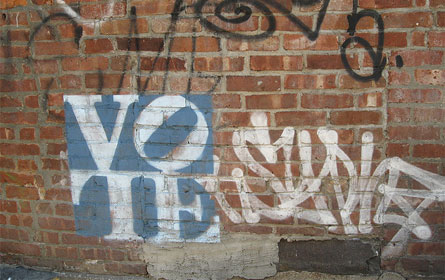 Whatever else one thinks of the 2010 election season, it has not been pretty.
New York is no exception.
Scandal has tarnished candidates -- from a powerhouse like Rep. Charles Rangel to an aspiring state senator on Long Island. The gubernatorial campaign has featured anti-gay diatribes, a near brawl between a contender and a reporter, and single debate -- one branded as a farce or worse. Meanwhile, the comptroller candidatesspar over whether it is worse to spend a career on Wall Street or on Albany.
BROOKLYN
State Senate
17th District (Martin Malave Dilan 18th District (Velmanette Montgomery)
19thDistrict (John Sampson)
20th District: Eric Adams)
21st District (Kevin Parker)
22nd District (Martin Golden)
25th District (Daniel Squadron)
Assembly
27th District (Carl Kruger)
40th District (Inez Barron)
41st District (Helene Weinstein)
42nd District (Rhoda Jacobs)
44th District (James Brennan)
46th District (Alec Brook-Krasny)
47th District (WilliamColton)
48th District (Dov Hikind)
49th District (Peter Abbate): Republican only
50th District (Joseph Lentol)
51st District (Felix Oritz)
52nd District (Joan Millman)
53rd District (Vito Lopez)
54th District (Darryl Towns)
55th District (William Boyland)
56th District (Annette Robinson)
57th District (Hakeem Jeffries)
59th District (Alan Maisel)
60th District(Janele Hyer-Spencer)
MANHATTAN
State Senate
25th District (Daniel Squadron)
26th District (Liz Krueger)
28th District (Jose Serrano
29th District (Thomas Duane)
30th District (Bill Perkins)
31st District (Eric Schneiderman)
Assembly
65th District (Micah Kellner)
66th District (Deborah Glick)
68th District (Adam Clayton Powell IV)
69th District (Daniel O'Donnell)
70th District (Keith Wright)
71st District (Herman Farrell)
72nd District (Adriano Espaillat)
73rd District (Jonathan Bing)
74th District (Brian Kavanaugh)
75th District (Richard Gottfried)
QUEENS
State Senate
11th District (Frank Padavan)
12th District (George Onorato)
13th District (Jose Peralta)
14th District (Malcolm Smith
15th District. (Joseph Addabbo)
) 16th District (Toby Stavisky)
Assembly
23rd District (Audrey Pheffer)
24th District (David Weprin)
26th District (Ann-Margaret Carrozza)
28th District (Andrew Hevesi)
30th District (Margaret Markey)
37th District (Catherine Nolan)
38th District (Michael Miller)
38th District (Michael Miller)
39th District (Open)

STATEN ISLAND
Assembly
60th District (Janele Hyer-Spencer) 61st District (Matthew Titone)
62nd District (Lou Tobacco)
63rd District(Matthew Cusick)
On Tuesday, for better or worse, the campaigning will end and you -- the voter -- will have the chance to go to the polls and weigh in. Judging from the events on primary day and subsequent drama at the Board of Elections,voting may not be easy or private. But there are a number of contests, including statewide offices, both U.S. Senate seats, members of Congress and the state legislature.
As we do for every primary and general election, Gotham Gazette presents its Guide for the Last Minute Voter. This year, we have coverage of key races, lists and compilations of coverage elsewhere on all the competitive contests for state legislature in the city, a rundown of what else you might see on your ballot (don't forget the ballot questions and judicial contests), and information on where and how to vote. For more on all the congressional and legislative seats in the five boroughs, go to Who's Running for What and stay tuned to our site on election night and the day after for coverage of the results.
Statewide Offices
The Legislature
Congress
City Council
Ballot Questions
Judges
How to Vote
When and Where to Vote
Statewide Contests
New Yorkers will choose who will occupy all four (including lieutenant governor) statewide offices on Tuesday. Unusually, none of the races include an elected incumbent for re-election -- a fact that highlights just how turbulent the last four years have been in Albany.
In 2006, New Yorkers elected Eliot Spitzer as their governor with David Paterson as his running mate, Alan Hevesi as comptroller and Andrew Cuomo as attorney general. Before he could even take office, Hevesi had to step aside over charges he let a state employee chauffeur his ailing wife. Earlier this month, the former comptroller was implicated in a multimillion dollar corruption scandal.
After a bitter confrontation between Spitzer and the Assembly -- a sign of things to come -- the legislature appointed Long Island Assemblymember Thomas DiNapoli to replace Hevesi. DiNapoli is now trying to win election to the post, but faces a spirited challenge from businessman Harry Wilson, who has money to spend and the backing of most of the state's newspapers and the business community.
On the gubernatorial front, Paterson's plans to seek election were derailed by reports of scandal, which easily handed the Democratic nomination for governor to Cuomo.
The Republicans had an even more complicated path to finding a nominee. For months, former U.S. Rep. Rick Lazio seemed to have the nomination locked up. But with the GOP increasingly fractious -- and amid growing doubts about whether Lazio could beat Cuomo -- some in the party searched for an alternative. Party chair Ed Cox drew upon Suffolk County executive Steve Levy, who decided to take the plunge -- despite being a registered Democrat. The party convention then blocked his bid.
That left Buffalo businessman Carl Paladino to challenge Lazio. In a year of Tea Party takeover and with turnout in western New York high, Paladino trounced Lazio in the primary.
Since then things have gone mostly downhill for rock 'em, sock 'em candidate. Media commentators, Democrats and even some in his own party roundly criticized his pornographic emails, threats to take a baseball bat to Albany, so-called obsession with Cuomo's sex life and anti-gay rants. Wildly outspent, Paladino and his running mate Greg Edwards lag sharply in the polls.
For attorney general, Manhattan State Sen. Eric Schneiderman prevailed over four opponents to win the Democratic nomination. He faces Staten Island District Attorney Dan Donovan. Schneiderman has stressed his progressive politics and has support from many unions, most Democrats and many in the black and Latino communities. Donovan has styled himself as a moderate, picking up support from Mayor Michael Bloomberg and from many in finance who clearly appreciate his vow not to be a sheriff of Wall Street.
For his part Donovan has sought to tie Schneiderman to the dysfunction of Albany and, most recently, to allegations that senators, notably those in the leadership, participated in a deeply flawed and possibly rigged bidding process for a casino at the Aqueduct racetrack.
Wall Street and Albany have emerged as key issues in the comptroller's race as well. Wilson has contrasted his experience on Wall Street to DiNapoli's decades in state government. He alleges DiNapoli is too tied to the establishment to go after wasteful state spending. DiNapoli counters that Wilson is too tied to Wall Street.
Gotham Gazette's coverage: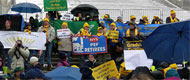 Cuomo vs. the Unions: The Democratic candidate has vowed to go head-to-head with public employees to cut the budget, but labor leaders say he must treat them as partners, not enemies.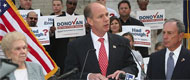 Donovan's Uphill Battle : Dan Donovan has Mayor Bloomberg's support, a strong resume and a vulnerable opponent. Despite that, his campaign for attorney general seems haphazard, underfunded and even wounded.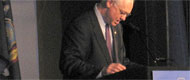 Beyond Hevesi's Shadow : Now that the former comptroller has pleaded guilty, the race for the post can center on the differences between the incumbent, Thomas DiNapoli, and his GOP challenger, Harry Wilson.
The State Legislature
It has long been a truism of New York politics that the Democrats control the Assembly, the Republicans control the Senate, and the governorship goes back and forth. But that changed in the overwhelmingly Democratic year of 2008 as Democrats, capitalizing on years of eroding support for the GOP in New York, captured the Senate -- by the slimmest of margins.
Their control has been tenuous at best. The upper chamber was deadlocked for weeks in 2009 when two Democrats bolted from their party.
Now, Election Day might bring the Republicans back to a majority -- odds are that their lead too would be narrow.
Most of the swing districts are outside of the city. Most of the races in the overwhelmingly Democratic five boroughs feature entrenched Democratic incumbents and little known, poorly funded GOP challengers. The much-touted push to "throw the rascals out" has gained little traction in New York City. Even three senators cited in the recent report on the Aqueduct casino -- Malcolm Smith, John Sampson and Eric Adams -- face no serious opposition.
There are a few hard fought contests though. For example, in the 15th district in Queens, the Republicans hope to oust a Democrat, and in the 11th district, also in Queens, Democrats see a chance to pick up a Republican seat.
The Democrats hold a massive majority -- 105 seats to 42 -- in the Assembly and are in no danger of losing it. Republicans, though, think they can chip away at it and make it less formidable. As with the Senate, most of the action in the Assembly is north of the Bronx and west of the Hudson. Republicans think they have a shot at an open Assembly seat in eastern Queens and may have one or two other opportunities as well.
Gotham Gazette's coverage: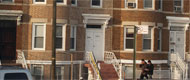 Matchup in Maspeth: Two years after moving the South Queens state senate district to the Democratic column, Joseph Addabbo campaigns to keep it there.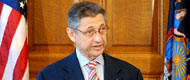 Silver's Shadow: The Assembly speaker's influence looms large in a contest for an open Assembly seat in northeast Queens.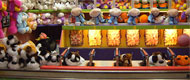 A Student's Long Shot: A 20-year-old hopes to oust a long-term Assembly member and Albany insider in Bensonhurst.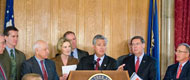 Back in Charge? New York Republicans hope to retake the State Senate in November.
Congress
While the big story this year is whether Republicans will retake the House and Senate, much of New York remains solidly blue. Several House contests in New York State could tip from Democrat to Republican, bolstering GOP chances for winning a House majority.
Only one seat in New York City is in play.
New Yorkers face an unusual situation this year in that both of their U.S. senators are up for election. Sen. Charles Schumer, whose second six-year term is drawing to a close, faces a challenge from media consultant Jay Townsend. Schumer has built up a daunting war chest and, if polls are to be believed, an even more daunting edge among the voters.
The state's junior senator, Kirsten Gillibrand, also appears on the ballot. Named in 2009 to fill now Secretary of State Hillary Clinton's unexpired term, Gillibrand must get the voters' OK to stay in the seat for the next two years. Although practically every politician in New York seemed to be weighing a run against Gillibrand at one point, they all bailed out. Now Gillibrand faces Republican former U.S. Representative Joseph DioGuardi, who says his experience as an accountant makes him qualified to take on excessive spending in Washington. Faring better than Townsend, he too trails in fundraising and in the polls.
As always in even-numbered years, all the members of Congress, including the 13 from New York City, must face the voters this year. Two incumbents -- Charles Rangel and Carolyn Maloney face faced serious challenges in the primaries. But both repelled them handily. For the general, all the incumbents have opponents, but only one race is widely viewed as even remotely competitive.
That's in district 13 -- on Staten Island and a small piece of Brooklyn -- where first term incumbent Michael McMahon faces a challenge from Michael Grimm, a former Marine who later worked for the FBI financial fraud division. As a Democrat in a Republican-leaning district in what many anticipate will be a GOP year, McMahon has been campaigning aggressively. Grimm, who is seen as a Tea Party candidate, has not received backing from some in the GOP establishment, who preferred his primary opponent Michael Allegretti.
McMahon has also been at odds with his party -- largely over his vote against the health care bill.
City Council
New York's municipal elections take place every four years, so most City Council members can take a break from campaigning this year. There are, however, two districts where voters will see a council race on their ballots.
The contested one is in district 28 in southeast Queens where seven candidates are vying to fill the seat left vacant by the death of City Councilmember Thomas White.
Officially, the seat in district 44 in Borough Park, Brooklyn, is up for grabs as well. That seat became open last winter when Simcha Felder resigned to go work for the city comptroller. David Greenfieldwon the subsequent special election. Law requires that the winner of a special election face the voters again on the next general election day. So Greenfield will do that -- but he will be unopposed.
Gotham Gazette's coverage: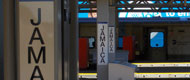 The Race to Replace White: Seven candidates, including Sean Bell's widow, a censured former council member and a Rikers Island imam, vie for a Queens City Council seat.
Ballot Questions
Voters who flip over their paper ballot will find two ballot questions, generated from proposals at the Charter Revision Commission.
The first -- question 1 -- would restore term limits for city elected officials to two, four-year stints. That was what voters had enacted twice in the 1990s. Mayor Michael Bloomberg and City Council Speaker Christine Quinn extended it to three in 2008 so they could remain in office. If voters say yes, this proposal would prevent the City Council from extending their terms in the future.
The measure, though, does not apply to council members, borough presidents and citywide officials currently in office, allowing them to serve three full terms. As a result, for all intents and purposes, the new law would not go take effect until 2021.
Ballot question 2 is a hodgepodge of seven largely unrelated and somewhat minor items -- all under the umbrella of "elections and government administration." These include: requiring disclosure of independent expenditures designed to influence elections; making it easier for potential candidates to qualify for the ballot; merging the Voter Assistance Commission and Campaign Finance Board; small changes in the conflicts of interest law; setting up a procedure to waive a government reporting requirement; administrative changes in city tribunals; and putting transportation and waste management facilities on the city's facilities siting map.
Gotham Gazette's coverage: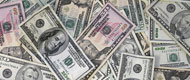 Following the Money: As anonymous donors expand their role in national politics, New Yorkers on Tuesday will decide whether to require more disclosure of who provides campaign cash in city elections.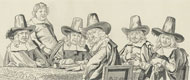 Unfinished Business: The latest effort to revise the City Charter barely scratched the surface, writes Scott Stringer, and so the mayor should name another commission.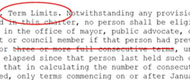 Term Limits -- in 2021: The Charter Commission took steps to undo the damage done by the extension of term limits, writes commission member Anthony P. Cassino, but did not go far enough.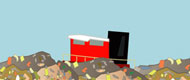 Making 'Fair Share' Fairer: A proposal on the ballot in November would help spread polluting facilities more evenly around the city, Eddie Bautista writes.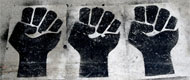 Keeping the Clout: Despite pleas to limit the mayor's power, the city charter commission opted to increase it in at least one area, Glenn Pasanen contends.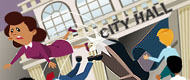 Charter To-Do List: After six months of hearings, the Charter Revision Commission has decided to put term limits on the ballot this fall. But many, many other issues were left off.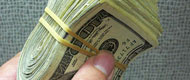 Who Helps Candidates: Last year, labor and business called and canvassed to boost candidates but never had to reveal who did what for whom. Now an effort is building to close that gap in election law.
A Tiny Agency: As advocates and officials seek ways to increase meager Election Day turnout in the city, some say the solution could lie with a little-noticed and sparsely funded commission.
Judges
Voters in some parts of the city will elect State Supreme Court and Civil Court Judges. Unlike in many states, the Supreme Court here is not the highest court -- that distinction belongs to the Court of Appeals -- but the court of general jurisdiction, which hears both criminal cases and civil cases involving any monetary dispute over $75,000.
Many of the races for judge, particularly on the civil court are uncontested.
Voters in Manhattan, though, have six candidates vying for three Supreme Court seats. In that contest, the New York City Bar Association, which lists candidates as "approved" or "not approved" without further explanation, approves all the Democratic candidates: Matthew Cooper, Cynthia Kern and Jeffrey Oing. The three Republicans -- Karin Burke, George Janis and Jodi Mosiello -- were "not approved."
All the Civil Court candidates in the Manhattan are unopposed.
In the Bronx, the contest for Supreme Court features three candidates. But it's not the true race voter might expect. Two of the candidates -- Republican Rick Lazio and Conservative Thomas Ognibene -- appear on the ballot largely as part of a maneuver to get them off the ballot for governor and lieutenant governor respectively. Both men had received party nominations (Lazio winning the conservative nod for governor; Ognibene being the sole candidate of the Taxpayers Party candidate for lieutenant governor), and the only way to remove a candidate from the ballot after the primary is for the candidate to die or be nominated for a judgeship. Both men obviously preferred the latter. Neither is expected to win in the overwhelmingly Democratic Bronx against the Democrat Edgar Walker. Walker and Lazio are rated as approved by the bar; Ognibene is not.
In the one Civil Court contest in the Bronx -- in district 2-- the Democrat, Linda Poust Lopez, is approved; Republican/Conservative Daniel Szalkiewicz is not.
In Brooklyn, nine candidates will square off for four Supreme Court seats. Of them only three -- Sylvia Ash (Democrat, Republican), Deborah Dowling (Democrat, Republican, Conservative) and (Democrat, Republican, Conservative) get a thumbs up from the bar. The other six -- Conservatives James Domagalski and Giovanni Silvagni; Francois Rivera, a sitting judge who appears on the Democratic and Republican lines; and Working Families Party candidates Elon Harpaz, Kenneth Schaeffer and Amy Young -- all were "not approved."
The countywide Civil Court contest pits Democrat Harriet Thompson against Republican/Conservative Vincent Martusciello. Neither was approved.
None of the court races in Queens are contested, and there are no judicial elections on Staten Island this year.
How to Vote
This is take two for the city's new voter system. While the city Board of Elections thinks it passed the first one -- on primary day -- many voters and city officials disagree. The day was marked by delayed poll site openings, equipment malfunctions and complaints about a lack of privacy.
The board says it has addressed some of these issues, notably the problem with poll sites that did not open on time. But the general election will bring out many more voters -- many of whom will be using the new technology for the first time. Some voting experts fear there may not be enough trained poll workers to handle their queries and difficulties.
The new system, for those who did not vote last time, involves marking a paper ballot. Contrary to the latest instructions from the board, voters should fill in the bubble beneath (not above) the candidate of their choice. If a candidate appears on multiples lines -- Democratic and Working Families Party say -- a voter must choose which line to vote for the candidate on. And anyone who wants to weigh in on the charter questions, must flip the ballot over.
Voters can request a privacy sleeve for their ballot and a magnifier if they need it. Any voter also can opt to use the ballot marking devices, which are required at every polling place. Although these are intended primarily to help people with disabilities vote privately and independently, any voter can use one.
Once the ballot is completed, voters then place it in a scanner for it to be counted and recorded. The ballot is not returned to the voter after being scanned.
For more on how to vote, see the instructions -- including a video -- on the Board of Elections web site.
Some of the city's civic groups have issued a troubleshooting guide that aims to tell voters what they can do to avoid or deal with problems such as those on primary day. They also have compiled five tips for voters. Among other things, the groups advise voter to ask to use the ballot marking devices, designed to enable handicapped voters cast ballots independently, if they think this would be helpful, and remind voters to turn to the ballot's back side if they want to weigh in on the charter questions.
When and Where to Vote
The election will be Tuesday, Nov. 2, with polls open from 6 a.m. to 9 p.m. Only residents who have already registered can vote.
You should have received a notice in the mail telling you where to vote, but if you do not have it, you can go to the Board of Election's poll site locator or call 1 866 VOTE-NYC. This number can provide you with other information as well, including registration deadlines.
Absentee ballot applications can be obtained by calling the Board of Elections at 1-866-VOTE-NYC or e-mailing a request to This email address is being protected from spambots. You need JavaScript enabled to view it.
New Yorkers who registered to vote for the first time via mail may be asked to provide identification, such as a driver's license, when they arrive at the polls. Voters without a driver's license can also offer a valid photo ID, current utility bill, bank statement, or government check or other government document that shows the voter's name and address. If a poll worker says you are not on the list, ask an inspector to verify that you are at the correct Election and Assembly District for your address. If you believe that you are eligible to vote, you can ask for an affidavit ballot. After the election, the Board of Elections will check its records and your vote will be counted if you are deemed eligible to vote and were at the correct polling site.
If you run into problems at your polling place -- if it's not open, for example, or the scanners are not working, the Board of Elections advises calling its office as soon as possible at 1-866-VOTE-NYC.